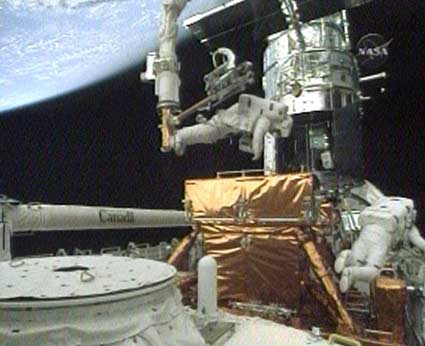 This story was updated at 8:41 p.m. EDT.
HOUSTON - Two embattled astronauts fought through a stuck bolt and dead battery on Sunday to fix a key instrument in the Hubble Space Telescope in a frustratingly long spacewalk.
Atlantis astronauts Michael Massimino and Michael Good were already expecting a challenging day to repair a long-broken spectrograph on the 19-year-old Hubble. The instrument was never designed to be fixed in orbit.
Ultimately, the astronauts completed their repair work on Hubble?s ailing Space Telescope Imaging Spectrograph (STIS), which failed in 2004. But it was a long, tough haul that prevented the spacewalkers from finishing all their tasks.
?Congratulations, you brought STIS back to life,? Atlantis astronaut John Grunsfeld told the spacewalkers.
The spectrograph, which can double as a camera, passed an initial power-up test, but shut down soon after due to a temperature glitch, NASA officials said. Hubble program manager Preston Burch said engineers at the telescope?s mission operations center at the Goddard Space Flight Center in Greenbelt, Md., would reattempt a more in-depth functional test once the spectrograph warmed up later this evening.
The spacewalk began at 9:45 a.m. EDT (1345 GMT) and lasted just over eight hours, making it the sixth longest in history. It was the fourth of five back-to-back spacewalks by Atlantis astronauts extend Hubble?s mission life through 2014.
Astronauts vs. Hubble
Sunday?s string of bad luck for Massimino and Good began early in their spacewalk. A stuck bolt, one of four securing a handrail to the exterior of their target spectrograph, simply refused to budge. It was such a simple failure, NASA never expected or simulated it, mission managers said.
The handrail had to be removed so Massimino could attach a special plate on the spectrograph that would catch the 111 tiny screws securing a cover in place. But the bolt appeared stripped and his power screwdriver kept slipping.
An extra tool bit didn?t help. So Mission Control told Massimino to just rip it off by bending the handrail until the bolt popped free. The astronauts taped up pieces of the handrail and the bolt to make sure nothing shot out like a projectile.
?This is just like tying branches together in Boy Scouts,? Good said.
After almost two hours of work, Massimino got the rail free. But it took some muscle and he asked for a break. Mission Control concurred.
?I don?t know how to describe what just happened, but after what just happened I think we all need a minute to straighten things out,? he said.
Then a power tool?s battery failed sending them scrambling for a spare, which took more time.
?Oh, for Pete?s sake,? said an exasperated Massimino.
Fixing Hubble?s spectrograph
With the handrail clear and the power tool charged up, Massimino and Good pressed ahead with their repair.
Hubble?s broken Space Telescope Imaging Spectrograph is a versatile instrument that breaks light into component wavelengths to detect supermassive black holes and the chemical makeup of the atmosphere around distant alien planets. It was installed in 1997, but failed five years ago.
Because the spectrograph can also double as an imaging camera, the instrument was one of Hubble?s more unique features.
?The science capabilities that we?ve been given today are fabulous,? said Jennifer Wiseman, chief of exoplanet research and stellar astrophysics at Goddard. ?Now we?re going to start contemplating what kinds of things we can do with them.?
After removing the 111 tiny screws and six other fasteners - which were all captured in a special enclosure - they replaced a power supply circuit board and then buttoned the spectrograph up with a new cover that only required two latches and a single bolt to secure. The hand-intensive work cut a small tear in the outermost layer of the palm on Massimino?s left spacesuit glove, but he was never in any danger, mission managers said.
The apparently successful repair was the second intricate fix in as many days for the Atlantis crew. On Saturday, the astronauts revived Hubble?s main camera, which shutdown in 2007. They also added a powerful wide-field camera, new gyroscopes and batteries, and a brand new spectrograph designed to study the structure of the universe.
But Massimino and Good ran out of time Sunday and had to skip a task to add extra insulation to Hubble. That chore might be added to the mission?s fifth spacewalk - the last ever for Hubble - is slated for Monday.
Grunsfeld and astronaut Andrew Feustel will perform that final spacewalk and be the last people ever to touch the space telescope. Atlantis is flying NASA?s fifth and final mission Hubble in order to extend its life through 2014.
After the exhausting spacewalk, Massimino and Good returned back to Atlantis? airlock to conclude their orbital work. The spacewalk was the second and last scheduled for both astronauts for the rest o the mission.
?It?s a real privilege to see what we've seen and to work on this magnificent machine,? Massimino said. "I couldn't be any more grateful for the opportunity."
SPACE.com is providing continuous coverage of NASA's last mission to the Hubble Space Telescope with senior editor Tariq Malik in Houston and reporter Clara Moskowitz in New York. Click here for mission updates, live spacewalk coverage and SPACE.com's live NASA TV video feed.
New Video - Hubble's STIS: The Ultimate Repair Job, Fixed Camera

Image Gallery - The Hubble Repair Missions: Part 1, Part 2

New Video Show - Hubble's Final Shuttle Service Call