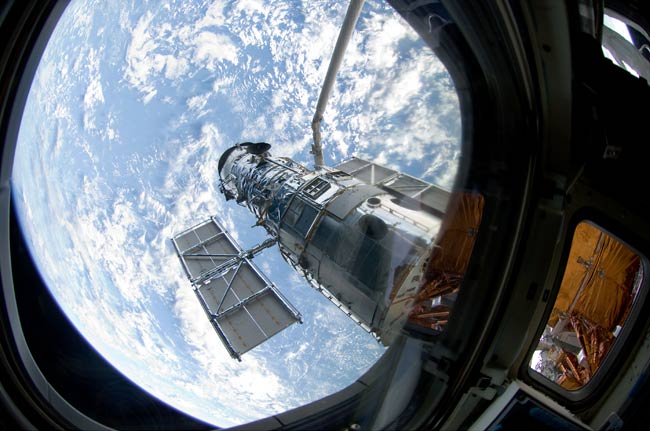 This story was updated at 8:34 a.m. EDT.
HOUSTON - Two astronauts in bulky spacesuits will open up the Hubble Space Telescope on Friday in a delicate tune-up to keep the aging observatory pointed straight.
Atlantis spacewalkers Michael Massimino and Michael Good are slated to float outside their shuttle to replace some of Hubble?s batteries and all six of its gyroscopes, which are used to accurately point the telescope at cosmic targets. Giving Hubble new gyroscopes is the mission?s number one task, mission managers said.
The job sounds mundane, but without the new parts Hubble won?t be able to reliably maintain its position in space precisely enough to observe the universe or conserve the power generated by its solar wings, mission managers said.
?The gyros are absolutely critical in order to maintain your pointing reference,? Hubble project manager Preston Burch told SPACE.com late Thursday.
Today?s spacewalk is the second of five consecutive excursions by the crew of Atlantis during NASA?s fifth and final mission to overhaul Hubble. On Thursday, a different team of spacewalkers installed a new camera and docking gear on Hubble, and also replaced a malfunctioning computer unit that beams images and data back to Earth.
Vital service call
While Hubble has six gyroscopes, only three are working and the telescope has been operating in a two-gyroscope mode for years in order to keep the last one as a spare. Today?s spacewalk will reset Hubble back to full capacity and should help extend its mission life another five years, Burch said.
But it is a far from simple task. To do the job, Massimino will have to squeeze inside a Hubble access door with barely enough room to move and his feet rooted to a foot restraint. He can use his hands to install the new gyroscopes, but could seriously damage fragile nearby sensors if his spacesuit rubs against anything at all, mission managers said.
?We?re in a really delicate place inside the telescope,? Good told SPACE.com before flight. ?So I?m going to breathe a big sigh of relief when we get everything done and close those doors. And even the doors are tricky.?
Good will be perched at the tip of Atlantis? robotic arm for most of the spacewalk in order to move the new parts from the shuttle?s payload to Hubble.
Astronauts have had trouble closing the gyroscope access doors on Hubble in past spacewalks. Massimino and Good have spent hours just practicing to open and close them, mission managers said.
Hubble?s batteries, which have not been changed since the telescope launched in 1990, are also showing signs of age.
?Just like any other battery, the battery in your car, batteries run down over time,? said Keith Walyus, Hubble mission operations manager at NASA?s Goddard Space Flight Center in Greenbelt, Md. ?So we?re going to install a new set of batteries, which will give us an extended life of Hubble.?
Three of Hubble?s six batteries will be replaced in today?s spacewalk. The rest are expected to follow in a Monday excursion.
Extra inspection
Astronauts will also use Atlantis? robotic arm to scan about 40 heat-resistant tiles for dings on the left side of the shuttle?s nose. The tiles were accidentally skipped during a heat shield inspection earlier this week, though NASA has given Atlantis a clean bill of health with respect to launch debris.
NASA has kept a close eye on shuttle heat shield integrity since launch debris led to the loss of the shuttle Columbia and its seven-astronaut crew in 2003. Atlantis and Hubble are flying in a 350-mile (563-km) orbit that is littered with space junk. The astronauts will perform a standard second inspection of their shuttle?s heat shield next week after leaving Hubble and NASA has the Endeavour orbiter standing by to fly a rescue mission in the unlikely event Atlantis suffers serious damage from space debris.
Late Thursday, the astronauts said they were looking forward to today?s spacewalk. They?ll also have an easy way to separate the two spacewalkers to avoid confusion over their same first names.
Massimino goes by the nickname ?Mass? and has been providing mission updates as @Astro_Mike on the microblogging Web site Twitter. Good, an Air Force colonel, goes by the call sign ?Bueno,? which is simply his last name translated in Spanish.
?I think the Mike and Mike show will be fun, they?ve got the [gyroscopes] down to a science,? Atlantis skipper Scott Altman radioed down to Mission Control late Thursday.
SPACE.com is providing continuous coverage of NASA's last mission to the Hubble Space Telescope with senior editor Tariq Malik in Houston and reporter Clara Moskowitz in New York. Click here for mission updates, live spacewalk coverage and SPACE.com's live NASA TV video feed.
New Videos - Hubble's High Art, New Tools

Image Gallery - The Hubble Repair Missions: Part 1, Part 2

New Video Show - Hubble's Final Shuttle Service Call