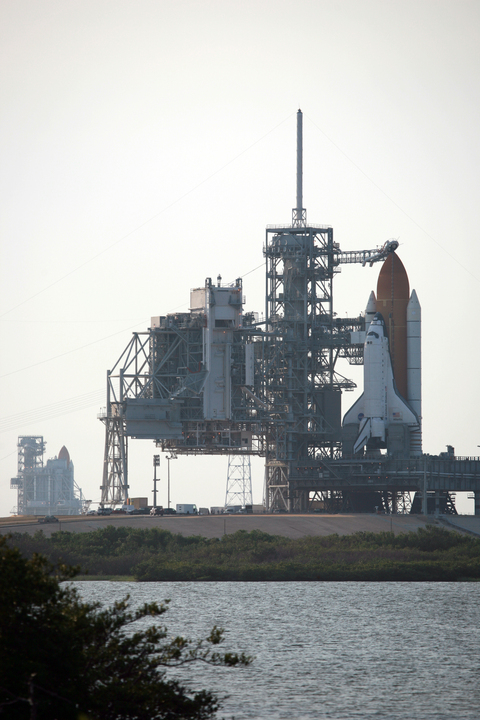 CAPE CANAVERAL, Fla. - After months of delay, the space shuttle Atlantis is poised to launch seven astronauts today on a risky mission to breathe new life into the Hubble Space Telescope.
The stakes are high. Hubble is 19 years old with two broken cameras and a host of other systems in need of replacement or upgrades. Atlantis is poised to fly the fifth and final mission to overhaul the iconic space telescope.
?Particularly on this mission, the final mission, we're going for broke,? said David Leckrone, senior project scientist for Hubble. ?We?ve set the bar extraordinarily high for ourselves.?
NASA expects near-perfect weather to launch Atlantis at 2:01 p.m. EDT (1801 GMT) from its seaside launch pad here at NASA?s Kennedy Space Center. The mission carries a price tag of $1.1 billion. NASA and the European Space Agency have spent $10 billion on Hubble since the orbiting observatory?s conception and launch in 1990.
?We?re ready to go give Hubble a hug,? said veteran Hubble repairman John Grunsfeld, an astrophysicist-turned-astronaut making his third trip to the space telescope. ?I hope Hubble?s ready for us.?
If all goes well, the astronauts will leave Hubble?s vision and science capability more powerful than ever before by the end of the 11-day mission. Atlantis is also carrying a set of IMAX 3-D cameras to document Hubble?s last service call for a film slated to be released in spring 2010.
The mission carries extra risks, however.
The risk to reach Hubble
Hubble is beyond the reach of the International Space Station, where astronauts would otherwise be able to take shelter for months if their shuttle were damaged beyond repair. The observatory flies 350 miles (563 km) above Earth in a much different orbit than the space station, at 220 miles (354 km) high.
The mission also has a higher chance being hit by space junk or orbital debris. While at Hubble, there?s a 1-in-229 chance Atlantis could be seriously damaged by space trash. The astronauts will position the shuttle special orientations to reduce that risk and fly down to a safer, cleaner orbit soon after returning Hubble space near the mission?s end.
NASA actually canceled the mission in 2004 because of that risk and the Columbia shuttle tragedy that killed seven astronauts in 2003. The Hubble mission was resurrected in 2006 after NASA successfully resumed shuttle flights and tested heat shield inspection and repair techniques.
In case something goes wrong, NASA has primed a second spaceship - the shuttle Endeavour - to fly a rescue mission, if needed, to retrieve the Hubble-bound astronauts before their air runs out - 25 days is all they carry on Atlantis. But NASA believes the likelihood of actually needing the rescue flight to be extremely remote, and each of the Atlantis astronauts say they?re willing to take the risk to save Hubble.
Hubble has made an amazing contribution to science and our understanding of the universe, said veteran shuttle commander Scott Altman. But while it has shed new light on the expansion of the universe, the evolution of galaxies and the formation supermassive black holes, it is also the vicarious eye through which people all over the world see the cosmos.
?We can?t travel 13 1/2 billion light-years,? Altman said. ?But when Hubble brings that to us, it?s like we?re there.?
Veterans lead the way
Launching with Grunsfeld are Altman, pilot Gregory C. Johnson, and mission specialists Megan McArthur, Michael Good, Michael Massimino and Andrew Feustel. Altman, Grunsfeld and Massimino have flown to Hubble before. The rest of the astronauts are making their first spaceflight.
The astronauts plan to perform a five back-to-back spacewalks to install two new cameras and attempt to repair the two ailing instruments, which were never designed to be fixed in space. They also will attempt some basic upgrades, like replacing broken gyroscopes and old batteries.
Hubble is designed to be overhauled every three years, but the space telescope hasn?t seen an astronaut service crew since 2002. Much of that gap stemmed from the Columbia accident, but the most recent delay ? a seven-month slip ? occurred last fall when a part aboard Hubble unexpectedly broke down.
Because of the gap, Hubble needs a major overhaul.
?You can imagine if you had a car and you were driving every day for seven years and never took it into the shop, you?d have quite a long list of things to do,? said Preston Burch, Hubble project manager at NASA?s Goddard Space Flight Center in Greenbelt, Md.
NASA has three chances to launch Atlantis this week before the agency must stand down due to a military operation based out of the nearby Cape Canaveral Air Force Station. If the shuttle does not launch by Wednesday, NASA would wait until May 22 to wait out the military?s operation and recharge the new batteries for Hubble.
But just being poised for launch after years of delay - with pristine weather expected - has given Hubble scientists cause to celebrate. ????????
?To be within one day of it is remarkable and unbelievable, and I have to persuade myself I'm not dreaming,? Leckrone said, adding that with prediction of clear weather he?s confident Atlantis will launch today. ?It is going to go splendidly, I can feel it.?
SPACE.com is providing continuous coverage of NASA's last mission to the Hubble Space Telescope with senior editor Tariq Malik at Cape Canaveral and reporter Clara Moskowitz in New York. Click here for mission updates and SPACE.com's live NASA TV video feed.
New Show - Hubble's Universe: The Final Shuttle Service Call
Image Gallery - The Hubble Repair Missions: Part 1, Part 2