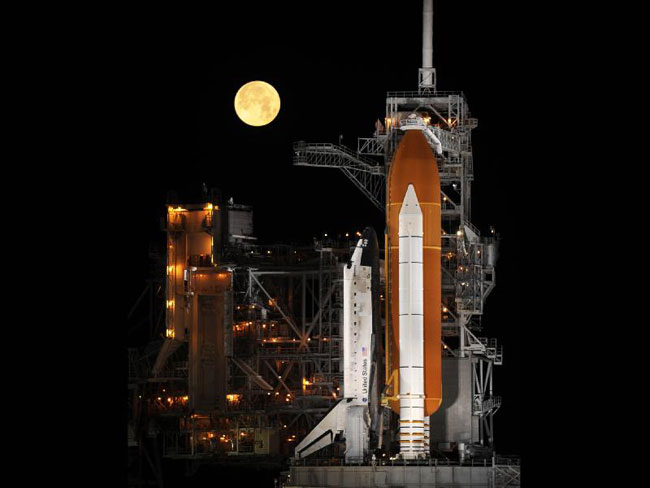 CAPE CANAVERAL, Fla. - The space shuttle Discovery is primed for a second launch attempt tonight after engineers repaired a gas leak that kept the spacecraft from lifting off last week.
Discovery and her seven-astronaut crew are poised to blast off at 7:43 p.m. EDT (2343 GMT) from Launch Pad 39A here at NASA's Kennedy Space Center.
The weather outlook for this evening is promising, with a roughly 80 percent chance of favorable conditions for launch, shuttle weather officer Kathy Winters said.
Since last Wednesday's foiled launch attempt, ground crews have completely replaced a suspect connector between the shuttle's external fuel tank and a vent line that carries flammable hydrogen gas away from the launch pad. Technicians discovered a leak in the line after Discovery's tank began fueling last week, prompting mission managers to call off the launch.
Crews have since worked around the clock to replace the connector seal and investigate the problem. Though no smoking-gun explanation has yet been found, mission managers are hopeful that swapping out the offending part will stop off the leak. If the leak persists today, NASA will call off the launch attempt, mission managers said.
Discovery is slated for a 13-day mission to space, featuring three spacewalks to deliver and install the last section of the International Space Station (ISS)'s backbone-like main truss. The final segment, called Starboard-6, comes with a complement of new solar panel wings that should boost the station's power generation capability by 25 percent.
The shuttle is also set to carry up Japan Aerospace Exploration Agency astronaut Koichi Wakata to replace NASA astronaut Sandra Magnus as a space station Expedition 18 flight engineer. Wakata will become Japan's first long-duration astronaut when he stays aboard the orbiting laboratory until later this summer.
Veteran spaceflyer Lee Archambault will command Discovery?s STS-119 mission, with pilot Tony Antonelli and mission specialists Joseph Acaba, Steve Swanson, Richard Arnold, and John Phillips completing its crew.
"These crewmates have been absolutely tremendous to work with," Archambault said of his team in a preflight NASA interview. "I look at this crew and I say, 'Boy, you really stacked the deck in my favor and I?m very appreciative for each one of these guys.'"
If the shuttle launches today, the astronauts' original 14-day mission will be cut short by one day and one spacewalk, to make room for an incoming Russian Soyuz mission to the space station launching March 26. If the shuttle is unable to launch today, NASA can try again Monday and Tuesday, though launching then will necessitate shortening the mission even further.
Today's launch attempt comes more than a month after Discovery's initial Feb. 12 launch target. NASA delayed the shuttle's launch for weeks due to suspect fuel control valves in the orbiter's main engines. The shuttle?s three valves were each replaced twice, with mission managers clearing Discovery for launch earlier this month.
NASA?s STS-119 mission will mark the 125th shuttle launch and the 27th mission for the Discovery spacecraft. The spaceflight is the first of at least five NASA shuttle missions planned for 2009 to continue space station construction and perform one last overhaul of the Hubble Space Telescope.
SPACE.com is providing continuous coverage of STS-119 with reporter Clara Moskowitz in Cape Canaveral and senior editor Tariq Malik in New York. Click here for mission updates and SPACE.com's live NASA TV video feed. Live Coverage begins at 2:30 p.m. EDT (1830 GMT) today.
New Video - Meet Discovery's STS-119 Shuttle Astronauts

New Video - Discovery's Mission: Space Station Power Up!

New Show - NewSpace: The Orbital Industrial Revolution