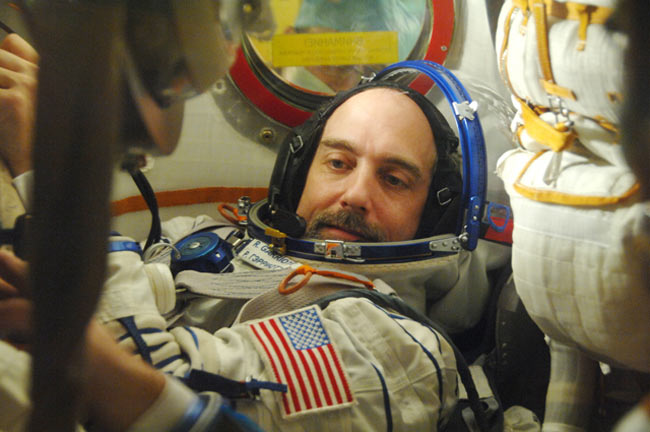 Former NASA astronaut Owen Garriott is proud of his son Richard and with good reason. After all, it's not every day a child follows his father's footsteps all the way to space.
Richard Garriott, a computer game developer from Austin, Texas, is just days away from rocketing into space aboard a Russian Soyuz spacecraft to become the world's sixth space tourist. He will be the first American second-generation astronaut to reach space once he blasts off from the Central Asian spaceport of Baikonur Cosmodrome in Kazakhstan on Oct. 12.
"I'm just very pleased that he has made, for himself, this opportunity," said Owen Garriott, 77, of his son in an interview. "He's been so personally interested in the opportunities of spaceflight, that I'm just extremely pleased that he has managed to find this channel."
Richard Garriott, 47, is paying about $30 million, which he's said is the bulk of his wealth, to launch into orbit under a deal between Russia's Federal Space Agency and the U.S. firm Space Adventures. The Vienna, Va.-based Space Adventures has brokered orbital spaceflights for five space tourists since 2001.
For the younger Garriott, reaching space has been a lifelong dream though he admits that it does feel more real now that he has his custom-built Russian Sokol spacesuit for launch.
"Any day that you get to put on your own spacesuit is a great day," the younger Garriott told SPACE.com. "It definitely has that new car smell … or that new spacesuit one."
Set to launch spaceward with Garriott on Sunday are two professional astronauts: Expedition 18 commander Michael Fincke of NASA and flight engineer Yury Lonchakov of Russia's Federal Space Agency. They will replace the station's current core crew - Expedition 17 commander Sergei Volkov and flight engineer Oleg Kononenko - who are due to return home with Garriott on Oct. 23 after six months in space.
By coincidence, Volkov is also a second-generation cosmonaut. His father is famed Russian cosmonaut Alexander Volkov, a veteran of long-duration spaceflights to the Salyut 7 and Mir space stations.
"I'm looking forward to getting a little more time to talk with Sergei," Garriott said. "Obviously, I'll have plenty more time to talk to him on orbit."
Like father, like son … in space
Spaceflight was an everyday phenomenon for the younger Garriott, who remembers his father bringing tools and equipment to their Houston home from NASA's Johnson Space Center while training for his two spaceflights.
Owen Garriott joined NASA's spaceflyer ranks as one of the agency's first scientist-astronauts in 1965. He spent 59 in space during NASA's Skylab 3 mission to the American space station in 1973, then another 10 days as part of the shuttle Columbia's STS-9 crew in 1983.
"When you're growing up in the middle of it, it seems quite normal," said the younger Garriott, adding that all of his Houston neighbors where either astronauts or NASA engineers and scientists. "Everyone I knew was either going to space or getting involved in getting those others into space."
But the younger Garriott's own dream of reaching space was dashed by an eye exam that found his eyesight too poor to qualify for NASA's astronaut corps.
"I thought everyone was going to space and so being told I wasn't going to be a part of this great group of people and just have this opportunity wasn't something I was going to take lightly," he said, adding that it spurred him to invest in Space Adventures and other private space companies. "Literally, throughout my entire career I've been investing in the privatization of space."
Garriott developed the popular Ultima online computer game and co-founded the Origins Systems computer game company with his brother Robert, as well as the North American branch of the online game developer NCsoft. "Tabula Rasa," his latest release, is an online science fiction game chronicling humanity's exodus from Earth after a major catastrophe.
He's taking medallions made from the remains of Skylab, which fell to Earth in 1979, artwork and a so-called "immortality drive" - a flash drive archive of mankind's greatest achievements, copies of the avatars in one of his games and digital versions of the DNA from some computer gamers, including that of comedian Stephen Colbert, host of "The Colbert Report."
Heavy on science
While Garriott expects to enjoy his orbital flight, he also expects to work.
The private spaceflyer has packed his 10-day mission to the brim with science experiments, Earth observations and education events to make the most of his time in space. He has a series of experiments on tap for commercial partners Seiko and DHL, NASA, the European Space Agency, as well as protein growth experiments for the firm ExtremoZyme, a company founded by his father.
One experiment is aimed at measuring visual acuity to see the effects of his corrective Photorefractive Keratectomy eye surgery in microgravity, which NASA recently approved for use by astronauts, though none have had the procedure to date.
Garriott also plans to record weightless exercises as part of a so-called Space Sportalization effort with former NFL player Ken Harvey to promote fitness in youth. Other educational efforts include events with the space education-themed Challenger Center in the U.S. and a student experiment competition with by the British National Space Center.
His Earth observation schedule includes snapping photos of areas previous observed by his father from Skylab in 1973 to measure environmental and climate change using the "Windows on Earth" software to find his targets.
"I definitely don't need anymore!" Garriott said with a laugh. "If anything, I'm overbooked."
If all goes as planned, he'll even hold off on sending letters or photos home during the trip to squeeze in more science.
"When you only have 10 days in space, taking an hour or two to organize data and send it down when its going to come down with you anyway doesn't make much sense," Garriott said, adding that he'll record his feelings on a digital voice recorder instead. He'll also talk to students on Earth via ham radio much like how his father called him from Skylab when he was young.
Meanwhile, the Russian-built Soyuz rocket that will launch Garriott and his Expedition 18 crewmates into space is due to roll out today to the historic same launch pad that lofted cosmonaut Yuri Gagarin on the first-ever human spaceflight from Baikonur Cosmodrome in 1961.
Space Adventures' next space tourist Charles Simonyi - who is paying $35 million for his second private spaceflight - has said he plans to be on hand to see Garriott off. Owen Garriott is also at the Baikonur Cosmodrome to watch his son launch into space, and will follow the mission from the Federal Space Agency's Mission Control Center outside Moscow as the flight's chief scientist.
"If you've asked anyone who's flown what was the most enjoyable part, they'll tell you to a person it was looking out the window," the older Garriott said, adding that seeing the Earth from space with one's own eyes is indescribable. "That's one of Richard's main experiments in flight, Earth photography … I envy him the opportunity of spending some hours looking out the window."
The Expedition 18 crew is set to launch into space on Sunday, Oct. 12 at 3:01 a.m. EDT (0701 GMT). NASA will broadcast the launch live via NASA TV. Click here for SPACE.com's NASA TV feed and space station mission updates.
Richard Garriott is chronicling his spaceflight training and mission at his personal Web site: www.richardinspace.com.
Video - Space Tourist Charles Simonyi Launches to Orbit

Future of Flight: Space Tourism, Investment and Technology

Video - Space Station Acrobatics