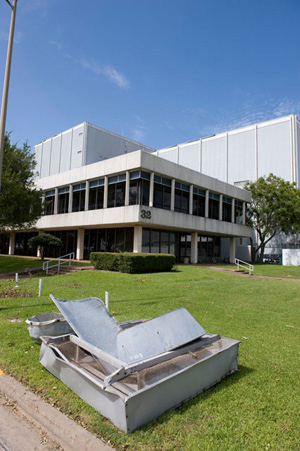 NASA?s Johnson Space Center (JSC) in Houston reopened for business Monday after a lengthy closure due to Hurricane Ike.
Home to NASA?s astronaut training facilities and Mission Control rooms for the space shuttle and International Space Station, the Texas-based JSC shut down on Sept. 11 to allow personnel to evacuate in advance of Hurricane Ike.
?Actually, it went very smoothly,? NASA spokesperson John Ira Petty told SPACE.com from the center, adding that there?s still cleanup work to be done. ?We don?t have 100 percent so far.?
NASA closed down the space station control room and activated backup teams near Austin, Texas, and Huntsville, Ala., to support the three-astronaut crew currently aboard the orbiting laboratory. High winds caused roof damage at several JSC buildings, including the station Mission Control, and damaged hangar facilities at nearby Ellington Field, where NASA stories its T-38 astronaut training jets. The aircraft were evacuated from the base prior to Ike?s arrival.
Petty said local schools around the center are still closed and leave is being granted to JSC personnel who need to remain home to oversee repairs to their damaged homes.
Flight controllers reopened NASA?s space station Mission Control on Friday, though the facilities? evacuation did delay the arrival of an unmanned Russian cargo ship by several days.
The autonomous space freighter, Progress 30, spent a few extra days orbiting Earth until NASA flight controllers at the backup control centers could position the station?s U.S.-built solar arrays in the proper position before docking.
NASA mission managers have said their hurricane recovery efforts were not expected to hinder plans to launch the space shuttle Atlantis and a crew of seven astronauts toward the Hubble Space Telescope on Oct. 10.
That launch target, however, may be delayed a few days due to a series of minor technical glitches related to moving a cargo container holding new instruments and spare parts for Hubble to Atlantis atop its seaside launch pad at the Kennedy Space Center in Cape Canaveral, Fla.
NASA mission managers will study the schedule impact, if any, of the glitches and set an official launch date for the Hubble flight during a two-day meeting to begin Oct. 2.
Commanded by veteran shuttle flyer Scott Altman, Atlantis? STS-125 mission will mark NASA?s fifth and final service call on the Hubble Space Telescope. Shuttle astronauts plan to stage five back-to-back spacewalks to install new cameras, replace batteries, gyroscopes and other equipment, add a docking ring, and make tricky repairs designed to extend the telescope?s orbital life through 2013.
Video - Hubble Service Mission 4 Countdown

New Hubble Images - When Galaxies Collide

Video - Back to the Moon with Orion and Ares