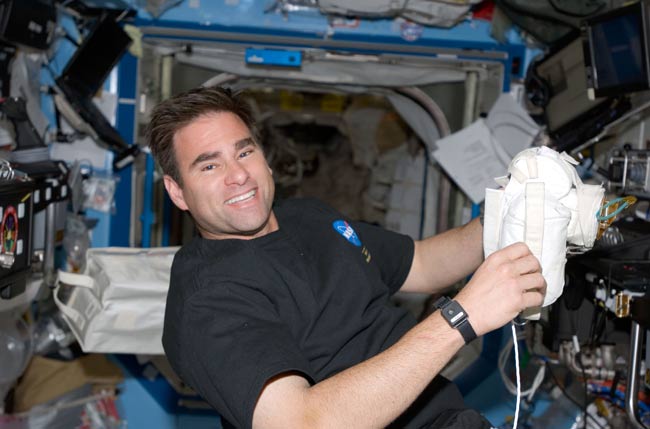 NASA astronaut Gregory Chamitoff is settling into life aboard the International Space Station (ISS) and gearing up for the long orbital haul.
Chamitoff, 45, is newest member of the station's three-man Expedition 17 crew, where he'll serve the dual role of flight engineer and NASA's science officer for the next six months of his long-duration spaceflight.
"It's amazing to be up here, but what makes it meaningful are our family and friends back there," Chamitoff said of Earth this week in a televised interview.
A native of Montreal, Canada, Chamitoff is a planetary geologist and engineer by training and grew up in San Jose, Calif. He is married and father to three-year-old fraternal twins, and is making his first career spaceflight on Expedition 17.
"I wanted to do this my whole life, it seems," Chamitoff said before flight in a NASA interview, adding that he caught the spaceflight bug ate age 6 when his family watched firsthand as the astronaut crew of Apollo 11 launched the first lunar landing mission in July 1969. "My dad was always very excited about the space program. I told him then that's what I want to do, and kind of never gave up on that."
Chamitoff launched toward the station aboard NASA's space shuttle Discovery on May 31 and watched from orbit last week as his former crewmates landed safely at the agency's Kennedy Space Center in Cape Canaveral, Fla., on June 14. He replaced fellow NASA astronaut Garrett Reisman and helped to install the space station's new Japanese Kibo laboratory, a massive laboratory the size of a large tour bus that Chamitoff will continue to work on during his mission.
"It's just a spectacular new module," he said this week. "It's a pretty amazing addition to the space station."
The new Kibo lab is 37 feet (11 meters) long, about 14.4 feet (4.4 meters) wide and sports two windows, a small airlock and a primary 33-foot (10-meter) robotic arm designed to move experiments out to an porch-like external platform that is slated to launch next year. A smaller robotic arm for fine movements I also expected to be delivered in 2009.
Chamitoff will work alongside the station's Russian cosmonaut commander, Sergei Volkov, and flight engineer Oleg Kononenko during his flight to complete robotic arm tests and outfit the new lab, as well as its roof-mounted storage room, for space operations. He is slated to return to Earth aboard NASA's shuttle Endeavour in November.
But despite his busy work schedule, Chamitoff is making sure to take some time to gaze down on his home planet from orbit. Earlier this week, he caught a glimpse of his home state of California just before bedtime.
"I could see all the way to the Baja Peninsula," Chamitoff said. "It was amazing to realize that so many of my favorite places, so many of my favorite people and family and friends, were all in this one area and we flew by it in such a short period of time."