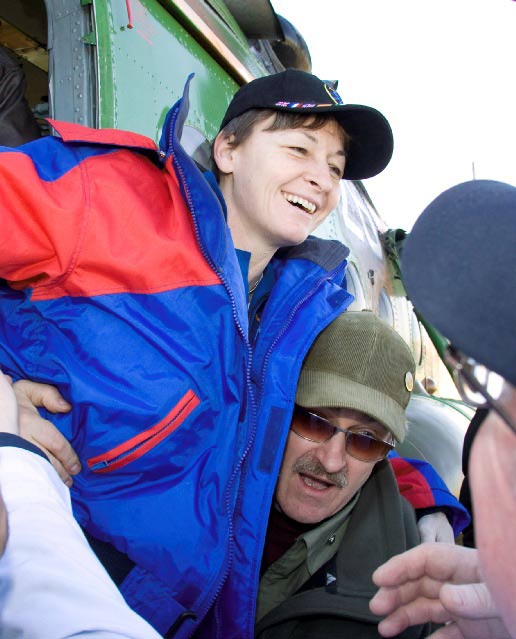 The International Space Station?s (ISS) first female commander said her ?dramatic? landing aboard a Russian spacecraft last week capped a landmark mission to build up the orbiting laboratory.
NASA astronaut Peggy Whitson said in an audio recording released Tuesday that her off-target landing aboard a Russian-built Soyuz spacecraft on Saturday was ?more dramatic than I was expecting,? but not as bad as she anticipated.
Whitson returned to Earth aboard a Soyuz TMA-11 spacecraft with Russian cosmonaut Yuri Malenchenko and South Korean spaceflyer So-yeon Yi. They touched down about 260 miles (420 km) short of their intended landing site and under a backup, ballistic mode. The landing subjected them to forces eight times that of Earth's gravity, while normal Soyuz descents reach about six times Earth's gravity.
?Shortly after [module separation] we switched automatically to the ballistic mode, which means we were going to be spinning up to 8 Gs and coming in on a steeper descent,? said Whitson, who commanded the station?s six-month Expedition 16 mission, in the post-landing recording. ?I saw 8.2 Gs on the meter; it was pretty, pretty dramatic. Gravity is not my friend right now, and 8 Gs was especially not my friend, but it didn?t last too long.?
Russian engineers are investigating what caused the steeper-than-normal descent - the second in a row for a returning Soyuz. They are also looking into a potential issue with the separation of the spacecraft?s propulsion and crew-carrying modules, NASA officials have said.
?You know [parachute] deploy was nominal and impact ? I guess maybe because I heard so many stories, wasn't quite as bad as I was expecting,? Whitson said.
Whitson added that Malenchenko, who commanded the Soyuz during launch and landing, kept his crew on task during the descent.
?Yuri is a great Soyuz commander and he did a great job throughout the entire time making sure we were on procedure and everything happened appropriately,? Whitson said.
Her first sensations after landing included a light breeze outside the Soyuz, the sound of birds and the smell of burnt grass from brush fires, which NASA officials said were set by nearby farmers. Local Kazakhs were the first to welcome them back to Earth, the astronauts added.
?It was just some guys who had seen it,? Whitson said, adding that they arrived in time to help her and Yi exit the spacecraft. ?It worked out really well and we just waited until the search and rescue team arrived."
The landing marked the end of an 11-day flight for Yi and marathon construction flight for Whitson and Malenchenko during their Expedition 16 mission.
?This expedition was probably one of the most amazing expeditions that has ever occurred on space station,? NASA space operations chief Bill Gerstenmaier said Tuesday.
Whitson and Malenchenko launched in October to host several NASA space shuttle crews as they added new hardware to the space station. Together, they helped fix damaged solar arrays and joints, and installed a connecting hub, European lab, Japanese storage room and a Canadian robot during their expedition.
?I think I was really lucky to be in a place and at a time when so many different activities were going on,? said Whitson, who set a new U.S. record for total time in space. The 192-day Expedition 16 flight pushed her to 377 total days in space over two flights, the most of any NASA astronaut. ?When we separated, I was waving at the station.?
Whitson, Malenchenko and a series of rotating crew members also performed a total of five spacewalks, some challenging robotic arm tasks and welcomed the arrival of a Europe?s first unmanned cargo ship during their mission.
?Thrown in among that were two Progress [cargo ships] and three shuttles,? she added.
Before leaving the space station, Whitson told SPACE.com that while there were many high points during her mission, gazing down at Earth while working outside the space station in a spacesuit was near the top of her list.
The lowest point, she said in the recording, came in December, when the mother of her U.S. crewmate Dan Tani was killed in a car-train accident near Chicago.
?The low points, it?s hard to have any, but Dan?s mom past away,? Whitson said, her voice breaking at times.
During her six months in space, Whitson gained a reputation for quick and efficient work that constantly kept mission managers scrambling to come up with new tasks. Flight controllers dubbed it the ?Peggy Factor,? but Whitson said she only wanted to do a good job.
?I?ve always said I?m not the sharpest tool in the shed, but I am able to work really hard,? she said. ?So I think that helped get me to where I was able to do this mission.?
VIDEO: ISS Commander Peggy Whitson Takes Charge

NEW IMAGES: NASA's STS-123 Shuttle Mission in Pictures