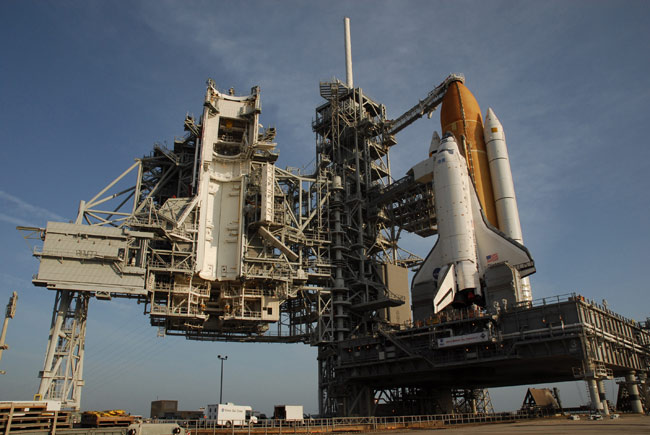 The space shuttle Discovery rolled out to its Florida launch pad early Saturday as NASA prepares to launch a massive Japanese laboratory later this month.
Commanded by veteran astronaut Mark Kelly, Discovery?s seven-astronaut crew is set to launch May 31 from NASA?s Kennedy Space Center (KSC) in Cape Canaveral, Fla., to deliver Japan?s Kibo module, the largest laboratory planned for the International Space Station (ISS).
?We?re really excited to be within 30 days [of liftoff],? Kelly told reporters this week. ?We?re looking forward to the next three weeks of training and then the launch.?
Kelly and his STS-124 crew plan to perform three spacewalks to install and outfit the 37-foot (11-meter) long Kibo during their 13-day construction mission. They will also move the tour bus-sized ?Kibo?s attic-like storage module from a temporary perch at the ISS to the main module during the flight.
Shuttle engineers hauled Discovery and its attached external fuel tank and rocket boosters to their Launch Pad 39A launch site at KSC at about 6:06 a.m. EDT (1006 GMT). The move actually started late Friday at about 11:47 p.m. EDT (0347 GMT), when Discovery began the slow 3.4-mile (5.4-km) trek to the launch pad atop NASA?s massive crawler transporter vehicle.
?Everything has been going extremely well,? said NASA spokesperson Allard Beutel of KSC.
Discovery?s launch preparations have gone so smoothly that shuttle workers have a full seven days of cushion time, where none existed earlier, to handle any unforeseen glitches, Beutel told SPACE.com.
Kelly and his STS-124 crew plan to head to KSC next week to rehearse launch day activities aboard Discovery. Their spaceflight will mark NASA?s third shuttle mission of up to five planned for the year.
Image Gallery: Shuttle Mission Diary: NASA's STS-123