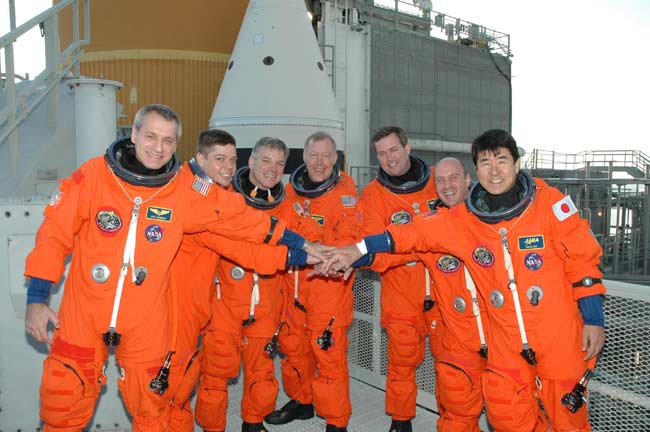 The shuttle Endeavour and a crew of seven astronauts will launch in less than two weeks on what will be the longest mission to date headed for the International Space Station (ISS), top NASA officials said Friday.
Shuttle commander Dominic Gorie and his STS-123 crew are now officially set to lift off at 2:28 a.m. EDT (0628 GMT) on March 11 from NASA?s Kennedy Space Center in Cape Canaveral, Fla., on a 16-day mission to deliver a new orbital room and robot to the ISS.
?The teams are ready to go launch on March 11,? NASA space operations chief Bill Gerstenmaier told reporters in a briefing at KSC. ?This is an extremely complex mission.?
Gorie and his crewmates are charged with delivering the first module of Japan?s Kibo laboratory and a Canadian-built robot for exterior maintenance, as well as replacing one member of the station?s three-person crew. The astronauts will perform five spacewalks to install the Japanese-built module, Canada?s two-armed Dextre robot and test a shuttle heat shield repair technique among their other station work.
?This is really the international portion of the International Space Station,? said Gerstenmaier, adding that new control centers in Japan and France will join others in the U.S., Russia and Germany during the flight.
Leftover debris from the Feb. 20 destruction of a U.S. spy satellite, which prompted a launch delay for a new reconnaissance spacecraft this week, will not hinder Endeavour?s planned liftoff, mission managers said. The U.S. Navy destroyed the dead satellite with a missile to prevent its half-ton load of toxic rocket fuel from endangering people on the Earth.
?It really poses no risk to the shuttle,? said Gerstenmaier, adding that the odds of Endeavour suffering a major debris strike increased only slightly from a 1-in-269 chance to 1-in-259. ?We don?t see any concern or problems.?
Endeavour?s planned March 11 launch comes less than three weeks after the successful return of its sister ship Atlantis, which landed Feb. 20 after delivering Europe?s Columbus laboratory to the ISS.
?Space is getting very busy,? said John Shannon, NASA?s shuttle program manager. ?The team is turned around and ready to go for this new mission.?
Launch traffic ahead
Endeavour is set to launch between two other spacecraft also bound for the ISS; the European-built unmanned cargo ship Jules Verne, to launch March 7, and a Russian Soyuz spacecraft to lift off on April 8.
NASA shuttle launch director Mike Leinbach said Endeavour has least two opportunities to fly, on March 11 and March 12, before standing down for five days to allow an unmanned Delta 2 rocket to launch a navigation satellite from the Cape Canaveral Air Force Station near KSC.
Endeavour must also lift off by March 23 in order to complete its mission before the April Soyuz launch to ferry a new crew to the ISS, Leinbach added.
?Life is getting more complicated,? Gerstenmaier said. ?We?ve got lots of stuff flying in space.?
If Jules Verne, the European Space Agency?s first Automated Transfer Vehicle, launches March 7, there will likely be intermittent communication outages with Endeavour due to the finite satellite resources available for use by the cargo ship, shuttle and space station, Shannon said.
While the shuttle is docked at the ISS, Jules Verne will be parked about 1,243 miles (2,000 km) away from the station before continuing its shakedown cruise, mission managers added.
Endeavour?s crew is scheduled to head toward NASA?s KSC spaceport on March 7 to begin countdown procedures for their March 11 launch.
VIDEO: ESA's New Science Laboratory

IMAGES: STS-122 Launch Day

SPACE.com Video Interplayer: Europe's Columbus Lab Sets Sail for ISS on STS-122