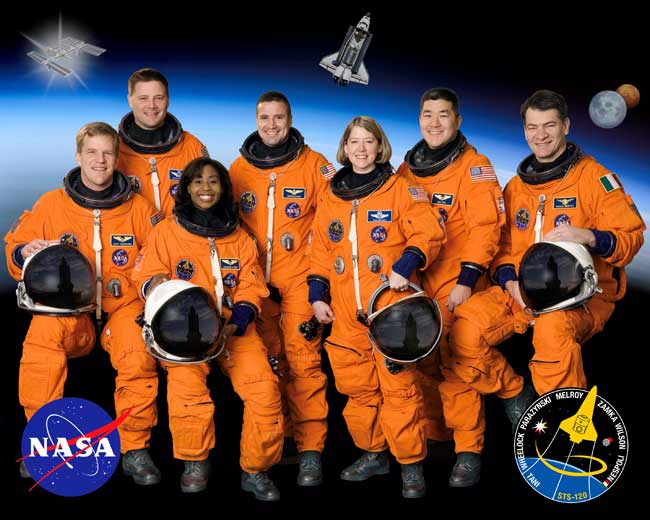 HOUSTON ? Seven astronauts are eagerly preparing for a busy construction flight to the International Space Station (ISS), with just over one month remaining until their planned launch aboard NASA?s shuttle Discovery.
?This is an exciting moment for any crew,? shuttle commander Pamela Melroy said Friday.
Melroy and her crewmates said they are looking forward to their planned Oct. 23 launch on NASA?s STS-120 mission to deliver a new connecting node to the ISS and move an older solar array segment to the station?s port-most side.
That Port 6 solar array module relocation, which will be completed during the third of up to five planned spacewalks during Discovery?s two-week spaceflight, will likely be among the most challenging tasks of the mission, the astronauts said.
?That is a very complex activity,? said mission specialist Stephanie Wilson, the lead STS-120 robotic arm operator, in a press briefing here at the Johnson Space Center. ?We hope it will go smoothly, but perhaps it will go differently.?
In addition to Melroy and Wilson, shuttle pilot George Zamka, mission specialists Scott Parazynski, Doug Wheelock, Daniel Tani and Paolo Nespoli ? of the European Space Agency ? will launch into space aboard Discovery during the October mission. Tani will stay aboard the ISS to relieve fellow NASA astronaut Clayton Anderson as a member of the station?s Expedition 16 crew.
Melroy said she and her crew were confident in recent repairs to fix cracked insulation on Discovery?s fuel tank. Engineers discovered the cracks after a piece of fuel tank debris dinged the Endeavour orbiter during its launch last month.
?I have a lot of confidence in our tank,? Melroy said. ?I?m hopeful that everything is going to go well.?
The shuttle commander stressed that NASA?s astronaut corps is filled with dedicated professionals, despite poor publicity stemming from the arrest of former spaceflyer Lisa Nowak and anonymous allegations of alcohol abuse earlier this year.
?I don?t think that you could possibly set a higher standard for us than what we set for ourselves,? Melroy said.
For Parazynski, Discovery?s launch will mark his fifth flight into space and likely be one to remember.
?In a sense, there?s a sensory overload,? Parazynski said, adding that each shuttle flight has allowed him to absorb more of the spaceflight experience. ?It?s going to be magical?wonderful.?
SPACE.com Video Interplayer: NASA's STS-118 Shuttle Mission

IMAGES: Endeavour's STS-118 Launch to the ISS

Complete Space Shuttle Mission Coverage