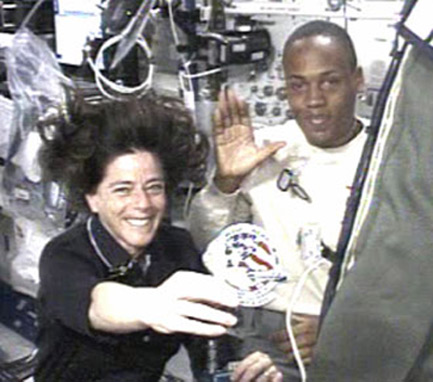 HOUSTON -- Astronaut teacher Barbara Morgan made a hometown call from orbit Thursday, radioing students at her former teaching grounds as NASA discussed the necessity of heat shield fix for the shuttle Endeavour.
After one thwarted attempt due to orbital mechanics, Morgan successfully reached students at McCall-Donnelly Elementary School in McCall, Idaho, where she taught English and mathematics before joining NASA's astronaut corps.
"We miss McCall a whole bunch and look forward to coming down some time and answering more questions, and sharing this whole experience," Morgan told the students via a ham radio signal. Ham radio operator Tony Hutchinson of South Australia relayed her words to McCall-Donnelly students.
Morgan, 55, spent Thursday overseeing cargo transfer between Endeavour and the International Space Station (ISS), where she and her STS-118 crewmates are in the midst of a busy construction flight. Her crewmates and mission managers also discussed whether a small gouge in Endeavour's tile-covered belly will need to be repaired in a Saturday spacewalk. A decision is anticipated for late Thursday.
But Morgan also paused in her work to answer questions from schoolchildren, first at Alexandria, Virginia's Challenger Center for Space Science Education and then with McCall-Donnelly students.
"I've been involved with NASA for over 20 years," Morgan told schoolchildren, adding that her professional astronaut training officially began nine years ago. "One of my jobs, and one I think I like the best, is getting to be one of the robotic arm operators."
Students asked Morgan how difficult it is to eat without gravity, how she slept in space and what protected the ISS and Endeavour from asteroids and space debris.
"We have a lot of protection onboard both the shuttle and the station," Morgan said as she described the station's armored metal plates. ?
By coincidence, Endeavour commander Scott Kelly reported finding a tiny, one millimeter nick in one of the orbiter's forward facing flight deck windows earlier Thursday. But the miniscule scuff, located on the outermost layer of a three-panel thick window, posed no threat to the shuttle or its crew, NASA said.
Morgan said that sleeping in space is quite comfortable, but swallowing food was a challenge at first, primarily because it was odd not having gravity to pull it down to her stomach, she added.
Morgan taught at McCall-Donnelly between 1975 and 1998, interrupted only by a one-year stint to teach in Quito, Ecuador and her call to NASA. The space agency first selected Morgan in 1985 as the backup for New Hampshire high school teacher Christa McAuliffe set to fly aboard Challenger during NASA's Teacher in Space program.
But Morgan returned to McCall-Donnelly after the 1986 Challenger accident and taught until 1998, when NASA recalled the Idaho schoolteacher to serve as a full-fledged mission specialist and educator astronaut.
Morgan has said she hopes to return to teaching at in Idaho once her work as an astronaut is complete.
NASA is broadcasting Endeavour's STS-118 mission live on NASA TV. Click here for mission updates and SPACE.com's NASA TV feed.
NEW VIDEO: Endeavour Shuttle Tile Damage

VIDEO: Teaching the Future: Teacher-Astronaut Barbara Morgan

Complete Space Shuttle Mission Coverage