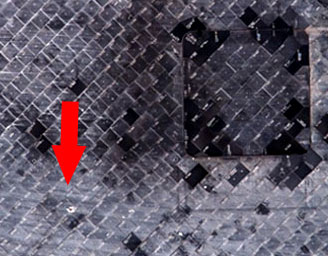 HOUSTON ? Damage found on the belly of NASA's space shuttle Endeavour has prompted plans for an extra heat shield inspection, mission managers said Friday.
Mission management team chairman John Shannon said three bits of debris, believed to be foam, struck the orbiter's heat-resistant tiles during Endeavour's Wednesday launch. Radar data acquired by Kennedy Space Center shows that a "spray" of debris 58 seconds into flight, however, appears to be ice.
"Yesterday we were thinking it might be foam, today that radar data said it looked like ice," Shannon said. "That perked up our ears a little bit because ice is much more dense, of course, than foam and can do much more damage to tile."
Mission Control notified the STS-118 astronaut crew of the need for an inspection shortly after the briefing here at Johnson Space Center (JSC).
"Thanks for the heads up," Endeavour shuttle commander Scott Kelly replied.
The astronauts, who are now docked with the International Space Station (ISS), will use a 50-foot (15-meter) sensor-tipped extension boom to Endeavour's robotic arm to get a closer look at the damaged area on Sunday around 12:06 p.m. EDT (1606 GMT).
Small gouge
Images of the orbiter's thermal shield revealed damage to a six-by-six-inch (15-centimeter-by-15-centimeter) heat-resistant tile, located four feet (1.2 meters) behind the starboard side's retractable wheel cover. Shannon described the damage as a three-inch-by-three-inch (eight-centimeter-by-eight-centimeter) gouge, but noted that mission engineers will not be able to determine the full extent of the damage until after the crew's closer inspection.
"We have a rich flight history of tile damage, some of which is more significant looking than what we have right here," Shannon said. "Instead of guessing, we'll go and get the right characterization of what exactly the damage is."
Engineers will assess the damage with computer models of Endeavour's reentry to Earth, which Shannon said is extremely precise.
Shannon said the damage was discovered after reviewing 296 images of Endeavour's underbelly taken today by International Space Station (ISS) crew, shortly before Endeavour docked with the orbital laboratory at 1:02 p.m. EDT (1702 GMT). Temperatures in the area of damage can reach almost 2300 degrees Fahrenheit (1260 degrees Celsius) during reentry to Earth.
If debris penetrates deep enough into the heat-resistant tile, the orbiter's thin aluminum skin could be compromised from the heat and pose a threat to the crew on board. If that is the case with Endeavour's damage, Shannon said, there is recourse.
"We have three different ways that we can fix tile that we feel very confident in," Shannon said. Although he said it's too soon to know if repair is even necessary, astronauts could use a heat-resistant paint, a drill-on patch or a thick "goop" as a temporary fix.
NASA has paid close attention to the integrity of its shuttle heat shields since 2003, when a 1.67-pound (757-gram) chunk of foam insulation struck the Columbia orbiter's heat shield during liftoff and led to the loss of its seven-astronaut crew.
Close encounter
In addition to the tile damage, STS-118 mission managers said there was a close encounter with a spent rocket occurred about one and a half hours after the 6:36 p.m. EDT (2036 GMT) launch of Endeavour.
Matt Abbott, lead shuttle flight director for the current mission, said the encounter was surprising but didn't require an emergency maneuver to avoid hitting the object.
"There are times when really doing nothing is the right thing to do," Abbot said. "We do everything we can to make sure that the vehicle is protected."
In this case, the 32-year-old Delta 2 rocket came within one to two kilometers (0.6 miles to 1.2 miles), which Abbott said did not pose an immediate danger to Endeavour's crew.
Commander Scott Kelly and his STS-118 crewmates are hauling 5,000 pounds (2,267 kilograms) of fresh cargo, spare parts and the space station's new Starboard 5 (S5) spacer truss into orbit.
Shortly after the mission's seven astronauts hooked up to the space station today, mission specialists Tracy Caldwell and Rick Mastracchio transferred the 4,000-pound (1,812-kilogram) S5 truss to the space station's robotic arm.
The hand-off will prepare Mastracchio and Canadian astronaut Dave Williams for their spacewalk tomorrow at 12:31 p.m. EDT (1631 GMT), which will attach the truss to the orbital laboratory.
Teacher-astronaut Barbara Morgan is spending her first days in space on the mission, ending a 22-year wait for the opportunity after the crew of the 1986 Challenger mission. She returned to NASA as a full fledged astronaut in 1998 and was assigned to Endeavour's STS-118 mission in 2002.
VIDEO: Teaching the Future: Teacher-Astronaut Barbara Morgan

VIDEO: Endeavour's STS-118 Mission Profile

Complete Space Shuttle Mission Coverage