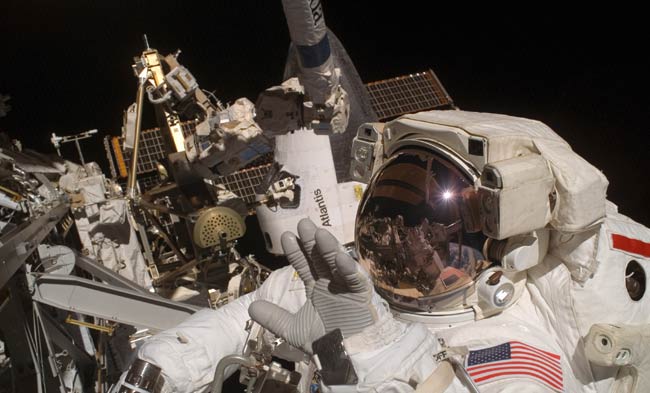 HOUSTON -- Astronauts aboard NASA's shuttle Atlantis will rehearse a unique heat shield repair plan Thursday as they continue efforts to retract an older solar array outside the International Space Station (ISS).
Spacewalkers Jim Reilly II and Danny Olivas will go over plans to use a medical stapler, dental tool and Atlantis' heat shield repair kit to secure a loose blanket on one of their shuttle's aft engines.
"What the crew will be doing tomorrow, primarily, is getting prepared for that (extravehicular activity)," NASA's ISS flight director Kelly Beck told reporters here at the Johnson Space Center late Wednesday after mission managers added the repair to Friday's planned spacewalk.
Reilly and Olivas will rehearse different ways of using staplers from the medical kits aboard Atlantis and the ISS to staple a 4-inch by 6-inch (10-centimeter by 15-centimeter) triangular blanket flap back into place on the shuttle's left Orbital Maneuvering System (OMS) pod. Aerodynamic loads on the flap freed it from its mount during the shuttle's June 8th launch, NASA has said.
Beck said the shuttle crew will also participate in additional work to remotely pack away an old U.S. solar array, which sits nearly half-furled at the top of the orbital laboratory's Port 6 truss after retraction efforts during a Wednesday spacewalk. The outpost's three-astronaut Expedition 15 crew, meanwhile, is expected to continue troubleshooting efforts with Russian ISS engineers to recover a series of vital navigation and command and control computers inside the station's Russian segment.
Repair details
While Atlantis' damaged thermal blanket does not pose a risk to its astronaut crew for landing, there is a possibility that it could lead to damage to the OMS pod's underlying structure and prompt lengthy repairs, NASA has said.
Current plans call for a spacewalker to first pat the flap down flat with either his hand or a scraper-like tool originally designed to repair Atlantis' heat-resistant tiles and carbon composite panels, mission managers said.
"These blankets are very formable," said John Shannon, NASA's deputy shuttle program manager, late Wednesday. "It will take the shape that you put it in and will stay there."
Next, the repair requires a double row of staples using the medical staplers along the tear's edges, and finishes with the use of a dental tool and stiff nickel chromium pins to secure the torn blanket and part of an adjacent one into nearby tiles, Shannon said. The crew will take six staplers with them, each with 15 staples.
"The team was very confident that the staples with the pins would meet our objectives," he added.
As a backup repair, Reilly and Olivas will also practice a bit of orbital sewing using stainless steel wire for thread and a spacesuit darning needle.
"I think the likelihood of actually having to use this is extremely low," Shannon said of the backup sewing method.
NASA is broadcasting the space shuttle Atlantis' STS-117 mission live on NASA TV. Click here for mission updates and SPACE.com's video feed.
SPACE.com Video Interplayer: Space Station Power Up with STS-117

STS-117 Power Play: Atlantis Shuttle Crew to Deliver ISS Solar Wings

Complete Shuttle Mission Coverage