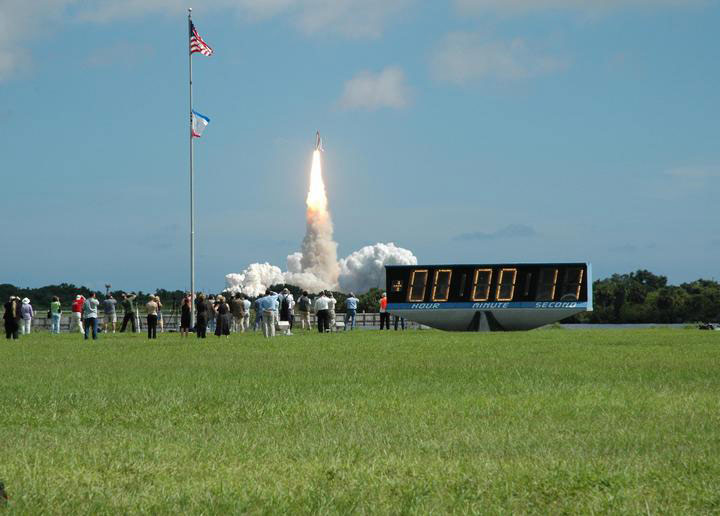 CAPE CANAVERAL, Fla. - The space shuttle Atlantis is likely unharmed from small showers of fuel tank foam that appeared to rain on the orbiter in the late stages of its Sept. 9 launch, NASA's shuttle chief said Saturday.
NASA space shuttle program manager Wayne Hale said an initial look at video and images of Atlantis' 11:14:55 a.m. EDT (1514:55 GMT) launch recorded five instances of foam shedding, but none are suspected of damaging the spacecraft.
"Not only am I not alarmed, I am really at ease after looking at this video," Hale told reporters here at Kennedy Space Center, where Atlantis rocketed toward the International Space Station (ISS) from its Pad 39B launch site today.
Every foam debris event recorded by a fish-eye lens camera mounted to the top of a 17-inch pipeline on Atlantis' external tank, which feeds the thirsty shuttle with liquid oxygen during launch, occurred after the two-minute and 15-second mark. Before that benchmark, debris can be swept back fast enough to strike a shuttle and cause significant damage.
"What we've seen to date today is very good," Hale said. "We saw nothing of any consequence, or anything that's made the reports, before four minutes and seven seconds into the flight."
Four minutes and seven seconds after launch, a space shuttle has passed an altitude of about 300,000 feet - or about 10 times that of a typical commercial jetliner - and almost in orbit, Hale said.
"Anything that comes off that late is of no consequence from the debris standpoint, or damage to the shuttle thermal protection system standpoint," he added.
NASA has kept close watch on launch debris after a large piece of foam insulation pierced the space shuttle Columbia's heat shield during liftoff, leading to the loss of the orbiter and its seven astronaut crew during reentry in 2003.
Here is a rundown of the major events seen in the fish-eye lens video:
Four minutes, five seconds into launch: spray of foam debris apparently with multiple impacts to orbiter starboard side, belly tile region, wing glove area. Multiple debris events showering from outboard liquid oxygen feed line area, with possible impacts. No damage noted in any of the events.
Five minutes, 28 seconds into launch: spray of debris outboard of liquid oxygen feed line, possible events. Again no damage identified.
Eight minutes, 44 seconds into launch: Single piece of debris - possibly ice - separates from umbilical area, impacts port brace between Atlantis and tank to impact fuselage near nose landing gear door. No damage seen at impact site.
Five minutes, 40 seconds into launch: Radar tracking system records a signal indicating possible debris. Image analysts are sifting though ascent imagery to seek correlation.
16 seconds into launch: A Tyvek cover protecting reaction control thruster falls free, three seconds late, but does not impact orbiter aft.
Hale added that a piece of what analysts believe to be ice or debris was seen falling clear of Atlantis' aft just after liftoff by a ground-based camera, and posed no threat to the spacecraft or its astronaut crew.
It is too early to determine the mass of the individual foam debris fragments, but additional video from a camera mounted in the umbilical well that serves as a connecting point between Atlantis and its tank will help determine those masses and sizes, Hale added.
More than 100 cameras watched Atlantis' launch from the ground and in the air. Analysts will sift through those images to seek out any other areas of concern, shuttle officials said.
Meanwhile, Atlantis' STS-115 crew relayed video and high-resolution images of the shuttle's external tank - taken just after the 15-story vessel was jettisoned after launch - to flight controllers. That handheld video appeared to be out of focus on NASA Television, but the high resolution images will be quite valuable, shuttle officials said.
The STS-115 astronauts will also conduct a detailed survey of their heat shield with a sensor-tipped inspection boom on Sunday. Based on that scan, flight controllers will decide whether to insert an extra day in the STS-115 astronauts' 11-day mission for a focused inspection.
"Certainly I'm hopeful that we won't have any areas to look for in the focused inspection, but it's a little early to make that call," Hale said.
Gallery: Prepping Atlantis
Complete Space Shuttle Mission Coverage
NASA's STS-115: Shuttle Atlantis to Jump Start ISS Construction
The Great Space Quiz: Space Shuttle Countdown
Complete Coverage: ISS Expedition 13