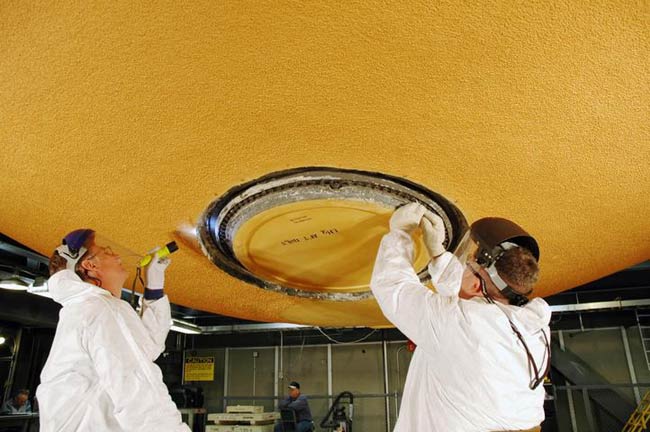 CAPE CANAVERAL - Workers on Tuesday dinged foam on an external fuel tank scheduled to fly with the shuttle in July.
They were preparing to replace a gaseous oxygen vent valve near the nose and were repositioning a halogen lamp when it hit the tank, causing "extremely minor" damage to the insulating foam, NASA spokeswoman Jessica Rye said.
Work continues on the bottom of the tank, in Kennedy Space Center's Vehicle Assembly Building, as technicians replace problematic engine cutoff sensors.
The workers are from the Lockheed Martin-run Michoud Assembly Facility in New Orleans, which makes the external tanks.
Work at the top is on hold.
"We're in the process of completing a detailed inspection of the area before we'd be able to determine what, if any, repairs are required," Michoud spokesman Marion LaNasa said.
"We have a significant amount of experience repairing damage in this area of the ET."
Last year, he said, birds damaged foam near the nose of a tank, and the foam was repaired, though that tank didn't fly for other reasons.
"We don't think this is going to be any impact or concern at this point," Rye said.
There are two current investigations into recent accidents at KSC. In one, a construction worker fell off a roof and died from his injuries.
In another, a shuttle robot arm was dinged.
Published under license from FLORIDA TODAY. Copyright ? 2006 FLORIDA TODAY. No portion of this material may be reproduced in any way without the written consent of FLORIDA TODAY.
Return to Flight: NASA's Road to STS-121