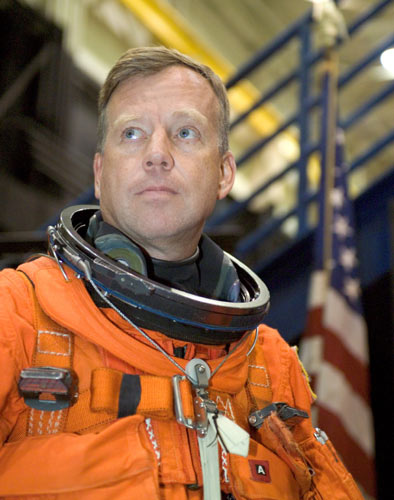 As NASA honors the memories of astronauts lost in the pursuit of human spaceflight, the commander of the agency's next shuttle mission is also looking toward the future.
U.S. Air Force Col. Steven Lindsey, commander of NASA's STS-121 Discovery flight, and his six-astronaut crew are gearing up for a packed few months of training. The spaceflight's current, 20-day launch window opens on May 3, NASA officials said.
"We're getting really busy now with the training to make that date," Lindsey told SPACE.com.
Lindsey, shuttle pilot Mark Kelly, mission specialists Michael Fossum, Lisa Nowak, Stephanie Wilson, Piers Sellers, and European Space Agency (ESA) astronaut Thomas Reiter are bound for the International Space Station (ISS) on what will be NASA's second shuttle flight since the Columbia disaster.
Much of the crew's mission training are refresher courses to maintain their skills, though several long, integrated simulations with shuttle and ISS flight controllers are set for the next few months, Lindsey said.
Slated to launch in September 2005 following NASA's first post-Columbia flight--STS-114, also aboard Discovery--the STS-121 mission suffered a series of delays as engineers worked studied foam insulation debris problems associated with a protective ramp on shuttle external tanks.
An unacceptably large piece of foam fell from the ramp during Discovery's STS-114 launch in July 2005, but did not strike the orbiter. A similar foam shedding event doomed Columbia's Feb. 1, 2003 launch, when a chunk of insulation pierced the orbiter's heat shield and left it vulnerable to hot atmospheric gases during reentry.
Last month, NASA decided to remove the problematic ramp altogether, work that Lindsey and his crew have watched closely.
"We're well aware of what's going on," Lindsey said, adding that his crew planned to visit NASA's New Orleans, Louisiana-based Michoud Assembly Facility--where external tanks are built--to discuss the work and hand out merit awards to facility workers.
NASA spokesperson Jessica Rye, at the agency's Kennedy Space Center in Florida, said the STS-121 flight's external tank is expected to arrive at the spaceport in early March.
Shuttle workers have already begun stacking the solid rocket boosters that will launch Discovery and the STS-121 crew spaceward, with the shuttle itself is due to rollover to the massive Vehicle Assembly Building for integration in mid-April, she told SPACE.com, adding that those timelines revolve around the delivery of the external tank.
Some aspects of the STS-121 mission have changed, including the task line-up for the spaceflight's three planned spacewalks.
"Our second spacewalk did have a couple of hours allotted for testing of the CIPAA system," Lindsey said.
CIPAA, short for Cure in Place Ablator Applicator, is a backpack-mounted device designed to mix and deliver a pink, ablative goo called STA-54 into damaged shuttle tiles. William Gerstenmaier, NASA's associate administrator for space operations, told reporters last month that engineers were likely to drop the CIPAA system.
"That's one of the activities that we feel like we've done enough investigation on," Gerstenmaier said, adding that there were other potential techniques that were further along in development and offered the same repair capabilities.
In place of the CIPAA experiment, STS-121 spacewalkers Fossum and Sellers will likely conduct ISS repairs or maintenance, Lindsey said. The crew will still place an astronaut at the end of a 50-foot (15-meter) orbital boom--which will be attached to the end of Discovery's robotic arm--to test its stability as a repair platform, he added.
The STS-121 crew is also expecting more of a time crunch during the early days of their spaceflight.
Unlike Discovery's STS-114 flight, which carried seven astronauts dedicated to new inspections and tasks instituted after the Columbia accident, Lindsey's crew has six primary shuttle astronauts. Reiter is slated to join the ISS Expedition 13 crew--commanded by Russian cosmonaut Pavel Vinogradov with NASA astronaut Jeffrey Williams as flight engineer--as the ESA's first long-duration spacefarer.
"Prior to docking is probably where it affects us most," Lindsey said, adding that Reiter will assist in general shuttle tasks, but is not trained to aid the crew during operations like the critical heat shield inspection using the orbital boom.
The trio of NASA anniversaries beginning Friday, commemorating the loss of astronauts during the 1967 Apollo 1 fire, 1986 Challenger accident and 2003 Columbia tragedy, emphasizes the inherent risks of human spaceflight, but not to the extent of preventing future exploration, Lindsey said
"We always need to [ask]...are we taking the risks for the right benefit," he added. "I believe we are. If I believed we weren't, I wouldn't take the risk to fly."
STS-114 Special Report: Complete Coverage of NASA's Return to Flight Mission