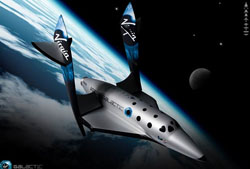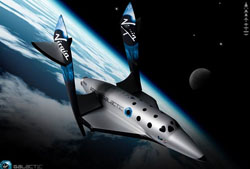 Scaled Composites is a Mojave, Calif.-based company that is part of The Spaceship Company, which is building Virgin Galactic's SpaceShipTwo. Virgin has said that it wants to send people into space by 2015, but they have remained quiet about target dates after a fatal test flight in late 2014 that killed one co-pilot and injured another.
Scaled first came into the public eye after its predecessor spacecraft, SpaceShipOne, won the Ansari X-Prize in 2004 and garnered the company $10 million. Just before Scaled won the prize, Virgin Galactic founder Richard Branson announced his plan to run tourist flights using the technology.
While Scaled still aims to send people into space, its launch date has been pushed back several times. Development delays and a 2007 fatal explosion were some of the things that derailed its ambitious earlier flight dates, prior to the fatal test flight of 2014.
In that incident, a prototype version of SpaceShipTwo crashed in October 2014 after its feathered re-entry system deployed prematurely. The full cause is still under investigation from the National Transportation Safety Board. It killed copilot Michael Alsbury and sent pilot Peter Siebold to the hospital.
The company, however, is racking up milestones on the road to space. This included reaching a major target — flying the spaceship in normal configuration — during a test in late 2012, and multiple powered test flights prior to the crash.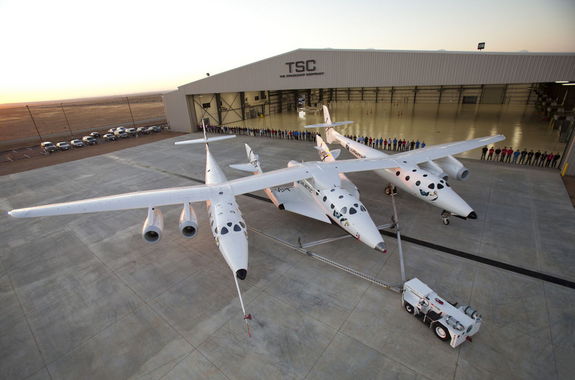 Reaching for the Ansari X-Prize
Scaled's experience in aerospace dates back to 1982, when Burt Rutan first founded the company. Its work is not only in spaceships, but also in more conventional aerospace. For example, it is the manufacturer behind the Northrop Grumman X-47A, an unmanned aerial vehicle. Besides UAVs, the company has also built business jets and even sailing ships.
Rutan's vision for spaceflight was to avoid the conventional launch-from-the-ground scenario that people were so used to seeing in the late '90s and early 2000s, when the X-Prize contest ran.
Instead, he proposed carrying the spacecraft up with a carrier aircraft — dubbed WhiteKnightOne — and then launching from above the ground to an altitude of 60 miles (100 kilometers). In Rutan's eyes, this would save on fuel and money.
While Rutan had years in the business, spaceflight is an expensive proposition. (The old joke is to make a fortune in the space business, you need to spend a fortune.) The X-Prize run was made possible through financial support from Microsoft co-founder Paul Allen, who contributed an undisclosed amount to the project.
With Allen's backing, Mojave Aerospace Ventures was formed. The business included contributions from both Allen and Scaled as the team worked toward building SpaceShipOne. Their goal was to go to space and back, twice, to nab the prize for being the first non-governmental entity to do so.
Just before making a run at the prize, Branson held a press conference announcing his intention to also invest in Scaled's technology and form Virgin Galactic, a spaceflight company. It may have added a lot of pressure to Scaled, but the company sailed through its X-Prize qualification flights and easily nabbed the prize in October 2004.
A vision of tourism flights
With Branson as a prominent backer, Scaled formed a new firm — The Spaceship Company — to begin manufacturing of SpaceShipTwo. This commercial version would launch with six passengers on board, and rocket to space from underneath its carrier aircraft — WhiteKnightTwo.
Once the unit reaches 50,000 feet altitude, SpaceShipTwo will separate and fly up to about 60 miles (100 kilometers) before turning around and heading back to Earth. As it heads back to the ground, the spaceship has the ability to turn its rudders up to 90 degrees to increase drag. This "feathering" will give the spacecraft more control as it glides through the thin atmosphere.
"The feather configuration is also highly stable, effectively giving the pilot a hands-free re-entry capability, something that has not been possible on spacecraft before, without resorting to computer controlled fly-by-wire systems," Virgin stated on its website.
When the air thickens around 70,000 feet, the spacecraft will move its rudder back to a more conventional gliding configuration, allowing it to touch down on a normal airplane runway.
However, getting to that ideal flight profile will involved a series of gruelling tests, including several powered test flights that continued until late 2014, when the crash took place.
Development delays
A devastating delay in the project came in 2007, after a fatal explosion took place at their assembly plant in July. Three workers were killed and several injured following the anomalous ground test.
Six months later, California safety inspectors issued citations to Scaled, saying the company failed to provide "effective information and training of the health and physical hazards associated with nitrous oxide." The compound was used during the test at the Mojave Air and Space Port.
"We continue to work with the agency so that the enhanced procedures already implemented promote the safest workplace conditions possible," said Doug Shane, Scaled Composites executive vice president, in a statement to SPACE.com in January 2008.
Flights of SpaceShipTwo have been pushed back a few years because of delays and the fatal crash, but customers have mostly hung on for the ride, Virgin Galactic officials have said. More than 530 people have tickets for a reported price of $200,000 each.
In 2012, Scaled announced it would pull out of The SpaceShip Company after WhiteKnightTwo and SpaceShipTwo complete their flight test programs. This change came after Virgin Galactic bought out Scaled to gain full ownership of the joint venture.
"Scaled [is] fully committed to the final portion of the ... test flight programs prior to Virgin Galactic commencing commercial operations," the firm stated after the announcement.
Late in 2012, SpaceShipTwo did its first tests in flight configuration, which includes the hybrid rocket motor and other flight components. Powered tests began in April 2013. The crash took place on the fourth powered test flight for the spacecraft.
Additional resources