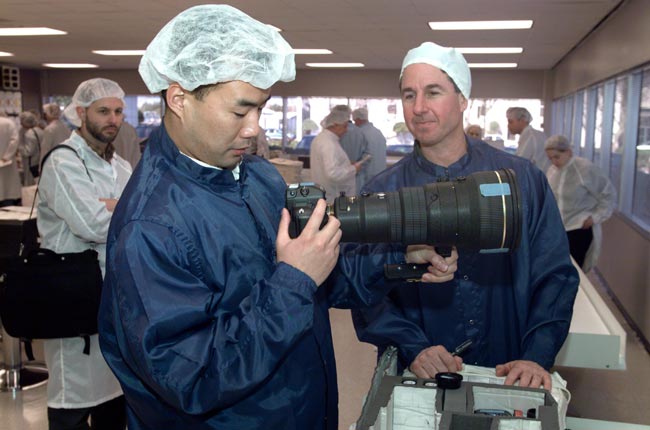 When the space shuttle Discovery arrives at the International Space Station (ISS) this month, two astronauts will have the photo opportunity of a lifetime.
Armed with digital high-resolution cameras, ISS Expedition commander Sergei Krikalev and flight engineer John Phillips will take what flight controllers and trainers hope will be a comprehensive survey of the protective thermal tiles that line Discovery's belly.
"They will be doing some test imagery in the next week and charging camera batteries," said astronaut trainer Steven Berenzweig, a shuttle and ISS photography trained at NASA's Johnson Space Center, in a telephone interview. "We want them to get some practice with their focus and mapping techniques."
The space shuttle Discovery - NASA's first space shuttle to fly since the Columbia disaster - is poised to launch as early as July 13 and could reach the space station on July 15, according to its mission timeline.
The tile survey images taken by the ISS crew will be relayed back to engineers on Earth, where they will be studied for signs of any damage. They represent only one of two critical photography session during Discovery's STS-114 flight. The other, to be conducted just after launch by the STS-114 crew, will document how Discovery's modified external tank weathered the spaceflight.
"This is going to be the most photographed shuttle mission that's ever launched," veteran astronaut Eileen Collins, commander of Discovery's STS-114 flight, said in a preflight mission briefing.
Columbia's thermal protective skin was damaged by foam debris from its external tank during launch, which punctured a wing panel and allowed hot gases to breach the shuttle's skin during reentry. The orbiter broke apart over Texas on Feb. 1, 2003, killing its seven-astronaut crew.
Serious snapshots
The docking of any space vehicle - manned or otherwise - at the ISS is just cause for crewmembers to grab their cameras. But for STS-114, it is more than a matter of pretty pictures.
"Other images of the orbiter [docking] in the past have been almost more of a public affairs type of thing," Berenzweig said.
But shuttle engineers will scrutinize the Expedition 11 crew's images to determine whether Discovery's thermal protection system is sound enough for the return trip through the Earth's atmosphere, which is currently scheduled for July 25. If everything checks out, the crew can return safely. If extensive damage is found, though flight controllers believe it's unlikely, the shuttle crew could seek refuge aboard the space station and await a rescue orbiter.
Krikalev and Phillips are outfitted with Kodak CDCS 660 digital cameras, one with a 400 mm lens to resolve tile features down to 2.5 inches (6.3 centimeters), and the other with an 800 mm equivalent for photographs down to one inch (2.5 centimeter) in resolution.
"The space shuttle will stop directly below the space station and Sergei and I will be looking out two different windows looking straight down at the space shuttle," Phillips said in a pre-flight NASA interview, adding that he expects Discovery's docking to be a mission highlight. "Unfortunately, it's not just a sight-seeing kind of thing. We can't say, 'Well there's the Shuttle silhouetted against the Great Barrier Reef.' We're going to be busy taking exactly the pictures that we're programmed to take."
The astronauts will use the 800 mm lens to image Discovery's sensitive tile regions, such as its wheel well doors, while the 400 mm camera will document the overall condition of orbiter tiles, NASA officials said.
Time crunch
Krikalev and Phillips have about 93 seconds to sweep their camera lenses across overlapping swatches of Discovery's tile-covered belly.
"Each one of their shots has about 40 to 50 percent overlap from the one before it," Berenzweig said. "We're hoping they will get two to three complete mapping passes during the time."
During Discovery's docking approach, Collins will park Discovery about 600 feet (182meters) from the ISS and perform a "rendezvous pitch maneuver," which flips the orbiter to present its underside toward the space station, then complete the circle. The entire maneuver takes about nine minutes.
"It's not an easy task," Krikalev said of the tile survey during a NASA interview. "It's very time-critical because the shuttle cannot stay for a long time near, near station."
Tank watch
Discovery's ISS docking time has been scheduled to provide optimum lighting conditions for the Expedition 11 crew's photographs, and the same goes for the shuttle's external tank separation.
"The launch will be scheduled in a way that we still have sunlight when we separate from the external tank," Collins said.
STS-114 astronauts will photograph Discovery's external tank departure earlier than in past shuttle missions to ensure a good look at the tank's condition. A new digital camera has replaced the 35 mm film camera inside Discovery's right umbilical well for additional external tank imagery. Standard film cameras in the orbiter's left umbilical well will also record the external tank separation.
Meanwhile, the tank too bears a television camera to broadcast images of itself and Discovery's underside to flight controllers.
"It's a huge wealth of data coming down, and we have a lot of people who are set to receive that data," said STS-114 mission specialist Andrew Thomas.
Fixing NASA: Complete Coverage of Space Shuttle Return to Flight