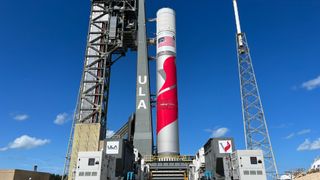 (Image credit: ULA)
The coming holiday season will be extra festive for space fans, if all goes according to plan.
United Launch Alliance (ULA) announced on Tuesday (Oct. 24) that it's targeting Christmas Eve for the debut flight of its new Vulcan Centaur rocket, the successor to the company's Atlas V and Delta IV vehicles.
The mission — known as Certification-1, or Cert-1 for short — will lift off from Cape Canaveral Space Force Station in Florida. Cert-1 is more exciting and ambitious than your standard test flight: It will send Peregrine, a robotic lunar lander built by Pittsburgh company Astrobotic, on its first-ever mission to the moon.
Related: Vulcan Centaur rocket: The space workhorse of tomorrow
The Vulcan Centaur's core stage is powered by two BE-4 engines, which are built by Jeff Bezos' aerospace company Blue Origin. The BE-4 runs on liquid oxygen and liquid methane, as does SpaceX's new Raptor, the engine for its giant Starship vehicle.
The new ULA rocket's upper stage features two RL10s, which are hydrogen-burning engines manufactured by Aerojet Rocketdyne. Vulcan Centaur can also be equipped with solid rocket boosters (SRBs) to increase its thrust at liftoff — two, four, or six SRBs, depending on a mission's requirements.
The most powerful configuration — the one with six SRBs — can deliver 60,000 pounds (27,200 kilograms) of payload to low Earth orbit (LEO), according to ULA's Vulcan Centaur specifications page.
That's about the same payload capacity as ULA's Delta IV Heavy, which is set to retire next year, and a higher one than even the burliest Atlas V variant, which can loft 41,570 pounds (18,500 kg) to LEO. (Atlas V will keep flying until 2030 or so.)
Cert-1 was supposed to be in the books by now. ULA had aimed to launch the mission in May, but that plan was scrapped when a Centaur upper stage exploded during testing at NASA's Marshall Space Flight Center in Alabama on March 29.
In June, ULA destacked the Cert-1 Vulcan Centaur, which had already aced a preflight engine firing at Cape Canaveral. The company shipped the Centaur upper stage back to its Alabama factory to reinforce vehicle's tanks in certain areas.
Originally, Cert-1 was also supposed to launch the first two test satellites for Amazon's Project Kuiper internet constellation. But the delay led Amazon to put those two spacecraft on an Atlas V instead, which delivered them to orbit on Oct. 6.
All appears to be good now with Cert-1, however, for ULA is gearing up for a launch that's less than two months away.
Get the Space.com Newsletter
Breaking space news, the latest updates on rocket launches, skywatching events and more!

Michael Wall is a Senior Space Writer with Space.com and joined the team in 2010. He primarily covers exoplanets, spaceflight and military space, but has been known to dabble in the space art beat. His book about the search for alien life, "Out There," was published on Nov. 13, 2018. Before becoming a science writer, Michael worked as a herpetologist and wildlife biologist. He has a Ph.D. in evolutionary biology from the University of Sydney, Australia, a bachelor's degree from the University of Arizona, and a graduate certificate in science writing from the University of California, Santa Cruz. To find out what his latest project is, you can follow Michael on Twitter.