Best alien invasion movies of all time
They came from beyond the stars to kick our butts - these are the best alien invasion movies of all time.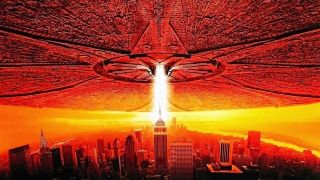 (Image credit: 20th Century Studios)
The truth is out there, and it's coming to get us, if the best alien invasion movies are to be believed anyway. Maybe this is one time we don't want to believe.
The matter of extra-terrestrial life has fascinated mankind for quite some time now, and the movie industry has made sure over the decades to make some serious profits thanks to the UFO craze. However, the subgenre has also evolved with time, giving birth to refreshing takes on alien invasion movies.
Now, what's an alien invasion movie? Well, it goes beyond simply featuring alien lifeforms visiting Earth, so that throws stories such as E.T. or Arrival out of the window. The aliens have to be hostile. Okay, what about The Thing? One could argue it's an alien invasion movie, but at the end of the day, it's just a deadly organism that crash-landed on Earth long ago.
By limiting ourselves to hostile conflicts with entire alien species that want to take over Earth, we've come up with a pretty solid list of the best alien invasion movies (in no particular order, before anyone decide to invade our comments section).
On the matter of aliens, you might want to check our extensive articles on the entire Alien and Predator movie franchises, and maybe meet some extra-terrestrial lifeforms (good and bad) yourself with the best space exploration games and space horror games.
1. War of the Worlds (2005)
Release date: June 29, 2005
Cast: Tom Cruise, Dakota Fanning, Justin Chatwin, Tim Robbins
Based on H.G. Wells' 1898 novel, Steven Spielberg's take on The War of the Worlds is generally regarded as one of the lesser movies in his filmography, yet it managed to crack $600 million worldwide and has gained a solid following over the years thanks to its atypical blockbuster nature.
While we've seen several audiovisual reinterpretations of the famous novel over the decades, and most cinephiles would look back to the 1953 movie as the best one out of the bunch, there's something about Spielberg's version – maybe it's the relentless grimness – that makes it incredibly attractive despite its many failings, underwhelming original ending included.
2. Edge of Tomorrow
Release date: June 6, 2014
Cast: Tom Cruise, Emily Blunt, Bill Paxton, Noah Taylor
Another Tom Cruise movie made it into our list, and with good reason: Edge of Tomorrow was one of the biggest surprises of 2014 thanks to a tight, action-packed script which masterfully mixed the alien invasion subgenre with time-travel shenanigans.
Based on Hiroshi Sakurazaka's novel All You Need Is Kill, Edge of Tomorrow presents a near future in which most of Europe is occupied by an unstoppable alien species. Major William Cage (Cruise), a public relations officer, is forced to join an operation against the aliens, only to end up experiencing a time loop that could be the key to defeating the invaders. It's both exciting and dark, but also a surprisingly funny rollercoaster ride. Don't skip it.
3. Invasion of the Body Snatchers (1956)
Release date: February 5, 1956
Cast: Kevin McCarthy, Dana Wynter, Larry Gates, King Donovan
Here's another instance of two widely known adaptations of the same book. Most sci-fi aficionados are familiar with the 1978 movie by Philip Kaufman, but going back to the 1956 adaptation – only two years after Jack Finney's novel came out – is highly recommended.
Don Siegel's movie remains one of the best political allegories of the 1950s and an excellent sci-fi reflection of North American society and the widespread mindset of those years in the States. Furthermore, it's still a genuinely scary watch that feels way more focused than its 1978 counterpart.
4. Attack the Block
Release date: May 11, 2011
Cast: John Boyega, Jodie Whittaker, Nick Frost, Alex Esmail
Time for some sci-fi comedy! Attack the Block is one of the smaller (if not the smallest) movies on the list and an indie surprise that came from the UK. The story follows a teenage street gang who have to defend themselves – and their neighborhood – from ferocious alien creatures that emerge from meteorites. It's got some important things to say about the marginalized British youth, and stays fun (and funny) until the credits roll.
While the movie underperformed at the box office, it received a largely positive critical reception and allowed both director Joe Cornish and actor John Boyega (now a Star Wars legend) to make the jump to much bigger movies. A sequel is now in development.
5. Independence Day
Release date: July 3, 1996
Cast: Will Smith, Jeff Goldblum, Bill Pullman, Judd Hirsch
Roland Emmerich's magnum opus (yes, dumb plot points and all) is arguably the biggest alien invasion movie ever. While its 2016 sequel amplified the menace to ridiculous levels, the original flick has a distinct charm linked to its era which can't be replicated. Moreover, its effective mix of practical and digital effects holds up.
The movie was also at the forefront of the large-scale disaster movie resurgence of the mid-late 1990s. It's big and loud, adventurous and funny, and worked with a remarkably diverse cast – led by peak Will Smith and Jeff Goldblum – on top of everything. It was a winning combination that completely demolished the global box office of 1996. And that speech by Pullman is just *chefs kiss*.
6. Mars Attacks!
Release date: December 13, 1996
Cast: Jack Nicholson, Pierce Brosnan, Danny DeVito, Michael J. Fox
1996 ended with another big alien invasion blockbuster, though this one crashed and burned at the box office and struggled to convince the critics. However, Tim Burton's zany and utterly deranged take on the subgenre found some love, and B-movie fanatics haven't forgotten about it (and neither has pop culture).
This one is undoubtedly the wildcard of our list, but we're fully committed to defending a movie with an unbelievable all-star cast having the time of their lives and embracing self-conscious humor, and filled to the brim with some of the strangest imagery in a Hollywood production ever. It's hard not to smile when thinking about these invaders from Mars.
7. Signs
Release date: August 2, 2002
Cast: Mel Gibson, Joaquin Phoenix, Rory Culkin, Abigail Breslin
M. Night Shyamalan's The Sixth Sense normally gets most of the attention when people talk about the "golden age" of the divisive director, but Signs remains one of his strongest works. And no, the infamous "water scene" does not ruin it. In fact, rewatching the movie while treating its aliens as literal demons actually works. Try it!
Backed by legendary producers Frank Marshall and Kathleen Kennedy, Signs feels like a homage to Steven Spielberg's alien-centric movies at times, but Shyamalan took the premise to his own territory, heavily exploring the themes of faith and kinship on a small scale against the backdrop of a truly scary (but unexpectedly quiet) invasion.
8. The World's End
Release date: July 19, 2013
Cast: Simon Pegg, Nick Frost, Paddy Considine, Martin Freeman
The final chapter in Edgar Wright's Three Flavors Cornetto trilogy embraced the alien invasion subgenre with a unique twist which we won't spoil here, but its influences are clear (and some of them can be found in this list). Unsurprisingly, it also has many tricks up its sleeve and puts humor above everything else.
The best thing about The World's End is that it fully commits to its initial "pub crawl" premise even when things start to get a bit too weird, resulting in an off-beat sci-fi comedy that leads to a stupefying resolution and ultimately feels way more mature than the two previous entries of Wright's iconic anthology.
9. They Live
Release date: November 4, 1988
Cast: Roddy Piper, Keith David, Meg Foster, Peter Jason
Hey, we kept The Thing out of this list, but that doesn't mean we've forgotten about master of horror and campy action John Carpenter. Based on the 1963 short story 'Eight O'Clock in the Morning' by Ray Nelson, They Live is an excellent work of science fiction which helps understand much of the cultural and economic climate of the Reagan-era United States.
Of course, like most of Carpenter's works, They Live also comes together as a paranoid action-horror flick full of cheesy but memorable one-liners and remarkable scenes that have grown more famous in pop culture as the years passed.
10. A Quiet Place 1 & 2
Release date: April 6, 2018
Cast: Emily Blunt, John Krasinski, Millicent Simmonds, Noah Jupe
Many would call A Quiet Place and its sequel "monster features", but the latter made it clear they're alien invasion movies as well. Born from a spec script by Bryan Woods and Scott Beck which actor-turned-filmmaker John Krasinski later rewrote, A Quiet Place has a simple but strong idea that has been mined twice to great success.
A post-apocalyptic world dominated by blind extra-terrestrial creatures with an acute sense of hearing was more than enough to get audiences on board, but the films' strength lies in strong family drama and believable characters doing their best in really dire situations with no hope of saving the world on the horizon. No big heroics here, but let's see where it all goes with the already-announced third instalment and spinoff.
Get the Space.com Newsletter
Breaking space news, the latest updates on rocket launches, skywatching events and more!
Fran Ruiz is our resident Star Wars guy. His hunger for movies and TV series is only matched by his love for video games. He got a BA of English Studies, focusing on English Literature, from the University of Malaga, in Spain, as well as a Master's Degree in English Studies, Multilingual and Intercultural Communication. On top of writing features and other longform articles for Space.com since 2021, he is a frequent collaborator of VG247 and other gaming sites. He also serves as associate editor over at Star Wars News Net and its sister site, Movie News Net.