A very (very) small portion of the metal in NASA's official Apollo 13 (opens in new tab) 50th anniversary medallions flew to the moon and back — just like the mission the bronze pieces serve to commemorate.
The medallions, which were created for NASA by Winco International of California, are among several new mementos and limited edition products that celebrate the Apollo 13 mission (opens in new tab) half a century after it "had a problem." From space pens to lapel pins, and even the chance to own something from the 1970 "successful failure" itself, the offerings highlight one of the most harrowing accomplishments in space exploration history.
"It celebrates Apollo 13's magnificent teamwork (opens in new tab), the astronauts' safe return and [the mission's] 50th anniversary. This edition also looks to the future of deep space exploration, from our return to the moon, to Mars and beyond," describes Winco on the card that comes with each of the 1,970 medallions. "To represent these objectives, each medallion is minted with authentic lunar-flown Apollo command module and Mars Curiosity [rover] engineering metals."
Related: See Apollo 13 as it happened with Apollo 13 in Real Time website
The medallion, which is available (opens in new tab) for $25 to $35 depending on the retailer, features a design based on the Apollo 13 mission patch, amended with the years and the number "50" denoting the anniversary. The reverse includes NASA's logo for the 50th anniversary of the entire Apollo program (opens in new tab), with the motto, "Back To The Moon, On To Mars."
Winco has also produced an Apollo 13 50th anniversary embroidered patch (opens in new tab) and a lapel pin, the latter also minted with metal flown on an Apollo capsule to the moon.
A different, limited edition Apollo 13 50th anniversary lapel pin is not for sale, but is instead being offered in return for donations.
"Support INFINITY during our COVID-19 closure and we'll mail you an Apollo 13 50th Anniversary Commemorative pin (opens in new tab) as a thank you. All donations will be used for STEM education upon reopening," the INFINITY Science Center in Mississippi announced on its social media accounts.
The science center, which serves as the visitor center for NASA's Stennis Space Center, plans to celebrate the anniversary (opens in new tab) as part of its annual gala in October. The lapel pin features art from the Apollo 13 mission patch and reproduces lunar module pilot Fred Haise's autograph.
Haise's authentic autograph is being sold by another non-profit.
Apollo 13 timeline: The hectic days of NASA's 'successful failure' to the moon
The Astronauts Memorial Foundation (AMF), has partnered with Professional Coin Grading Service (PCGS) to offer coin sets encapsulated with Haise-signed labels (opens in new tab) for the 50th anniversary of Apollo 13. The sets, which range in price from $225 to $899, include Kennedy half dollars and gold and silver Apollo 11 50th anniversary commemorative coins.
"By combining these coins with American hero Fred Haise's signature we are offering a unique collectible to the numismatic and space collector communities," Thad Altman, AMF CEO, said in a statement.
The proceeds from the Apollo 13 coin sales will be used to further AMF's mission to both honor fallen astronauts and to inspire future generations of scientists and engineers.
Celebrate Apollo 13 at 50: Watch NASA's 'Home Safe' documentary and more
Haise's name, together with those of his fellow Apollo 13 crewmates — mission commander James Lovell and command module pilot Jack Swigert — also appear on a new writing instrument.
Fisher Space Pen, which produced the pressurized ink cartridge pens that were used by the Apollo 13 crew in space, has introduced a special edition of the same model pen, engraved with the names of the astronauts, the dates of the mission and an Apollo 13 50th anniversary design. The company has also created special editions of its Bullet and Cap-O-Matic space pens with the same design.
"We're proud to honor NASA's Apollo 13 mission with this collection (opens in new tab) that reminds us of the grit and ingenuity of the men and women in America's space program," Joshua Skidmore, Fisher Space Pen's national sales and marketing manager, said in a statement.
Fisher's Apollo 13 50th anniversary special edition AG7 space pen retails through the company's website for $75, while the Bullet is $29 (or $31 with a clip) and the Cap-O-Matic models are $14 each.
Finally, for those looking to own a piece from the mission, RR Auction of Boston launched a space memorabilia auction on Thursday (April 9) featuring almost 80 lots of Apollo 13 artifacts (opens in new tab) and collectibles. In addition to numerous examples of Lovell's, Haise's and Swigert's autographs, the sale includes an Apollo 13 patch that flew on the mission, estimated to sell for more than $3,500, and an example of the same type of square carbon dioxide scrubber (or LiOH canister) that the astronauts famously had to make fit in a round hole (estimated to sell for $6,000).
The auction is also offering the original green laminated Mission Control Center access badge that was worn by flight director Gene Kranz (opens in new tab) during the Apollo 13 mission. RR Auction expects the artifact to command more than $10,000 when the bidding ends on April 16.
"I entrust you to preserve this authentic piece of manned space program history and hope that you and others will enjoy it for years to come," writes Kranz in a letter accompanying the badge. "It should serve as a constant reminder of not only our accomplishments during this period but of the personal sacrifice that allowed us to forge a path from the Earth to the moon and beyond."
Follow collectSPACE.com on Facebook and on Twitter at @collectSPACE. Copyright 2020 collectSPACE.com. All rights reserved.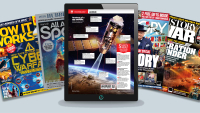 (opens in new tab)