The second person to walk on the moon just got married again.
Buzz Aldrin, one of the astronauts of the Apollo 11 debut human landing mission in 1969, announced his nuptials on Twitter Friday (Jan. 20), on the same date as his 93rd birthday.
"I am pleased to announce that my longtime love Dr. Anca Faur and I have tied the knot," Aldrin wrote. "We were joined in holy matrimony in a small private ceremony in Los Angeles and are as excited as eloping teenagers."
This is the fourth marriage for Aldrin. Faur, who is 63 years old according to The Guardian, has worked with Buzz Aldrin Ventures since 2019 and now serves as its executive vice-president, according to her LinkedIn page.
Related: Apollo 11 at 50: A complete guide to the historic moon landing
On my 93rd birthday & the day I will also be honored by Living Legends of Aviation I am pleased to announce that my longtime love Dr. Anca Faur & I have tied the knot.We were joined in holy matrimony in a small private ceremony in Los Angeles & are as excited as eloping teenagers pic.twitter.com/VwMP4W30TnJanuary 21, 2023
Faur, who was born in Romania, has a Ph.D. in chemical engineering and spent nearly 20 years working for London-based chemicals company Johnson Matthey, ending her tenure there as program and sales manager.
Faur's former employer does have a lunar connection: Johnson Matthey's work on fuel cells "contributed to the success of the Apollo 11 missions," according to the Romanian-American Chamber of Commerce of Los Angeles, where Faur serves as executive secretary.
Johnson Matthey's website confirmed its Apollo fuel cell work as well, saying it supplied "electrocatalysts for fuel cells used in the U.S. space program," including Apollo spacecraft. (Electrocatalysts play a key role in fuel cell reactions.)
Faur's work at Johnson Matthey took place long after Apollo 11 concluded. However, she also was the "first test driver of the first Honda Clarity Fuel Cell automobile which ran on hydrogen fuel," the chamber of commerce stated.
Related: Saturn V rockets and Apollo spacecraft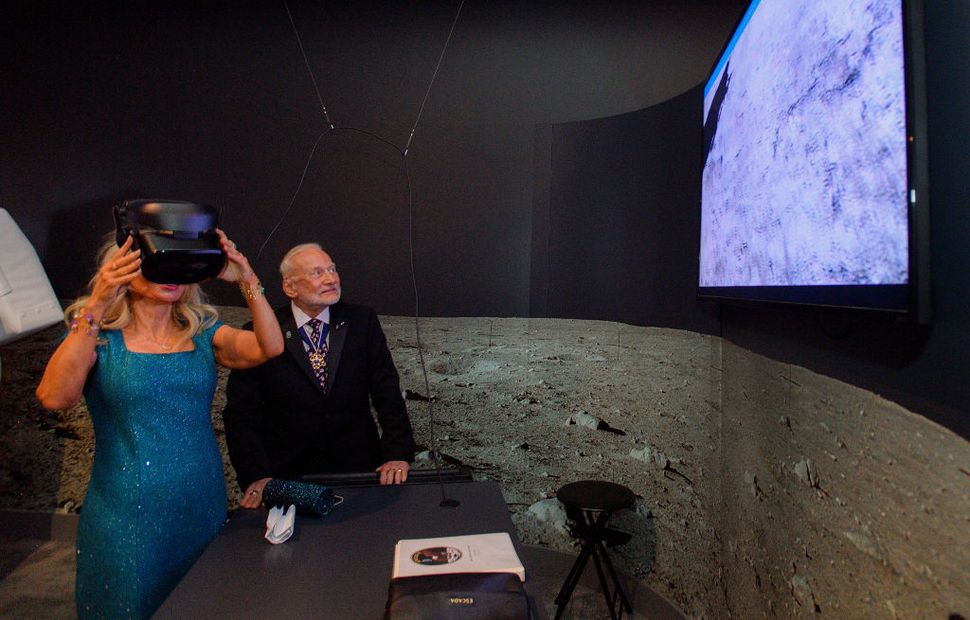 Aldrin's previous marriages, which all ended in divorce, were to Joan Archer in 1954, to Beverly Van Zile in 1975 and to Lois Driggs Cannon in 1988.
In 2019, two of Aldrin's adult children withdrew a petition to seek guardianship of the astronaut's affairs amid alleged "cognitive decline," while Aldrin dropped a lawsuit regarding money management against the children and his former manager, according to The Guardian. Aldrin has also disclosed past struggles with alcoholism and depression following the worldwide fame he received for Apollo 11.
Aldrin is the last surviving member of the Apollo 11 crew, which also included commander and first-ever moonwalker Neil Armstrong (who died in 2012) and command module pilot Michael Collins (who died in 2021.)
Aldrin also performed a spacewalk on the Earth-orbiting Gemini 12 mission in 1966 with Jim Lovell, an astronaut better known for commanding the Apollo 13 mission that returned safely to Earth following an in-space accident near the moon in 1970.
Elizabeth Howell is the co-author of "Why Am I Taller?" (ECW Press, 2022; with Canadian astronaut Dave Williams), a book about space medicine. Follow her on Twitter @howellspace. Follow us on Twitter @Spacedotcom or Facebook.