Apollo 11 moonwalker Buzz Aldrin honored as Air Force one-star, Space Force Guardian
In addition to being promoted to a one-star in the Air Force, Brig. Gen. Aldrin was made an Honorary Space Force Guardian.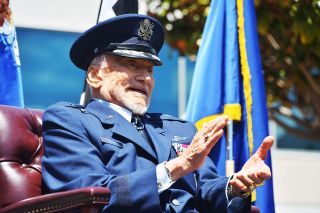 (Image credit: U.S. Space Force/Lt Katelin Robinson)
Buzz Aldrin already had the moon to his credit. Now he has a star.
The Apollo 11 lunar module pilot, Ph.D. aerospace engineer and colonel in the U.S. Air Force received a promotion to the honorary rank of brigadier general — or one-star officer — during a May 5 ceremony at Los Angeles Air Force Base in California. Lt. Gen. Michael Guetlein, commander of Space Systems Command, presided over the event, which came more than 50 years after Aldrin retired from the Air Force, following 21 years of service.
"Without the courage and dedication of Aldrin, we may never have been afforded the luxury of leading the lifestyle we enjoy today," said Guetlein, addressing the audience. "Over the past 54 years since stepping foot on the moon's surface, he has been an inspiration to a nation, and tireless advocate for space exploration."
In addition to conducting a successful spacewalk as a Gemini astronaut and becoming one of the first men to land and walk on the moon, Aldrin flew 66 combat missions, during which he shot down two Russian MIG-15 fighter jets while serving in Korea. He is the past recipient of the Presidential Medal of Freedom, Congressional Gold Medal, Air Force Distinguished Service Medal, Legion of Merit, two Distinguished Flying Crosses and three Air Medals.
Related: Facts about Buzz Aldrin and the Apollo 11 mission
During the ceremony, Aldrin was presented with a general officer's personal flag, which historically has signaled leadership on the battlefield but now represents the presence and rank of a general officer.
"Buzz Aldrin has inspired Americans for generations and is incredibly worthy of this wonderful honor," said Congressman Ken Calvert (CA-41), whose letter to Secretary of the Air Force Frank Kendall led to the promotion. "I am thankful for the Air Force's approval of my request recognizing Buzz for his immeasurable contributions."
"The American exploration and scientific discovery achieved by Buzz is truly remarkable," said Calvert. "Few people who have walked on our planet or soared above it have left a legacy as rich and meaningful as Buzz Aldrin."
In addition to the promotion, Aldrin, 93, was also named an Honorary Guardian within the U.S. Space Force.
"In addition to being promoted to a one-star in the Air Force, Brig. Gen. Aldrin is being made an Honorary Space Force Guardian," said Guetlein. "He has lived a life epitomizing the Space Force Guardian values of character, connection, commitment and courage."
Since its founding in 2019, two NASA astronauts — Michael Hopkins and Nick Hague — have transferred from the Air Force to the Space Force. Aldrin is now the third astronaut-Guardian.
"I will argue that Aldrin was truly one of our first Guardians willing to protect and defend this nation with all that we hold dear," Guetlein said. "He is one of the first Guardians because he has lived a life which epitomizes the very values we strive to live by today."
Aldrin now serves as an example for both services, not just for its members today, but for those still to come.
"This is a story that crosses many generations," said Kendall, while sharing a personal story on how Aldrin influenced his life. "In my home hung on the wall is the New York Times front page when you landed on the moon. I'm going to look at it a little bit differently after today. It's going to mean a little bit more to me."
For his part, Aldrin still has his eyes on the skies — and beyond.
"Sometimes it takes a long time to get where you'd like to go," he said. "It is thrilling that I am still here to see NASA sending brave astronauts to circumnavigate the moon next year, and land astronauts soon thereafter. Now...that's space exploration!"
Get the Space.com Newsletter
Breaking space news, the latest updates on rocket launches, skywatching events and more!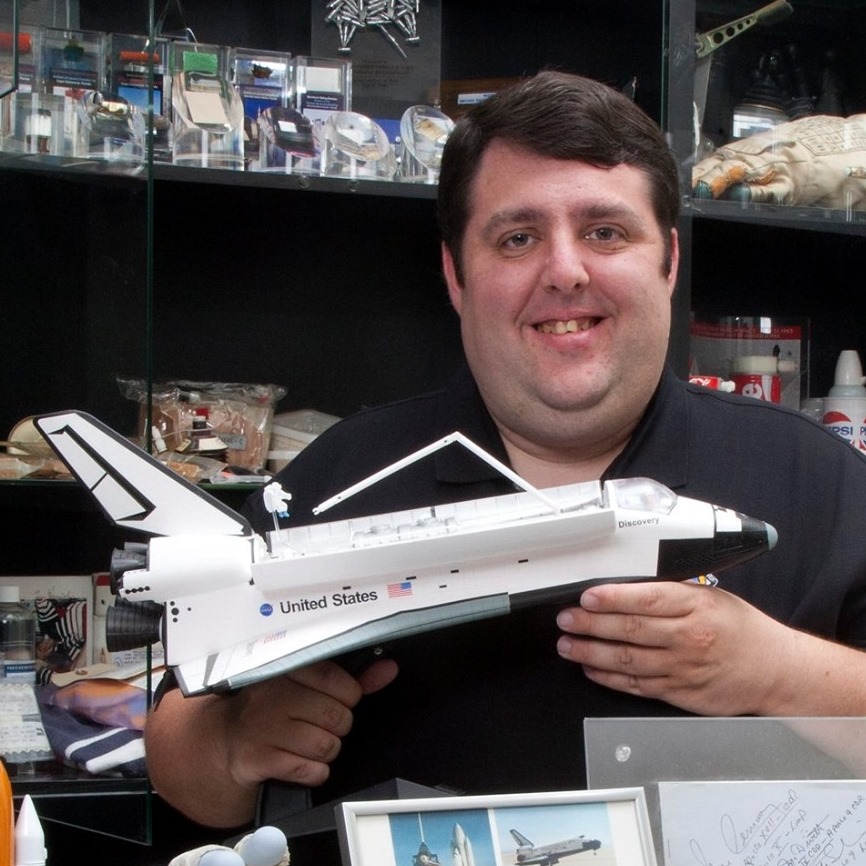 collectSPACE.com Editor, Space.com Contributor
Robert Pearlman is a space historian, journalist and the founder and editor of collectSPACE.com, an online publication and community devoted to space history with a particular focus on how and where space exploration intersects with pop culture. Pearlman is also a contributing writer for Space.com and co-author of "Space Stations: The Art, Science, and Reality of Working in Space" published by Smithsonian Books in 2018. He previously developed online content for the National Space Society and Apollo 11 moonwalker Buzz Aldrin, helped establish the space tourism company Space Adventures and currently serves on the History Committee of the American Astronautical Society, the advisory committee for The Mars Generation and leadership board of For All Moonkind. In 2009, he was inducted into the U.S. Space Camp Hall of Fame in Huntsville, Alabama. In 2021, he was honored by the American Astronautical Society with the Ordway Award for Sustained Excellence in Spaceflight History.