India Celebrates Launch of First Moon Probe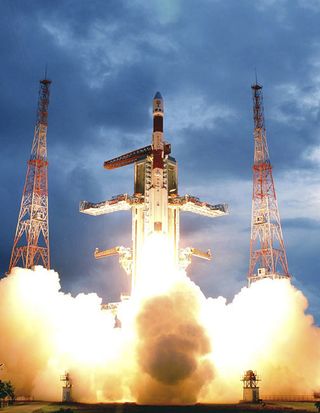 (Image credit: AP Photo/ISRO/HO.)
PARIS - India's first space mission beyond Earth orbit was launched successfully Wednesday (Local Time) when an upgraded version of India's Polar Satellite Launch Vehicle (PSLV) placed the Chandrayaan-1 lunar orbiter into an elliptical transfer orbit, the Indian Space Research Organization (ISRO) announced.
The 3,042-pound (1,380-kg) Chandrayaan-1, carrying 11 experiments including three from the European Space Agency, two from NASA and one from Bulgaria, is expected to fire its onboard liquid motor in a series of maneuvers intended to place it into a 62-mile (100-km) altitude orbit above the Moon's surface by Nov. 8.
In addition to 11 instruments designed to map the lunar surface and determine its mineral content, the satellite includes the small Moon Impact Probe, which will be jettisoned from the satellite to land on the lunar surface before the main mapping mission begins. The probe will give ISRO scientists experience to be used in subsequent lunar landing missions.
In its 14th launch since 1993, the four-stage PSLV rocket lifted off early Oct. 22 from India's Satish Dhawan Space Centre in Sriharikota, placing Chandrayaan-1 into an elliptical orbit with a perigee of 158 miles (255 km) and an apogee of 14,204 miles (22,860 km).
The satellite's liquid-fueled apogee motor is expected to raise the orbit in a series of five firings to bring Chandrayaan-1 closer to lunar orbit. The last of the engine ignitions is expected to place the satellite in an Earth orbit of 633 miles (1,019 km) by 239,969 miles (386,194 km).
Once in lunar orbit, four more firings of the engine will lower Chandrayaan-1 gradually into its operational orbit of 62 miles (100 km) over the lunar surface, where it is expected to gather data for two years.
Chandrayaan-1 includes two U.S.-built instruments provided as part of a cooperation accord between ISRO and NASA. NASA's willingness to permit U.S. instruments to be launched aboard an Indian rocket is part of what appears to be a slow warming of relations between the two agencies following an embargo on space cooperation that the U.S. government applied following India's nuclear weapon tests.
The new cooperative atmosphere could lead to more U.S. satellites being launched aboard Indian rockets, according to government officials in India and the United States.
Several nations are targeting the Moon as a principal exploration destination and are involved in national and multinational discussions about establishing a full-time manned presence on the Moon. Japan and China both have satellites in lunar orbit.
The European Space Agency, whose lunar orbiter was retired in 2006, is weighing future lunar missions. The United States, whose Lunar Reconnaissance Orbiter is scheduled for launch in early 2009, has said it wants to establish a lunar colony before sending astronauts to other destinations, including Mars.
ISRO and the Russian space agency, Roskosmos, in November 2007 signed a cooperation accord for a Chandrayaan-2 mission that would include a lunar orbiter, a lander and rover vehicle. ISRO would have prime responsibility for the orbiter, with Roskosmos leading development of the lander and rover elements.
Chandrayaan-2 is scheduled for launch by 2012 aboard India's Geosynchronous Satellite Launch Vehicle.
New Video - Chandrayaan-1: India's First Moonshot
Video - Japan's Kaguya Sees Full Earthrise!
Mooncrash! The Greatest Lunar Impacts Ever
Get the Space.com Newsletter
Breaking space news, the latest updates on rocket launches, skywatching events and more!
Space Intel Report Editor, Co-founder
Peter B. de Selding is the co-founder and chief editor of SpaceIntelReport.com, a website dedicated to the latest space industry news and developments that launched in 2017. Prior to founding SpaceIntelReport, Peter spent 26 years as the Paris bureau chief for SpaceNews, an industry publication. At SpaceNews, Peter covered the commercial satellite, launch and international space market. He continues that work at SpaceIntelReport. You can follow Peter's latest project on Twitter at @pbdes.