SpaceX Wins Contract to Launch NASA Earth Science Mission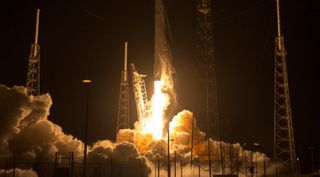 (Image credit: SpaceX Falcon 9 Launch)
Updated at 8:00 p.m. Eastern on Nov. 22.
WASHINGTON — NASA awarded a contract to SpaceX Nov. 22 for the Falcon 9 launch of an Earth science satellite in 2021.
The award, with a total cost to NASA of $112 million, is for the launch of the Surface Water and Ocean Topography (SWOT) spacecraft, scheduled for April 2021 from Vandenberg Air Force Base in California. The contract, NASA said in a statement, includes the launch service itself as well as spacecraft processing, payload integration, and tracking, data and telemetry support.
The contract is the third SpaceX has won for NASA spacecraft, excluding its contracts under NASA's commercial cargo and crew programs. A Falcon 9 launched the Jason-3 satellite in January under a contract awarded in 2012. SpaceX won a NASA contract in December 2014 for the launch of the Transiting Exoplanet Survey Satellite (TESS) mission, currently scheduled for no earlier than late 2017.
The cost of the SWOT contract is significantly higher than previous NASA contracts won by SpaceX. The Jason-3 contract was valued at $82 million and the TESS award at $87 million, according to the contract announcements. All are higher than the price SpaceX quotes on its web site for launch services alone, $62 million, which does not include the additional services or other mission assurance work in the NASA contracts. The total cost of the contract also includes payments to organizations other than SpaceX that support the launch and related services.
NASA spokeswoman Cheryl Warner said that the award values can differ from contract to contract depending on the specific requirements for each mission. "The specific launch service price is considered competition and procurement sensitive information," she said Nov. 22.
"We're excited to carry this critical science payload into orbit for NASA, the nation, and the international community," Gwynne Shotwell, president and chief operating officer of SpaceX, said in a statement to SpaceNews. "We appreciate NASA's partnership and confidence in SpaceX as a launch provider."
SWOT is a joint mission with the French space agency CNES to study how bodies of water change over time, providing global coverage twice every three weeks from near-polar orbit. CNES, which is responsible for the spacecraft itself, awarded a contract to Thales Alenia Space in January 2015 to develop the spacecraft. SWOT will have an estimated mass of 2,000 kilograms at launch.
This story was provided by SpaceNews, dedicated to covering all aspects of the space industry.
Get the Space.com Newsletter
Breaking space news, the latest updates on rocket launches, skywatching events and more!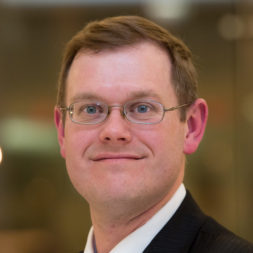 SpaceNews Senior Staff Writer
Jeff Foust is a Senior Staff Writer at SpaceNews, a space industry news magazine and website, where he writes about space policy, commercial spaceflight and other aerospace industry topics. Jeff has a Ph.D. in planetary sciences from the Massachusetts Institute of Technology and earned a bachelor's degree in geophysics and planetary science from the California Institute of Technology. You can see Jeff's latest projects by following him on Twitter.