SpaceX to Launch SES-10 Satellite on Previously Flown Falcon 9 This Year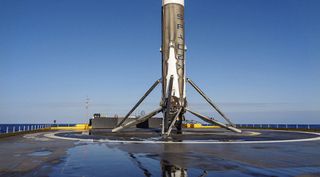 (Image credit: SpaceX)
PLYMOUTH, Mass.— Satellite fleet operator SES on Aug. 30 said its 5,000-kilogram SES-10 telecommunications satellite would be the first customer to launch on a reused SpaceX Falcon 9 first stage, with the launch to occur late this year.
The decision, which was expected given Luxembourg-based SES's past support for SpaceX and its belief that reusability can lower launch costs, is the latest validation that the commercial market — satellite operators and insurance underwriters included – is ready to make the leap to reusability.
Insurance officials have said the current conditions of the market — low premiums and lots of cash looking to cover launches, particularly for large, technically savvy customers like SES — is particularly favorable to the introduction of new techniques such as reused rocket components.
Hawthorne, California-based SpaceX in recent months has been cautious in predicting what savings might accrue from recovering, refurbishing and reusing Falcon 9 first stages. SES has said it would like to see a reduction of around 30 percent below SpaceX's already low commercial launch fees of around $60 million.
SES did not immediately respond to questions about the terms of the SES-10 launch contract with SpaceX. SES had previously said the launch was scheduled to occur in October.
SES Chief Technology Officer Martin Halliwell, who has been a particularly strong backer of SpaceX since the introduction of the Falcon 9 rocket, said in a statement:
"Having been the first commercial satellite operator to launch with SpaceX back in 2013, we are excited to once again be the first customer to launch on SpaceX's first ever mission using a flight-proven rocket. We believe reusable rockets will open up a new era of spaceflight, and make access to space more efficient in terms of cost and manifest management. This new agreement reached with SpaceX once again illustrates the faith we have in their technical and operational expertise. The due diligence the SpaceX team has demonstrated throughout the design and testing of the SES-10 mission launch vehicle gives us full confidence that SpaceX is capable of launching our first SES satellite dedicated to Latin America into space."
SpaceX President Gwynne Shotwell said in a statement: "SES has been a strong supporter of SpaceX's approach to reusability over the years and we're delighted that the first launch of a flight-proven rocket will carry SES-10."
The SES-10, built by Airbus Defence and Space, will operate from 67 degrees west and follows an SES agreement with the Andean Community of Bolivia, Colombia, Ecuador and Peru. Its payload includes 55 36-megahertz Ku-band transponders. Half of the capacity will be used to replace the AMC-3 and AMC-4 satellites now in orbit, with the other half dedicated to new SES business in Mexico, South America and the Caribbean.
This story was provided by SpaceNews, dedicated to covering all aspects of the space industry.
Get the Space.com Newsletter
Breaking space news, the latest updates on rocket launches, skywatching events and more!
Space Intel Report Editor, Co-founder
Peter B. de Selding is the co-founder and chief editor of SpaceIntelReport.com, a website dedicated to the latest space industry news and developments that launched in 2017. Prior to founding SpaceIntelReport, Peter spent 26 years as the Paris bureau chief for SpaceNews, an industry publication. At SpaceNews, Peter covered the commercial satellite, launch and international space market. He continues that work at SpaceIntelReport. You can follow Peter's latest project on Twitter at @pbdes.