Despite Setbacks, Teams Set Sights On Lunar Lander Purse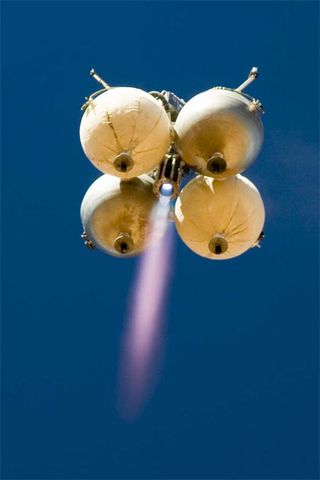 (Image credit: Armadillo Aerospace)
Rivalspace groups are vowing to push forward on vertical takeoff and landing rockettechnology to vie for prize money in a NASA-sponsored lunar lander prototype competition.
Lastweek's Wirefly X Prize Cup held in Las Cruces, New Mexico saw multiple flightsof just one craft trying to snag a chunk of a $2 million purse under NASA'sCentennial Challenges program.
Flyingits rocket-propelled "Pixel", lone contestant, Armadillo Aerospace of Mesquite,Texas, made repeat attempts to claim a cash award--only to be thwarted bylanding difficulties and related hardware woes. [see video]
WhileArmadillo Aerospace rocketeers left empty handed, they are keen on re-flying atthe 2007 Cup. But given the intervening year, other teams are likely to enterflight vehicles too.
On the levels
TheNorthrop Grumman Lunar Lander Challenge rules call for a rocket-propelled craft with an assignedpayload to climb vertically, reach a defined altitude, fly for a pre-determinedamount of time and then vertically land on a target that is a fixed distancefrom the liftoff point.
Afterremaining at that spot for a period of time, the vehicle must re-fly, stayaloft for the same amount of time, then land again on its original launch pad.
Thereare two distinct levels to the challenge.
Theprimary differences between a Vertical Lander Challenge and the Lunar LanderChallenge are the minimum time of flight (90 seconds versus 180 seconds); thesurface terrain at the landing sites (flat compared to rocky); and the degreeof difficulty presented for precision landing.
Forboth Level One and Level Two, the vehicle has the option to refuel beforeconducting the required return level to the original starting point.
Square and tight
"Idon't have any complaints about the way the event was handled, once thefundamental decisions were made," Carmack told SPACE.com. "It would be alot better for us if it wasn't tied to an event...because we would be able to gotry again next week after engineering some much better landing gear and gettingan accurate [landing pad] survey."
Undauntedby problems experienced during Pixel's flights, Carmack is resigned to claim XPrize Cup money.
"Wecould have won this year with a little good luck, but by next year we will beso well prepared that it would take crushing bad luck to keep us from winning,"Carmack emphasized.
"Weflew great...we just didn't land so well," Carmack also recounted on hiscompany's website.
FollowingPixel's last flight at the Cup--veering off course into the ground just afterliftoff--Carmack considered it "down for the count"--no longer to be flown. Buton closer examination, Pixel may not be dead after all--and a twin craft, Texel, is also flight ready.
"Thetanks and frame [of Pixel] still seem square and tight. We are going tohydrotest everything, and possibly re-weld the computer mounting points and theother things that are broken," he reported. "I still want to do side-by-sidevertical drag racing demos with the pair of vehicles."
Carmackrelated that his "official bet" is that there will be no more than one othercompetitor next year, "and it may well just be Armadillo again," Carmackreported.
Hover tests
Anothergroup, Masten Space Systems of Santa Clara, California is the closest to beingflight qualified, Carmack suggested, "but they still need to fly their veryfirst test vehicle, then design, build, and test a more potent vehicle to evenbe able to compete for the Level One prize."
Bothfinancial and engineering hurdles prevented the Masten group opposing Armadilloin this year's Northrop Grumman Lunar Lander Challenge. But they are now marchingahead in readying their flight hardware.
"Ourflying test platform, XA 0.1, should be doing its first hover tests in the nextfew weeks at our test area at Mojave Airport [in California]," said Masten's MichaelMealling, Vice President for Business Development.
"Oncewe have put it through its paces and figured out how to break it we will finishassembly on XA 0.2 ... which would have been our Lunar Lander Challenge Level Onevehicle," he told SPACE.com.
Accelerated timelines
AfterXA 0.1's first test flight in the next few weeks, Mealling said that the groupwill be flying that hardware on a regular basis--both for the practice and totry out various potential failure modes such as loss of the vehicle network,stuck valves, as well as pressure failures.
"MastenSpace has always been about building a business carrying payloads and peopleinto suborbital space. That means we were always going to build something likethe Lunar Lander Challenge vehicles, it was just a matter of when," Meallingadded.
Intrying to meet the deadline of taking part in this year's Lunar LanderChallenge, Masten Space Systems accelerated their timelines by almost a year.
"Asmany in this business will tell you, though, the largest hurdles often aren'ttechnical. They're financial and regulatory," Mealling noted. "That means weare actively looking for sponsors and financial partners to come along for theride."
VIDEO Coverage of the X Prize Cup
Complete Coverage of the X Prize Cup
Get the Space.com Newsletter
Breaking space news, the latest updates on rocket launches, skywatching events and more!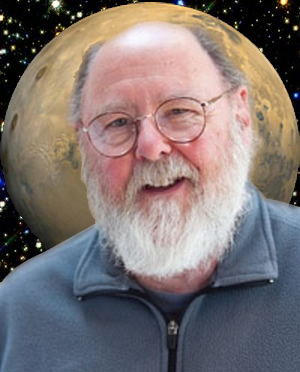 Leonard David is an award-winning space journalist who has been reporting on space activities for more than 50 years. Currently writing as Space.com's Space Insider Columnist among his other projects, Leonard has authored numerous books on space exploration, Mars missions and more, with his latest being "Moon Rush: The New Space Race" published in 2019 by National Geographic. He also wrote "Mars: Our Future on the Red Planet" released in 2016 by National Geographic. Leonard has served as a correspondent for SpaceNews, Scientific American and Aerospace America for the AIAA. He was received many awards, including the first Ordway Award for Sustained Excellence in Spaceflight History in 2015 at the AAS Wernher von Braun Memorial Symposium. You can find out Leonard's latest project at his website and on Twitter.