Civil Remote Sensing Craft Launched by Russia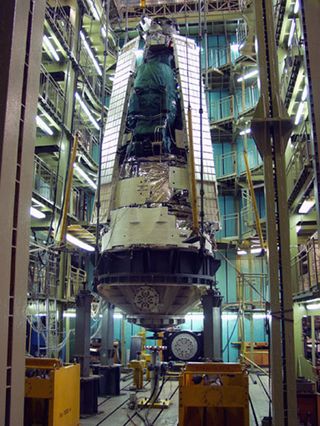 (Image credit: Italian National Institute for Nuclear Physics)
A RussianSoyuz rocket launched a civilian Earth observation satellite into orbit todayto begin a three-year mission to keep tabs on natural resources and emergenciesfrom space for both government and commercial users. The payload was the firstsuch craft launched since 1999.
The three-stage Soyuzrocket lifted off at 0800 GMT (4:00 a.m. EDT) from the Baikonur Cosmodrome incentral Kazakhstan. The almost 15,000-pound Resurs DK1 spacecraft successfullyseparated from the Soyuz upper stage less than nine minutes later in an orbitwith an apogee of approximately 230 miles, a perigee of around 125 miles, andan inclination of about 70 degrees.
The newest member of theResurs satellite fleet is the first in an upgraded series of spacecraft withimproved capabilities in imaging resolution and communications. Resurs DK1 willoffer one-meter resolution images in black-and-white and a resolution of up totwo meters in color. Unlike most earlier Russian civilian remote sensing craft,Resurs DK1 carries an advanced communications system to quickly downlink recentimages to ground stations.
Earlier Resurs satellitesfeatured a descent capsule that was designed to ferry film from on-boardcameras back to Earth for recovery. These missions often lasted less than amonth, and it sometimes took weeks for scientists and other officials toretrieve and analyze data gathered by the spacecraft. Resurs DK1 drasticallyreduces this lag time from days and weeks to minutes and hours.
An area of up to 270,000square miles can be documented in just one day by the new observation bird.
Images from Resurs DK1 willbe used by Russian government agencies, international groups, and even soldcommercially to private customers. It is expected that the images will helpshed light on the usage of natural resources, all types of environmentalpollution, and human and natural disasters. Other areas of study include seasurface status, ice observation, and the monitoring of polar weatherconditions. Data from the satellite could also aid in topographic and thematicmapping in some remote regions.
Two additional secondarypayloads are also attached to Resurs DK1. Italy's Payload for Antimatter-MatterExploration and Light-nuclei Astrophysics (PAMELA) instrument is housed on theupward side of the satellite. The experiment will investigate cosmic rays inEarth orbit in an attempt to learn more about dark matter and the relationshipbetween matter and antimatter.
"At the moment, PAMELAis the most advanced instrument for this field in astrophysics," saidresearcher Piegiorgio Picozza. "When PAMELA will get into orbit, thesecond and most amazing part of its scientific adventure will begin, with theaim of discovering some of the most intriguing and complex mysteries of theUniverse."
A Russian particle detectoris also included aboard Resurs DK1, and it will work to identify earthquakeprecursors in Earth's magnetic field.
Plans call for a follow-onResurs DK satellite to be launched in the next few years with similarobjectives.
Get the Space.com Newsletter
Breaking space news, the latest updates on rocket launches, skywatching events and more!
Spaceflightnow.com Editor
Stephen Clark is the Editor of Spaceflight Now, a web-based publication dedicated to covering rocket launches, human spaceflight and exploration. He joined the Spaceflight Now team in 2009 and previously wrote as a senior reporter with the Daily Texan. You can follow Stephen's latest project at SpaceflightNow.com and on Twitter.