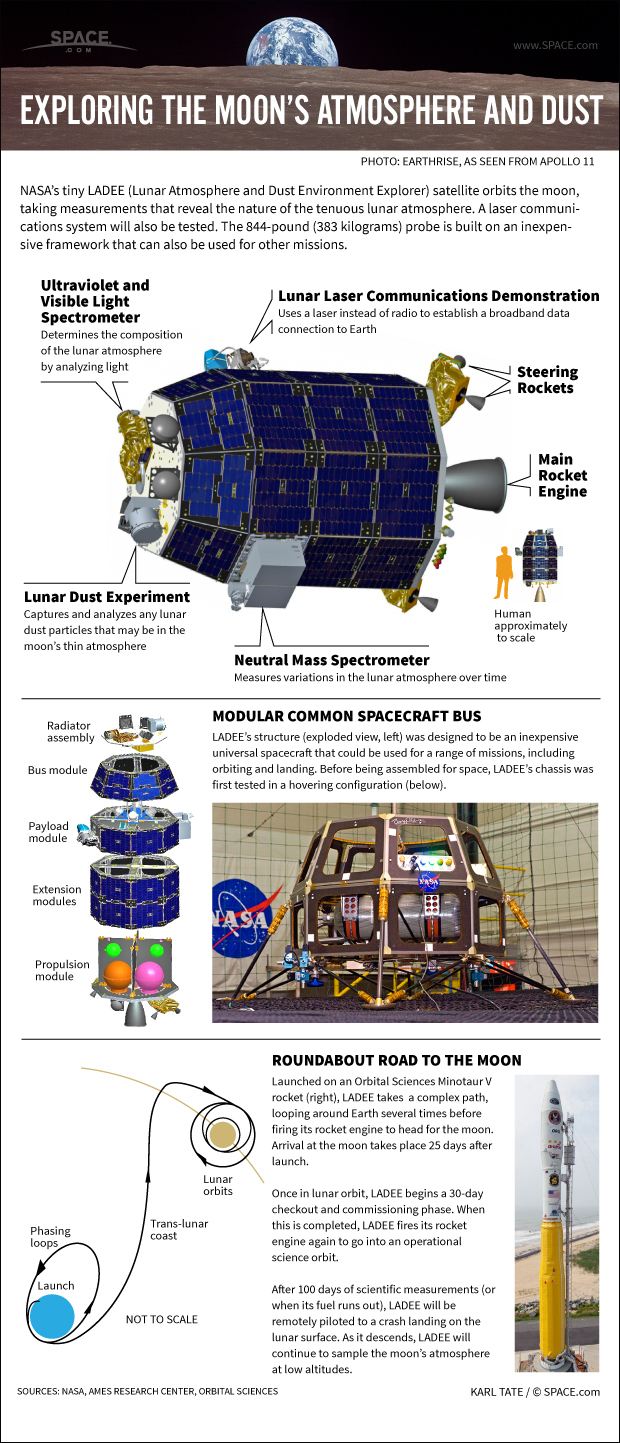 NASA's tiny LADEE (Lunar Atmosphere and Dust Environment Explorer) satellite orbits the moon, taking measurements that reveal the nature of the tenuous lunar atmosphere. A laser communications system will also be tested. The 844-pound (383 kilograms) LADEE moon dust spacecraft built on an inexpensive framework that can also be used for other missions.
Editor's Note: NASA's LADEE moon mission will launch Friday, Sept. 6, at 11:27 p.m. EDT (0327 Sept. 7 GMT). You can watch the LADEE launch live on SPACE.com beginning at 9:30 p.m. EDT (0130 GMT), courtesy of NASA TV. If you live along the U.S. East Coast, there is a chance you may see the rocket launch rise into the night sky.
Here are some guides to see the rocket launch:
SPACE.com partner Spaceflight Now is also providing blow-by-blow coverage of LADEE's mission via the Mission Status Center, which will also include a launch webcast feed.
LADEE's Ultraviolet and Visible Light Spectrometer instrument determines the composition of the lunar atmosphere by analyzing light. [Photos: NASA's LADEE Moon Dust Mission In Pictures]
The Lunar Dust Experiment captures and analyzes any lunar dust particles that may be in the moon's thin atmosphere.
The Neutral Mass Spectrometer measures variations in the atmosphere of the moon over time.
Lunar Laser Communications Demonstration uses a laser instead of radio to establish a broadband data connection to Earth.
LADEE's structure, the Modular Common Spacecraft Bus was designed to be an inexpensive universal spacecraft that could be used for a range of missions, including orbiting and landing. Before being assembled for space, LADEE's chassis was first tested in a hovering configuration.
Launched on an Orbital Sciences Minotaur 5 rocket, LADEE takes a complex path, looping around Earth several times before firing its rocket engine to head for the moon. Arrival at the moon takes place 25 days after launch.
Once in lunar orbit, LADEE begins a 30-day checkout and commissioning phase. When this is completed, LADEE fires its rocket engine again to go into an operational science orbit.
After 100 days of scientific measurements (or when its fuel runs out), LADEE will be remotely piloted to a crash landing on the lunar surface. As it descends, LADEE will continue to sample the moon's atmosphere at low altitudes.
Follow us @Spacedotcom, Facebookand Google+.