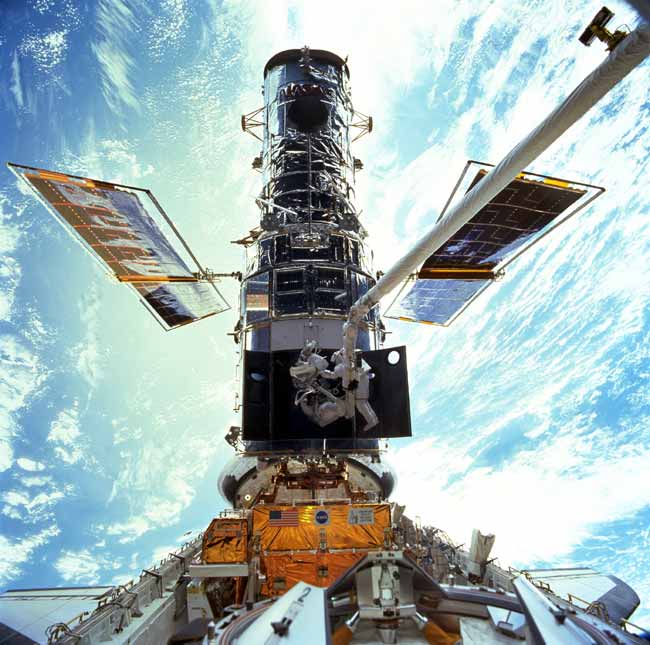 CAPE CANAVERAL, Fla. - The stage is set for NASA?s last trek to the Hubble Space Telescope, with seven astronauts and two space shuttles waiting in the wings to fly a risky mission that almost never was.
The mission is STS-125, NASA?s fifth and final Hubble servicing flight, and is poised to launch toward the iconic space telescope on May 11 at 2:01 p.m. EDT (1801 GMT) aboard the space shuttle Atlantis. Veteran shuttle commander Scott Altman is leading the charge for the 11-day mission, which includes five tricky spacewalks to extend Hubble?s vision and life through at least 2014.
But just reaching this point, with Atlantis days from launch, has been a Herculean feat for NASA given that the agency canceled the mission outright in 2004. Sending a shuttle to Hubble, beyond reach of the International Space Station, carried too great a risk in the wake of the tragic loss of the shuttle Columbia and its crew, the agency said then.
?It was about the most devastating day that I?ve ever had in my entire life,? Hubble?s program scientist David Leckrone said recently while reflecting on that time. ?And I think that was true for the entire Hubble team.?
The announcement sparked outcry from scientists and the public, not to mention disappointment in Altman and his crew.
?As a certified ?Hubble hugger,? that hit me like a two-by-four,? said the mission?s lead spacewalker John Grunsfeld, who is making his third trip to Hubble and fifth spaceflight. ?I just couldn?t believe that we would prematurely make that decision.?
NASA now has a second space shuttle - the Endeavour orbiter - standing by as a rescue ship if Atlantis? crew runs into serious trouble in space, but it was a long and winding road to get to that point.
Hubble?s historical fixes
NASA launched the Hubble Space Telescope in 1990 to the cheers of astronomers the world over eager to use its camera eye to peer deep into the universe. It was built by NASA and the European Space Agency specifically so astronauts could perform maintenance and upgrades.
But after its first two months of tests, the initial images from Hubble were a blurry disappointment. A slight flaw in the telescope?s main mirror ? barely the width of a human hair ? fouled the observatory?s vision and some critics later ?declared Hubble a national disgrace,? said Ed Weiler, NASA's associate administrator for science missions, in a recent briefing.
In 1993, NASA sent another shuttle up to Hubble, where astronauts added corrective lenses - essentially glasses - to sharpen its vision. The result was crystal clear: 16 years of stunning cosmic photos followed.
?Some called it the miracle-in-space mission,? Weiler said. ?And of course the rest is history.?
Since that first orbital fix, astronauts returned to Hubble three more times; in 1997, 1999 and 2002. But the 2003 loss of Columbia shook the servicing schedule to its core.
?Servicing was originally designed to occur approximately every three years, but it?s been over seven years now,? said Hubble project manager Preston Burch, of NASA's Goddard Space Flight Center in Greenbelt, Md. ?We have a considerable accumulation of maintenance items that need to be taken care of.?
At first, NASA stuck by its 2004 decision to leave Hubble to its un-serviced fate. By 2005 the space agency, in response to pressure from the public and scientific community, drew a plan to send a robot ? instead of astronauts ? to perform the service call.
Hubble overhaul resurrected
But it was in September 2006, after the robotic option was deemed untenable, that NASA backtracked and officially announced its plan to send astronauts to save Hubble one last time.
The reasoning was clear. To address the risk posed by Atlantis? inability to ferry its crew to the International Space Station if the shuttle is damaged and cannot return home, NASA would ready Endeavour as a rescue ship. Endeavour a small crew of four are primed to launch within a week of a declared emergency to retrieve the Atlantis astronauts.
?It?s a very low probability of an event, but I?m glad that there?s a relatively robust plan to deal with it if it did happen,? commander Altman said in a NASA interview.
Atlantis cannot reach the station from Hubble because the space telescope flies higher (about 350 miles up versus the station?s 220-mile orbit) and in a different inclination, or tilt with respect to the Earth?s equator.
?I think of Hubble as a rollercoaster,? Weiler said, adding that one thing has become clear in the space telescope?s storied past. ?Everybody loves Hubble now.?
Video - Hubble?s Repair Missions Revealed

New Show: Hubble's Universe: The Final Shuttle Service Call

Image Gallery ? The Hubble Repair Missions: Part 1, Part 2