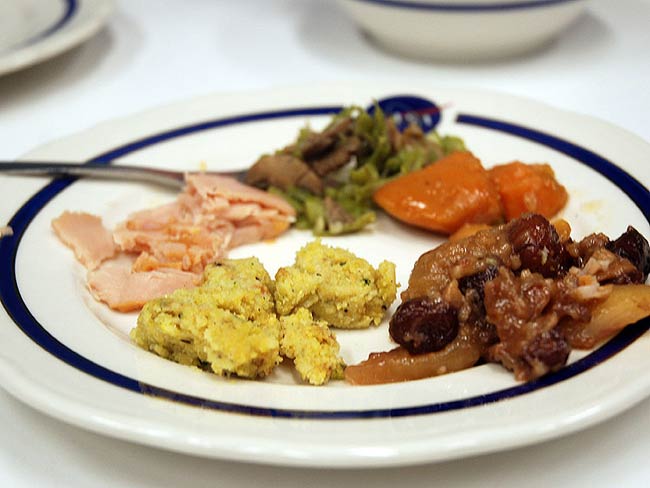 The U.S. holiday of Thanksgiving may be a longstanding tradition that dates back to 1621 on Earth, but it?s a relatively recent phenomenon in void of space.
Today, 10 astronauts aboard NASA?s space shuttle Endeavour and the International Space Station will gather together in the station?s aptly named Harmony module to celebrate Thanksgiving in orbit.
"We're very fortunate to be up here in space. The only thing that would make it better is to be with our families," said Endeavour astronaut Heide Stefanyshyn-Piper, who will also miss be in space for her husband Glenn's birthday tomorrow. "For everyone on Earth, I just hope everyone will have as nice of a Thanksgiving as we will."
Astronauts aboard the station have been celebrating Turkey Day in space for eight years and counting, but the U.S. holiday first arrived in orbit in 1973 with three astronauts flying NASA?s Skylab 4 mission to the American space station. (The crew, astronauts Gerald Carr, William Pogue and Edward Gibson, later celebrated Christmas aboard the Skylab space station with a makeshift Christmas tree made of empty food cans.)
It took more than a decade for astronauts to celebrate the holiday in orbit again. But details of that 1989 dinner are shrouded in secrecy since the mission - NASA?s STS-33 flight aboard Discovery - was a classified spaceflight dedicated to the U.S. Department of Defense.
American astronauts celebrated Turkey Days in orbit during shuttle missions in 1991, 1996 and 1997 - the last two aboard the shuttle Columbia while it was docked at the Russian Mir Space Station.
But the last NASA space shuttle to carry astronauts to orbit over Thanksgiving was - by coincidence ? also Endeavour, which flew spaceflyers to the International Space Station in 2002 during the joint STS-113 and Expedition 5 mission and featured a hard-earned dinner after a Turkey Day spacewalk.
NASA astronaut Peggy Whitson, who served as a station flight engineer and later commanded the outpost?s Expedition 16 crew, remembered her Thanksgiving with Endeavour?s STS-113 astronauts fondly.
"Blueberry-cherry cobbler, compliments of our guests, and served on a tortilla was a real dessert treat for the Station crew, since that was not included in our meal rotations,? she wrote in a NASA interview. ?Celebrating this holiday in space with some visiting friends was a very special experience, one that I will remember fondly in Thanksgivings to come."
NASA is providing live coverage of Endeavour's STS-126 mission on NASA TV. Click here for SPACE.com's mission coverage and NASA TV feed.
Video - Drinking Water From Space Urine

Video - Space Station Acrobatics