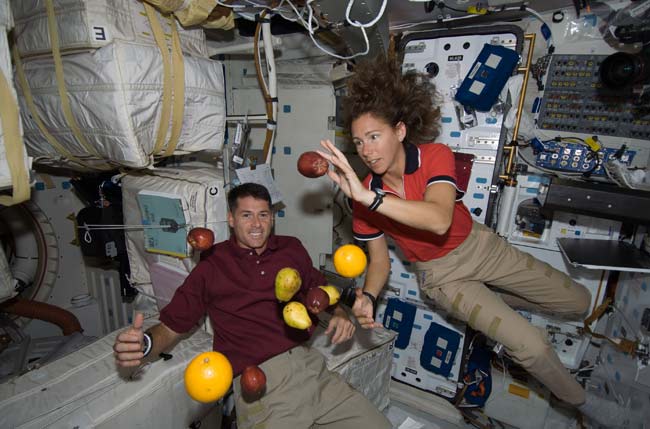 Astronauts aboard NASA?s shuttle Endeavour were due for some much-deserved rest Sunday to take a break from a busy flight packed with space station upgrades and water recycler malfunctions.
Endeavour commander Chris Ferguson and his six crewmates have nearly half the day set aside for relaxation as they give the International Space Station the orbital version of an extreme makeover. Their space station crewmates, meanwhile, will try to repair the station?s finicky new water recycler.
?They are not scheduled for any activities,? said Ginger Kerrick, the mission?s lead space station flight director, of the shuttle crew in a briefing late Saturday. ?It?s been a long mission?they really need to take that time off.?
Endeavour launched toward the station Nov. 14 carrying a new member of the outpost?s three-person crew and equipment required to set the stage for the push to full six-person missions to the orbiting lab next May. In addition to the water recycler, which is working in fits and starts to process urine into drinking water, the astronauts delivered two spare bedrooms, a second kitchen and bathroom, an all-in-one exercise machine and a space food fridge.
While some of the astronauts installed that cargo and other fresh supplies, their crewmates were working outside on three of the mission?s four spacewalks to clean and grease an ailing solar array gear. The next spacewalk is set for Monday to wrap up that work and perform other tasks.
But today, flight controllers hoped Endeavour?s crew will take in the view of Earth and other luxuries of spaceflight.
?The view up here is truly amazing,? Endeavour pilot Eric Boe said Friday. ?And just getting the chance to float around and see how large the space station is, it?s an incredible feat that?s happened.?
Water recycler repair
Endeavour mission specialist Don Pettit, who lived aboard the space station for more than five months when it was much smaller, said before flight that he hoped to hunt down his favorite tools and other items he left behind. But he will likely not spend too much time at play today.
Station commander Michael Fincke radioed Mission Control late Saturday to ask if Pettit, a consummate tinkerer, could assist him in an attempt to repair the station?s balky water recycler.
Known as the Water Recovery System, the intricate system is part of the space station?s $250 million attempt at a U.S. regenerative life support system. It?s designed to collect astronaut urine, wastewater and sweat from the cabin atmosphere, and then distill it back into pure water for drinking, food preparation, oxygen generation or other uses.
The system must function if the space station is to begin supporting double-sized crews next year. But a perplexing glitch with its urine processor has limited operations to around two hours at a time.
Kerrick said engineers believe the cause is two-fold. First, a sensor appears to be coming into contact with a centrifuge that spins urine in the distillation process, leading the motor driving the system to draw too much power and shut down. Then, a set to of isolators - shock absorbers to limit vibrations - may be making the glitch worse.
Fincke is expected to spend about two hours removing the shock absorbers in an attempt to eliminate the interference.
?We never know what we?re going to get when we first flight test a piece of aerospace equipment,? Fincke told reporters on Friday. ?As a flight test engineer, I fully expected things not to work perfectly.?
Even with the glitch, astronauts have managed to process some urine through the water recycler along with wastewater and condensate from the atmosphere. Some samples of the water are being tested for purity aboard the station, while others will be returned to Earth for analysis.
NASA engineers have planned about 90 days? worth of tests to ensure water recycled through the system is fit for consumption.
Fincke said Friday that NASA engineers and the joint station-shuttle crew will find a solution to the water recycler?s woes.
?Sure, we?re scratching our heads on a few things, but I?m confident that, with this crew, there?s just no way that we can fail,? he said.
New Video - Drinking Water From Space Urine

Video - Space Station Acrobatics

Video - Space Shuttle Bloopers