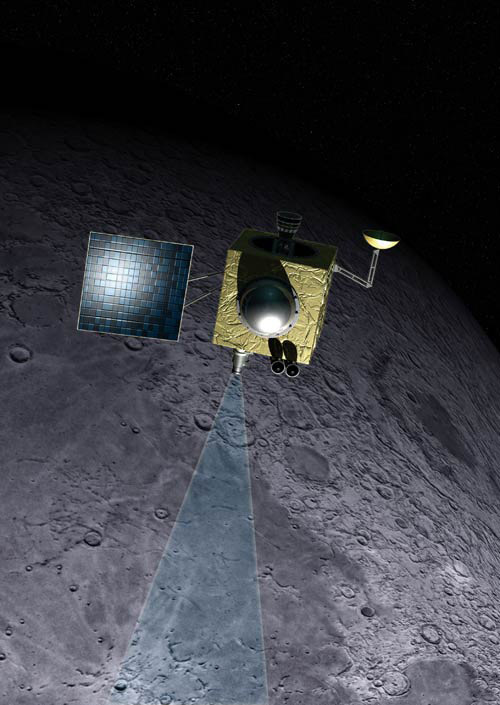 BANGALORE, India — The Indian Space Research Organisation (ISRO) again has delayed the launch the nation's first lunar orbiter, this time to late September, due in part to late arriving payloads, according to ISRO spokesman S. Satish.
It was the second postponement this year for the Chandrayaan-1 mission, which originally was scheduled to lift off April 9. That date was pushed to early July in anticipation of extra time needed for integrating the experimental payloads with the spacecraft.
Satish said the decision to postpone until this fall was taken May 27 at one of the regular technical meetings reviewing the progress of the project. He cited delays in some of the orbiter's international payloads but declined to identify which ones. In addition, he said, there were "unforeseen" problems in interfacing the payloads with the spacecraft, but added that all the problems now have been overcome and "everything is under control." He said that as of now "all payloads have been integrated and testing is going on" at the ISRO Satellite Centre in Bangalore.
Satish said the end-of-September launch date also would give ISRO sufficient time to gain complete confidence in the performance of the deep space network antenna built specifically for tracking Chandrayaan-1. The 32-meter parabolic dish antenna at Byalalu, 40 kilometers from Bangalore, currently is being tested by tracking Japan's lunar probe Kaguya, which was launched last September.
Satish said the tracking of Kaguya is being done following formal permission from the Japanese Aerospace Exploration Agency.
The 525-kilogram Chandrayaan-1 will be launched by a modified version of ISRO's Polar Satellite Launch Vehicle from the Sriharikota launch pad on India's east coast. Five of the probe's 11 experimental payloads were built by Indian scientists. The international payloads include: an X-ray Spectrometer, Atom Reflecting Analyzer, and an infrared camera, all supplied in cooperation with the European Space Agency; a Miniature Synthetic Aperture Radar and Moon Mineralogical Mapper, both from the United States; and a Radiation Dose Monitor from Bulgaria.
India, US Hoping for New Chapter in Space Relations