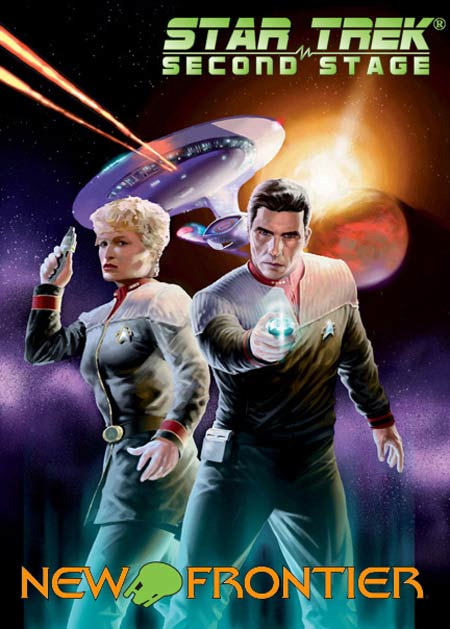 In 1997, "Star Trek" fans got something new.
That was the year that Pocket Books launched its "Star Trek: New Frontier" novel line, the first series of books not directly tied to an existing Trek franchise, or likewise, beholden to any specific Trek continuity. The series introduced a largely unknown cast, though there were cameos by known characters as well as the presence of Lt. Commander (now Admiral) Elizabeth Shelby who first appeared in "Star Trek: The Next Generation's" 'The Best of Both Worlds' episodes.
The original idea for the series is credited to then-Pocket Books editor John Ordover, and writer Peter David has written every novel in the series, which at this point stands at just under 20. The books, and later comics, revolve around a new starship - the USS Excalibur - and its captain Mackenzie Calhoun as they watch over a space sector in turmoil after the collapse of an alien empire.
This month, New Frontier comes to comics once again, as part of IDW Publishing's "Star Trek: 'Second Stage'" initiative for the property, with David at the helm. Joined by artist Stephen Thompson, David will officially continue the stories of the USS Excalibur and Calhoun in a five-issue limited series entitled "Turnaround."
"The advantage of playing in the Star Trek universe is that you have access to that vast reservoir of possibilities, not to mention an existing audience base," David told Newsarama [Full Interview]. "The disadvantage is that you really can't change any of the characters...except that's not an issue in New Frontier. Characters can come and go, get married, get divorced, give birth, die. So it's really--no joke intended--the best of both worlds."
"Turnaround" is the first New Frontier comic since "Double Time," also penned by David, seven years ago and features a storyline drawn up especially for the new miniseries. It picks up where the last New Frontier novel, "Missing in Action," left off, David said.
"When we first introduced New Frontier, we had a core cast of characters and they were all on the Excalibur," David said. "As time as progressed, a number of them have moved on to different venues, as happens in life."
Readers will not only learn more about the evolution of New Frontier's characters, but also be treated to a mix of themes familiar to the series' die-hard fans.
"It features the full range of seriousness and humor that is integral to New Frontier, ranging from Calhoun witnessing the gut-wrenching and brutal death of a key New Frontier cast member, to the mountainous Zak Kebron endeavoring to extract information from an unwilling individual by making him sit through a slide show of every vacation Kebron's family ever went on," said David, adding that the series will answer some of the series' long-standing questions. "It's a can't-miss for longtime New Frontier fans."
VOTE Now! Cast your vote for the Best Space Movies

SPACE.com Quiz: Are You Game Enough to Join Stargate SG-1?