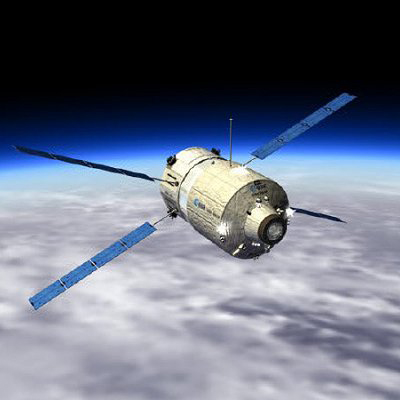 Europe's first unmanned space freighter bound for the International Space Station (ISS) is counting down toward its launch debut tonight from a spaceport on the northern South American coast.
The European Space Agency's (ESA) massive cargo ship "Jules Verne" is poised to launch spaceward atop an Ariane 5 rocket at 11:03 p.m. EST (0403 March 9 GMT) from Europe's Guiana Space Center spaceport in Kourou, French Guiana.
Weighing in at nearly 21 tons, Jules Verne is the first of a new fleet of Automated Transfer Vehicles (ATVs) built for the ESA to ferry new supplies and equipment to the ISS. It is the first completely new spacecraft to visit the space station in nine years and can haul about three times the cargo of Russia's current unmanned Progress space freighters.
"It's a major milestone and we're getting within touching distance of where we want to be, which is to get on orbit," said ESA space station program manager Alan Thirkettle.
Named after the famed 19th century science fiction writer Jules Verne, of France, Europe's inaugural ATV is the first of five cargo tugs that will deliver fresh supplies to the ISS through 2015 in return for a six-month berth for an ESA astronaut every other year. In all, ESA officials plan to launch seven such spacecraft to the space station.
But first, Jules Verne must prove its space worthiness.
As of late Friday, ESA officials were watching a low cloud layer, as well as a low probability of thunderstorms, as they prepared for tonight's launch attempt. Jules Verne has until March 10 to attempt its maiden launch before ESA officials would stand down to clear communications satellite traffic to support the planned March 11 launch of NASA's shuttle Endeavour on its 16-day construction flight to the ISS.
While Endeavour's STS-123 astronaut crew delivers a new Japanese room and Canadian robot to the ISS, Jules Verne will take up a parking orbit about 1,200 miles (2,000 km) away from the station. It will deliver its cargo - including two manuscripts by its namesake - to the orbiting lab after Endeavour departs and before the April 8 launch of a new ISS crew aboard a Russian spacecraft, ESA officials said.
Maiden voyage
Designed to dock at the aft end of the station's Russian-built Zvezda module, Jules Verne is a 32-foot (10-meter) long cylinder with X-wing-like solar arrays and a diameter of about 14.7 feet (4.5 meters). The spacecraft weighs of about 23,000 pounds (10,432 kg) when empty and can be loaded with more than 16,800 pounds (7,620 kg) of fresh food, equipment and rocket propellant.
"Just to get a sense of what the size of this great bird is; we're about the size of a London [double-decker] bus," said John Ellwood, the ESA's ATV project manager.
While Jules Verne is launching with less than its maximum capacity, ATVs are designed to haul about 12,000 pounds (5,443 kg) of cargo to the space station inside their 1,685-cubic-foot (almost 48-cubic-meter) interiors. Tanks inside the spacecraft can hold about 1,850 pounds (839 kg) of water, 220 pounds (100 kg) of oxygen and air and 1,890 pounds (857 kg) of fuel for the station's Russian thrusters. Jules Verne, itself, can hold more than 10,000 pounds of propellant to feed its four main engines and 28 thrusters during flight and in maneuvers to boost the station's orbit.
"When we get to orbit, we have 14 days of work," said Mike Suffredini, NASA's space station program manager.
European flight controllers will watch over Jules Verne's flight from a new ESA Mission Control Center in Toulouse, France. In addition to testing the spacecraft's collision avoidance system, they will monitor Jules Verne during two demonstration days - set for March 29 and March 30, respectively - to check its automated rendezvous systems. If all goes well, the spacecraft is due to dock on April 3.
Unlike Russia's automated Progress cargo ships, which can be remote controlled by astronauts inside the ISS if their navigation system goes haywire, station crewmembers have only a big red button to send Jules Verne out to a safe distance should it stray off course, ESA officials said.
"The crew won't do anything at all if the rendezvous is nominal," said Bob Chesson, the ESA's chief of human spaceflight and exploration operations.
NASA will broadcast the launch of Europe's Jules Verne ATV live on NASA TV beginning at 10:15 p.m. EST (0215 March GMT). Click here for a link to SPACE.com's NASA TV feed and ISS mission updates.
VIDEO: Columbus: Europe's Orbital Lab at ISS