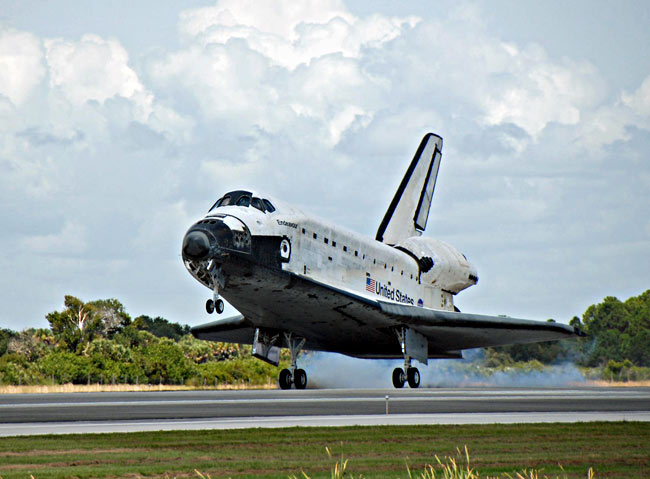 CAPE CANAVERAL, Fla. -- The dinged heat shield tiles on NASA's shuttle Endeavour performed much better than expected during the orbiter's landing today and marked the only blemish on an otherwise flawless spacecraft, the space agency said Tuesday.
Slight tile damage aside, Endeavour is in fine shape after the shuttle's first flight to the International Space Station (ISS) in almost five years, NASA chief Michael Griffin said.
"Actually the orbiter overall was pretty clean," Griffin said. "We had one kind of ugly ding and we paid appropriate attention to it."
Endeavourtouched down at 12:32:16 p.m. EDT (1632:16 GMT) here at NASA's Kennedy Space Center to conclude a successful ISS construction flight. The landing completed the overhauled shuttle's first spaceflight since late 2002.
NASA engineers are discussing what types of modifications, if any, will be required to the shuttle fuel tank bracket that loosed a 0.021-pound (about one-third of an ounce) piece of foam insulation during Endeavour's Aug. 8 launch. The debris bounced off a strut to carve a small ding into Endeavour's belly-mounted heat tiles.
The chipped tile posed no risk to the shuttle or its crew, and weathered the searing heat of reentry remarkably well, NASA said. A first look after landing showed only slightly more erosion, not the extensive surface damage predicted by NASA tests, and will be a valuable asset in heat shield analysis, the agency added.
"We're going to be able to understand exactly how this stuff performed," Bill Gerstenmaier, NASA's associate administrator for space operations, in a post-landing briefing. "What is really important is we have kind of a before and after, which sometimes we haven't had before."
Canadian Space Agency (CSA) president Laurier Boisvert said Endeavour's successful return meant a great deal to his home country, and not only because the shuttle carried Saskatchewan-born spaceflyer Dafydd "Dave" Williams. Williams set a new Canadian spacewalking record during three excursions and almost 18 hours of orbital work.
The robotic arm inspection boom and laser tools used to scan Endeavour's dinged tiles were Canadian in origin and a source of pride for the CSA, Boisvert said.
"It's probably the most photographed tile in the world," he added.
Space station progress
Griffin lauded the work of Endeavour's STS-118 astronaut crew, which primed the space station for future construction later this year.
"It's getting to look like a real space station now," Griffin said.
Commanded by veteran shuttle flyer Scott Kelly, the 13-day mission delivered more than two tons of cargo, additional spare parts, a new starboard-side girder and included the replacement of a broken U.S. gyroscope. The shuttle crew landed a day early to avoid any impacts to their Houston, Texas-based Mission Control by Hurricane Dean, though the storm ultimately posed no threat to the NASA center.
"They just rolled with the punches and they did a great job," Gerstenmaier said of the crew's effort to adapt to changes. "They did a flawless job."
Endeavour's crew included teacher-turned-astronaut Barbara Morgan, who made her first flight since joining NASA 22 years ago as the backup to Teacher in Space Christa McAuliffe before the ill-fated 1986 Challenger mission.
Griffin said Morgan was in good health after the spaceflight but required a bit more time to readapt to Earth's gravity.
With the success of STS-118, the ISS is now about 60 percent complete. NASA plans at least 11 more shuttle missions set to finish space station assembly by the September 2010 retirement date for its three-orbiter fleet.
"It is an awesome accomplishment that we're in the middle of, we?re not done with it," Griffin said. "Every flight is a hard flight. Every flight is the most important flight, and that will remain so until we're done."
VIDEO: STS-118: Coming Home

VIDEO: Teaching the Future: Teacher-Astronaut Barbara Morgan

Complete Space Shuttle Mission Coverage