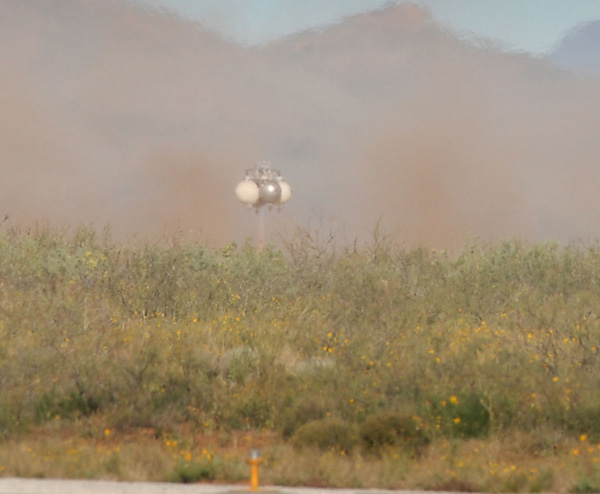 LAS CRUCES, New Mexico -- A privately-built rocket rose skyward today at the Wirefly X Prize Cup--but failed in its bid to win NASA prize dollars for taking an innovative approach to spacecraft building.
The hardware, named Pixel, was built by Armadillo Aerospace--a vertical takeoff and landing vehicle.
Roaring off into New Mexico skies over barren landscape, the Armadillo Aerospace vehicle rose to altitude, remained aloft, roared horizontally a distance, but ran into trouble on landing.
The craft missed a precise touch down, tipping over onto the ground. Yesterday, during the first leg of the two-day challenge, the same craft came down too fast causing breakage of its landing gear. [See video.]
Overnight fixes to software and hardware led to the second attempt today at grabbing Northrop Grumman Lunar Lander Challenge prize money offered by NASA.
The NASA-sponsored Challenge is part of the two-day Cup being held October 20-21 at the Las Cruces International Airport. NASA is providing $2 million in prize money for the challenge.
Better luck next time
Pixel is the brainchild of space entrepreneur John Carmack and his team at Armadillo Aerospace of Mesquite, Texas. Carmack is also co-founder and chief technical engineer of id Software.
"We had a beautiful looking flight," said William Pomerantz, Director of Space Projects for the X Prize Foundation, headquartered in Santa Monica, California. The vehicle took off just like it was supposed to, he said, attained the minimum altitude, hovered expertly, but missed its mark on landing.
"They have not formally met the requirements this time period. They'll have to look to the next one," Pomerantz said.
From a quick look over the vehicle, Carmack and his team thought that they could repair the same vehicle--Pixel--and fly it again later today.
Level 1 prize money
William Gaubatz, lead judge for the Northrop Grumman Lunar Lander Challenge, told SPACE.com that Pixel landed with two legs on, two legs off the landing pad. That fact disqualifies them for a reflight and a chance to win the Level 1 Lunar Lander Challenge prize.
"They are going to bring it back, see if they can do a repair, and get into the next flight opening later today," Gaubatz said. They would again attempt a Level 1 flight, he said.
"It was a beautiful flight," Gaubatz said, a flight that was longer than yesterday. "Landing is tough," he concluded.
Winning the Level 1 competition is worth $350,000 in prize money--a purse provided by NASA's Centennial Challenges. This NASA effort is meant to promote technical innovation through a novel program of prize contests.
Rocket teams for the Lunar Lander Challenge are scored on their ability to meet challenge requirements, the accuracy of their landing and, in case of a tie, the number of "round trips" they can complete within a specified period of time.
VIDEO: Complete Coverage of the X Prize Cup
LIVE Coverage of the X Prize Cup