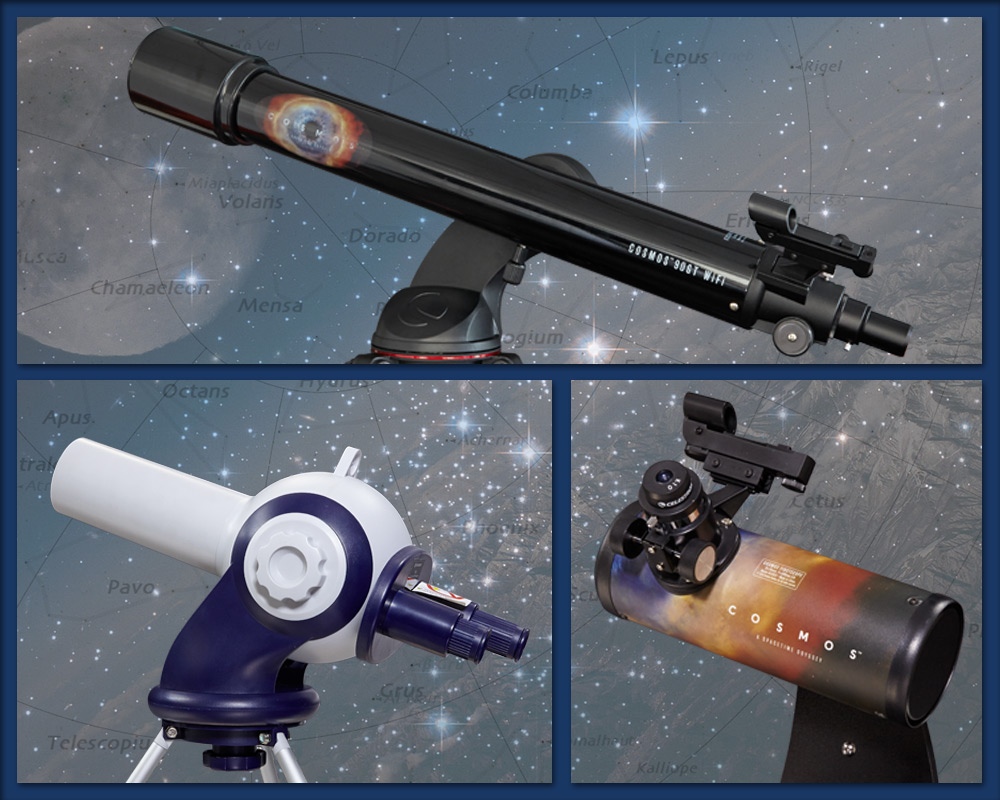 Looking at the night sky can be inspiring for kids, and the right telescope can drive their interest in astronomy for a lifetime. A child's age may determine which telescope is appropriate for studying the sky. We've rounded up what we think are the best telescopes for kids in different age groups, from relatively simple instruments for preschoolers and kindergartners, to more advanced scopes for young stargazers in middle school and up.
Note: Parental supervision is suggested for small children playing with telescopes. To avoid eye injury, NEVER allow children to point telescopes at the sun during daytime viewing.
---
Age 6 and Under:
Argo 50mm Telescope/Microscope Kit (Best for Viewing)
By Bresser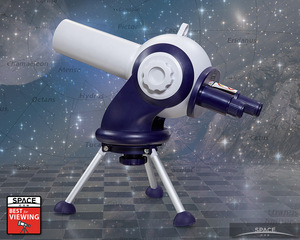 The Argo 50mm is a simplified version of "grown-up" telescopes, and we think that makes it a great tool for introducing young kids to these instruments. With a somewhat low magnification (15x) and a simple spotting tool, kids can learn how to identify distant objects and focus the telescope on them. It's great for moon and terrestrial viewing. (However, objects appear upside down.) The telescope has an optional second eyepiece (like binoculars), so young kids don't have to close one eye to see through the scope.
As a bonus, if kids want to look at more impressive celestial objects, they can use the Argo's microscope attachment, which allows them to view slides featuring things like onion skin, as well as a few images of galaxies. The kit also comes with tools to make your own slides.
Setup and operation will likely require the help of an adult (or someone over age 6). To transform the kit from a telescope to a microscope, just slide the attachment onto the end of the telescope tube. The kit comes with a small tabletop tripod, and a floor tripod.
List Price: $49.99. Available for: $24.90
GeoSafari Talking Telescope (Best for Learning)
By Educational Insights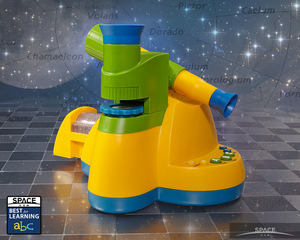 Perfect for the youngest stargazers you know, the Talking Telescope is a combination telescope and slide viewer, with an audio function that delivers facts and questions about the objects on the slides (including things like animals and planets). The 4x magnification telescope has a wide eyepiece and doesn't need to be focused to magnify nearby objects, so it's easy for youngsters to use.
The telescope attaches magnetically to a wide, sturdy base that includes the slide viewer. The toy comes with 20 slides, but unfortunately, there are no additional slides available for purchase. It takes four AA batteries that are not included. The toy is stable and fairly durable. The maker's website recommends the toy for ages 5 to 8, but we think kids as young as 3 will enjoy it.
List Price: $49.99. Available for: $24.46
Other Options:
Primary Science Big View Telescope (Learning Resources) - $19.99
---
Age 6 and Up:
Cosmos FirstScope (Best for Viewing)
By Celestron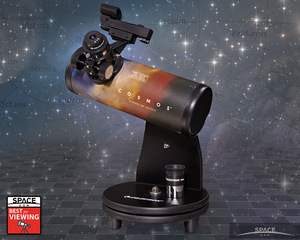 Celestron's Cosmos FirstScope is a small but impressive introductory telescope for kids. This tabletop Dobsonian telescope comes almost completely preassembled on a turntablelike mount, making setup a breeze. To operate it, just attach the finder scope, and insert one of two eyepieces: a 15x eyepiece for wide views or a 30x eyepiece for close-ups. The telescope has a maximum magnification of 180x, so viewing the moon or Jupiter is a piece of cake with this one. Note that, for terrestrial viewing, objects appear upside down.
The scope weighs less than 5 lbs. (2.3 kilograms), so it can easily be taken along on trips to remote stargazing locations. (It does not include a tripod, so an outdoor table is needed.) It also comes with an awesome red-dot "Star Pointer" that makes it easier to find and focus on targets (battery included; easy to calibrate).
This special edition version of the FirstScope is branded with the logo for the TV show "Cosmos: A Spacetime Odyssey," hosted by Neil deGrasse Tyson. It also comes with a cool Cosmic Calendar poster, a free planetarium app, and online resources like observing tips and must-see celestial events.
List Price: $69.95
Nancy B's Science Club Moonscope (Best for Learning)
By Educational Insights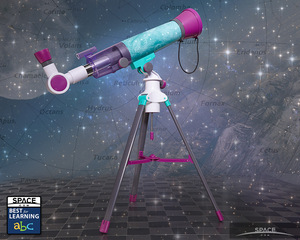 Nancy B's Science Club Moonscope is a small refractor telescope designed to actively engage budding young scientists, primarily girls, as they explore the night sky. The brainchild of inventor Nancy Balter, the Moonscope is intended mainly for studying the moon, and comes with two glass eyepieces: an 18x magnification eyepiece for wider viewing and a 90x magnification eyepiece for closer views. The diagonal mirror makes objects appear right side up but reversed. Setup is easy with the help of a parent.
What sets the Moonscope apart is the 22-page Sky Gazer's Activity Journal that offers a kid-friendly introduction to celestial viewing. (For example, the phases of the moon are illustrated with pictures of sandwich cookies.) The journal also includes activities such as looking for craters on the moon, drawing its mountain ranges, designing a spacesuit and writing a creation myth about the moon. (Managing Editor Tariq Malik's 6-year-old daughter is obsessed with the activity book.)
The telescope also includes a handy moon filter to reduce the glare during lunar observing, and a small red LED light built into the bottom that makes it easy to reference a star chart without disrupting your night vision (takes two AAA batteries, not included). The small size of the Moonscope (it stands 16 inches, or 40 cm, tall on its tripod) may require an outdoor table for the best viewing.
List Price:$49.99. Available for: $37.17
Other options
Galileoscope Refractor Telescope Kit (Galileoscope LLC) - $49.95
Cometron 114AZ (Celestron) - List Price: $179.95. Available for: $129.99
---
Age 10 and Up:
Kids 10 and older are likely ready for a telescope that is a bit more advanced than a tabletop instrument. With proper instruction on safety and instrument care, older kids should be able to operate these scopes independently. Adults may want to stick around to enjoy the view.
GeoSafari Omega Reflector Telescope (Best for Viewing)
By Educational Insights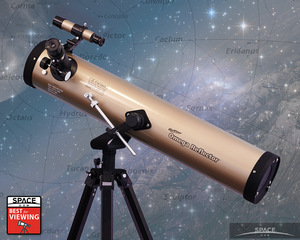 For older kids ready for an introduction to advanced night-sky viewing, the Geosafari Omega Reflector Telescope from Educational Insights is a fantastic choice. With three eyepieces and a 3x Barlow lens, this 76-mm (3 inch) reflector telescope has seven magnification options that range from 35x to 300x. It also includes with an image erector, whic makes images appear right-side-up, for terrestrial viewing.
In addition to the basic stuff like the moon's craters, Jupiter and Saturn, this reflector scope can reveal deep-sky objects like star clusters and nebulas. The instructions also include a simple moon map and links for more night-sky resources. (The list includes Space.com, but that's not why we picked this one —honestly!)
Setup for this telescope takes about an hour, and includes putting together the tripod, attaching the spotting scope, and getting familiar with the eyepieces and other attachments. Parental supervision or assistance is recommended.
Note that reflector telescopes like this one are built into a tube that is open to the air at one end. The mirrors inside may collect dust. This is usually not a problem until they get very dirty. Such mirrors can be easily cleaned as long as care is taken not to knock them out of alignment ("collimation"). A little bit of dust is OK and will not compromise the view.
List Price: $159.99. Available for: $138.47
Cosmos 90GT WiFi Telescope (Best for Learning)
By Celestron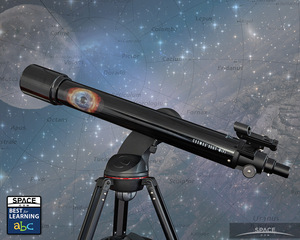 If there's one thing kids today know how to handle, it's a smartphone app, and Celestron's Cosmos 90GT WiFi Telescope takes that skill and merges it seamlessly with telescope gear to create a high-tech skywatching experience.
The telescope is a 90-mm (3.5 inches) refractor and comes with eyepieces that allow for magnifications of 36x and 91x, with a highest useful magnification of 213x. The scope is operated using the Cosmos Celestron Navigator app (versions available for iPad, iPhone and Android devices), which can automatically locate more than 120,000 night-sky objects — it's a celestial encyclopedia at your fingertips. Users can pick a target from the app, and the telescope will slew itself to bring the target into view.
Because of the price investment needed, this is a telescope that requires careful treatment, and is too fragile for very young children. Like the Cosmos FirstScope 76, the 90GT WiFi Telescope comes branded with the logo for the TV show "Cosmos: A Spacetime Odyssey," and includes a Cosmic Calendar poster and online skywatching tips and guides.
Note: The Cosmos 90GT WiFi Telescope is designed to create its own wireless connection to link up with your device, even in remote skywatching areas. Setup may require a power source for the telescope. It weighs a little more than 14 lbs. (6.3 kg).
List Price: $399.95
Other options
Geosafari Omega Refractor Telescope (Educational Insights) - List Price: $99.99. Available for: $62.10
TK1 Reflector Telescope (Thames & Kosmos) - List Price: $169.99. Available for: $163.08
---
Telescopes, binoculars and astronomy gear
Once you've found the right telescope for your budding astronomer, you may want to begin planning for the next stage in his or her skywatching journey. You can see our recommendations for more advanced telescopes, astronomy binoculars and accessories in the links below:
Best Telescopes for Beginners: Reviews and Buying Guide
Best Astronomy Binoculars (Editors' Choice)
Astronomy Guide: Tools, Tips and Equipment to Start Stargazing
---
Methodology
When we started searching for the best telescopes for kids, we wanted something different from what we had already highlighted on our Best Telescopes page. We were searching for telescopes that were durable enough to withstand playtime, could keep youngsters entertained and would ignite curiosity about the cosmos.
When testing the telescopes, we looked at each telescope's basic statistics, like magnification and the number of accessories. We also looked at the ease of setup and the ease of use, the quality of the product's construction and design, and whether it could withstand being played with by young children.
We found that the telescopes tended to fall into two categories: those that were made primarily for observing, and those that were geared more toward science and learning. So we picked our favorites in both of those categories, and divided our final choices by age group.
Our top selections for kids 6 and under are colorful and fun, but they can also introduce very young children to telescope viewing. The choices for kids 6 and up offer more complex technology and/or more challenging science tasks. The selections for age 10 and up can serve as transitions into high-grade telescopes, and are suitable for casual stargazers of all ages.
We worked hard to find the best telescopes for kids, and we hope you find one that works for the young astronomer in your life.
---
Manufacturers
Celestron: A veteran in the telescope optics business, Celestron has been offering skywatchers quality instruments since the 1960s and, in 1987, developed the first computerized observatory-class telescope (a battery-operated version followed in 1996). Celestron telescopes have flown on a NASA space shuttle, and its NexStar SE appeared on the CBS comedy "The Big Bang Theory." In 2014, Celestron unveiled the Cosmos 90GT WiFi Telescope, the first Wi-Fi-operated telescope for amateur astronomy that can be controlled via the Cosmos Celestron Navigator app for iPhone, iPad and Android devices. For more information on Celestron's telescopes, visit: http://www.celestron.com/.
Educational Insights: Educational Insights is a Southern California-based company focused on developing educational play opportunities for kids for more than 50 years. The company's Nancy B's Science Club Moonscopeis part of a wider Nancy B's Science Club line that includes binoculars, a microscope, a chemistry set, a tree diary and even an "aqua scope" for peering underwater to see inside lakes, rivers or other bodies of water. Educational Insights also offers a range of high-quality telescopes under its Geosafari line. We liked the sheer range of magnification that came with the Geosafari Omega Reflector Telescope, but several other models are available. For more information on Educational Insights, visit: http://www.educationalinsights.com/.
Galileoscope LLC: An alternative option for our Age 6 and Up category, the Galileoscopes offered by Galileoscope LLC are refracting telescopes that allow kids to build a telescope similar to the one used by famed Italian astronomer Galileo Galilei, literally from the ground up, with no tools needed (except maybe scissors). We built ours in 30 minutes. The Galileoscope was originally developed by astronomers, science educators and optical engineers as an affordable telescope to spur interest in astronomy during the International Year of Light in 2009, and there are free online observing guides (updated by year), as well as tips and activity guides offered by the Galileoscope team. There is also an opportunity for individuals and organizations to donate Galileoscopes to teachers and schools around the world. For more info on the Galileoscope, visit: http://galileoscope.org/.
Learning Resources: Learning Resources makes hardy science gear for kids, including the Primary Science Big View Telescope, which we listed as an alternative option for kids under age 6. Big View is a no-frills scope for young children that can be used for moon gazing or daytime terrestrial viewing. (Adult supervision is required to avoid pointing it at the sun.) Other than a small, tabletop tripod, this colorful and lightweight scope comes with no additional pieces, and no assembly is required. Its 20x magnification is impressive for a telescope designed for kids in this age range, and the large focus knob is easy to grab and turn. The eyepiece is lined with soft rubber, but the viewing hole is smaller than that on the Talking Telescope. The piece is fairly durable, but watch out for the viewing knob, which can break off. We think this little scope is ideal for studying the moon and terrestrial objects. For more on Learning Resources' products, visit: http://www.learningresources.com/
Meade Instruments: Meade Instruments has been building high-quality optics for telescopes, binoculars and solar telescopes since 1972, and offers a wide variety of instruments. They range from simple refractors like the Infinity 50mm Altazimuth Refractor ($49.95) for beginner skywatchers to ultra-advanced tools like the LX850-ACF Telescope with StarLock ($9,999) for expert astrophotographers. To learn more about Meade telescopes, visit: http://www.meade.com/.
Orion: Orion Telescopes & Binoculars has offered a varied selection of optics and observing tools and accessories for amateur astronomers, sport observers and astrophotographers since 1975. The company's instruments range from the beginner level (the Orion FunScope Tabletop Reflector) to high-end tools like the Orion SkyQuest XT8i IntelliScope Dobsonian for more advanced observers. For more information on Orion telescopes, visit: http://www.telescope.com/.
Thames & Kosmos: Founded in 2001, Thames & Kosmos provides a wide variety of science- and education-themed kits for kids of all ages. Currently, the company offers more than 120 science and experiment kits across 13 different subjects, ranging from astronomy and physics to construction, ignition and alternative energy. While the TK1 Telescope and Astronomy Kit is new for 2015, Thames & Kosmos also has an in-depth Scope Constructor Science Kit that offers a multitude of ways for kids to build their own binoculars, spotting scopes and telescopes. For more on Thames & Kosmos, visit: http://thameskosmos.com/index.html