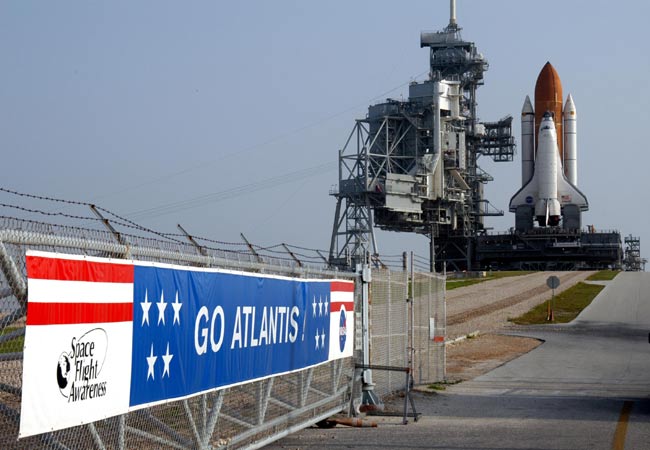 A swarm of NASA shuttle managers, engineers and contractors have descended on the agency's Florida spaceport for a two-day meeting to decide whether the Atlantis orbiter is fit to launch six astronauts spaceward on Aug. 27.
Among the many items to be discussed during the meeting is whether engineers need to replace a set of four bolts connecting Atlantis' primary data and video antenna to the upper right side of the orbiter's payload bay.
"I know they're going to present it and we're going to lay out a plan on what the work would take," said NASA spokesperson Bruce Buckingham, of the agency's Kennedy Space Center (KSC) where the meeting is underway, adding that it's still far from final whether additional work will be required at the shuttle's launch pad.
The four bolts latching Atlantis' antenna dish in place are shorter than those stipulated in engineering specifications, but have flown on all 26 of the shuttle's spaceflights. Engineers have expressed some concern that the bolts could shake loose during launch, which could send the antenna plunging down the length of Atlantis' 60-foot (18-meter) payload bay and cause serious damage to the orbiter.
"If we did decide to go do the work, it could in all likelihood not affect our launch date," Buckingham said.
Atlantis is slated to launch from KSC's Pad 39B site no earlier than 4:30 p.m. EDT (1030 GMT) on Aug. 27 to begin an 11-day mission to the International Space Station (ISS).
Its STS-115 mission, commanded by veteran shuttle astronaut Brent Jett, will deliver a new solar array and pair of truss segments to the orbital laboratory.
But first Atlantis must pass muster before teams of safety engineers and top shuttle officials during a standard pre-launch meeting known as the Flight Readiness Review.
Buckingham said that between 200 and 300 shuttle officials, engineers and contractors began discussing Atlantis' flight readiness at about 8:00 a.m. EDT (1200 GMT) today. Talks are expected to stretch on through Wednesday, with a final launch target to be announced that afternoon.
NASA will broadcast the results of Atlantis' STS-115 Flight Readiness Review meeting live on NASA TV no earlier than 2:00 p.m. EDT (1800 GMT). You are invited to follow the briefing using SPACE.com's NASA TV feed, which is available by clicking here.
VIDEO: Shuttle Commander Brent Jett
Complete Space Shuttle Mission Coverage
NASA's STS-115: Shuttle Atlantis to Jump Start ISS Construction