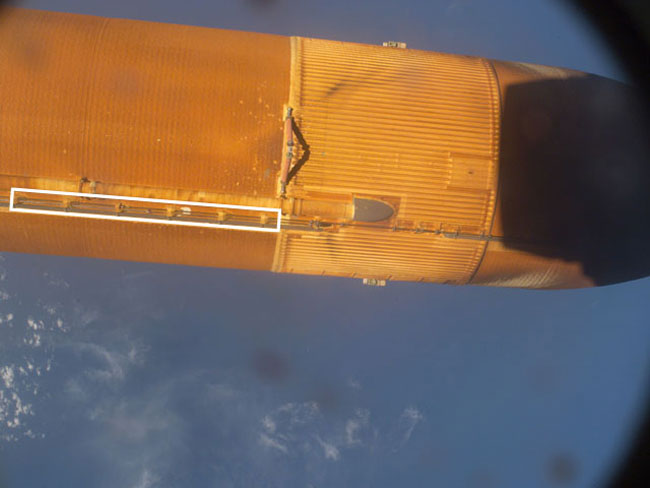 HOUSTON – An early look at launch and inspection data from NASA's space shuttle Discovery has yielded no concerns over the health of the vehicle, a top shuttle official said Wednesday.
John Shannon, NASA's deputy shuttle program manager, said early image analysis of Discovery's external tank, nose cap and heat shield-lined wing edges has revealed some items of interest but nothing to worry flight controllers or the crew.
"Right now it's zero," said Shannon, chief of Discovery's STS-121 Mission Management Team, of the number of orbiter concerns. "We'll get the truth data tomorrow."
Tomorrow, July 6, Discovery and its STS-121 crew arrive at the International Space Station (ISS), where the two-astronaut team of Expedition 13 will conduct a high-resolution photographic survey of the orbiter's tile-lined belly as the spacecraft flies through a backflip maneuver. The images from that survey will help analysts complete their health check of Discovery's heat shield.
Earlier today, STS-121 mission specialists Lisa Nowak and Stephanie Wilson, with the help of shuttle pilot Mark Kelly, put Discovery's sensor laden orbital boom to work scanning the heat-resistant reinforced carbon carbon (RCC) panels along the orbiter's wing leading edges.
Aside from the typically scuffs, coloring or bird droppings – which were documented before Discovery launched and do not impact heat shield performance – image analysts have not been surprised, Shannon said.
"The team very carefully maps each one of the RCC panels preflight," Shannon said.
The boom survey also caught an unexpected find: a protruding gapfiller jutting out a half-inch from the underside of Discovery's port wing.
During Discovery's July 2005's STS-114 mission, NASA's first since the 2003 Columbia accident, spacewalker Stephen Robinson plucked two gapfillers from the shuttle's belly because they were located further up on the orbiter's body and could have led to increased heating in certain areas during reentry.
But the gapfiller found today by the STS-121 crew is an area that presents less of a threat, Shannon said.
"This is one of the areas that we were not really concerned about gapfillers," he added.
Discovery's STS-121 spaceflight is NASA's second post-Columbia accident shuttle mission, and will deliver fresh cargo and a third crewmember to the ISS. The shuttle launched toward the ISS on July 4.
Fuel tank foam performs
Shannon said that the two primary concerns over Discovery's tank – the removal of a wind screening foam ramp, which then exposed a series of foam-swathed ice frost ramps – appears to have performed well during the shuttle's near nine-minute launch into space.
"The ice frost ramps performed very well," Shannon said. "All 17 of the [liquid] hydrogen ones that we looked at appear to be intact."
Early images suggest that a one-inch by two-inch sliver of foam may have separated from an ice frost lower down on Discovery's fuel tank, but study is currently still ongoing, Shannon said.
Image analysis also found that about two minutes and 57 seconds into Discovery's launch – which is after the two-minute, 15-second deadline for foam to pop free and cause significant shuttle damage – a thin sheet of acreage foam separated from the fuel tank, NASA officials said.
Acreage foam is typically applied mechanically to the aluminum hull of a shuttle fuel tank.
Shannon said the sheet fell off in about six separate pieces that, when measured together, would cover an area about the size of a piece of typing paper. Engineers suspect warming of the shuttle fuel tank as it's drained, but are still studying the issue, he added.
A different mood
Shannon said that compared to the STS-114 return to flight mission, the ground teams for Discovery's current spaceflight are working – and feeling – a bit different.
"It is totally different," Shannon said, adding that the nearly full year of delays for the STS-121 mission has given flight teams time to shake down their operations. "Everybody came out of the mission briefing room and said, 'It looks like we've done this before'"
The fact that Discovery and its fuel tank had much fewer issues than during the STS-114 flight has been an added bonus, NASA said.
"People are very excited that we have not been surprised by anything," Shannon said.
Gallery: Shuttle's First Flight
Gallery: Rare Space Shuttle Images
Shuttle Discovery: Complete Mission Coverage
Great Space Quizzes: Space Shuttle Countdown
Great Space Quizzes: The Space Shuttle