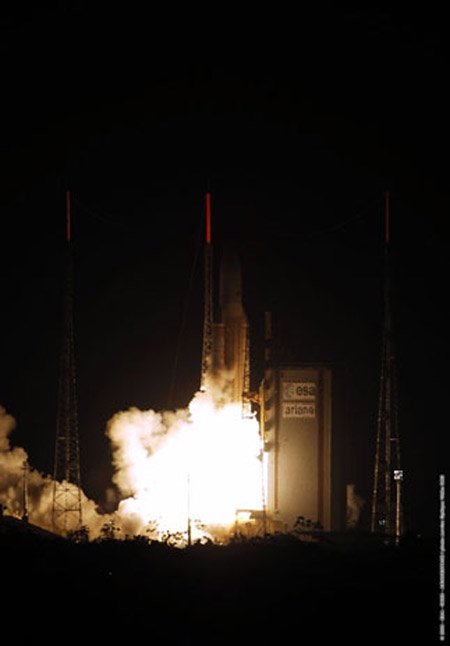 KOUROU, French Guiana -- A tradition once thought relegated to the space industry's adventuresome past was revived with gusto late Oct. 13 when French military officials decided that everyone involved in the launch of the Syracuse 3 telecommunications satellite would be thrown, fully clothed, into the pool during a post-launch dinner.
The sight of satellite manufacturing officials and arms-procurement agency managers -- even a rear admiral -- being carried from their dinner tables and tossed into the water regardless of what they thought of the idea was one of the more memorable events of the evening following the successful launch of the French military telecommunications satellite and PanAmSat's Galaxy 15 cable-television broadcast spacecraft.
As the intentions of a group of uniformed French military officials became clear, prospective targets hurriedly shed glasses and wallets before being carted off and hurled into the water. Only the lucky ones were able to remove their shoes in time.
Alcatel Alenia Space President Pascale Sourisse, whose straight-laced manner is one of her signature traits, had dismissed the idea that she might be one of the victims, saying Alcatel Alenia -- which built the Syracuse 3A satellite -- was here on behalf of its customer, the French arms procurement agency (DGA). Judging from the way she was dressed, Sourisse did not appear to think the pool-toss frenzy would reach all the way to her.
But it did. Francois Fayard, head of DGA's space division -- dripping wet in his uniform -- apparently made Sourisse an offer she could not refuse. Soon enough she was in the drink, alongside her customer, Fayard.
One official said the move was the kind of customer-relations initiative that cannot be purchased. The DGA contract with Alcatel Alenia for the construction and launch of up to three Syracuse 3 satellites -- the third has yet to be ordered -- is valued at up to 1.4 billion euros ($1.7 billion).
Alcatel is also a principal subcontractor to Thales Group of France for the Syracuse 3 ground network, including some 600 communications terminals for the French army and navy.
The pool-tossing of customers of the Arianespace commercial launch consortium was a respected ritual following successful launches at Europe's Guiana Space Center here in the 1980s and early 1990s. But it all but disappeared as the launches became more business-like affairs.