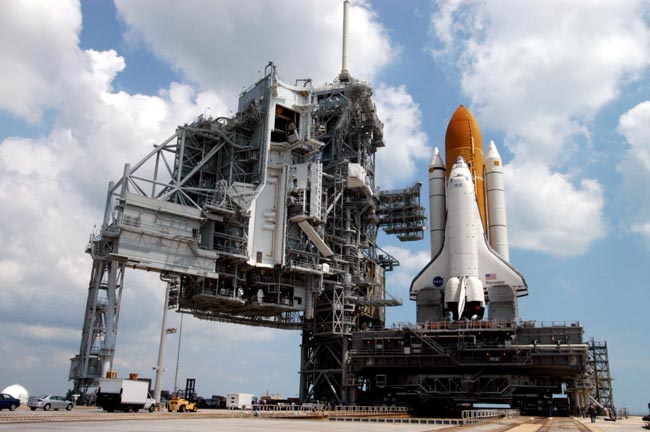 Mission managers for the space shuttle Discovery are meeting tonight to decide whether they should begin readying the orbiter in the event high winds force it to roll back to the massive Vehicle Assembly Building (VAB), a NASA report said today.
In a written shuttle update, NASA officials said the agency's weather officers are carefully tracking the approach of Hurricane Dennis - currently headed toward the Gulf Coast - and its possible impact at Florida's Kennedy Space Center, where Discovery currently sits atop Launch Pad 39B.
"The current forecast shows only a slight chance of more than 40 knot winds effecting KSC on Saturday," NASA officials reported. "A decision on rollback would not be made until tomorrow."
NASA officials said that simply deciding to make rollback preparations would not affect Discovery's current July 13 launch target. In an earlier update today, they reported that they would continue to monitor the hurricane's progress and were moving along toward the planned Wednesday launch date.
Shuttle managers hope to launch Discovery, NASA's first orbiter to fly since the 2003 Columbia disaster, at 3:51 p.m. EDT (1951 GMT).
Discovery's STS-114 mission is the first of two test flights geared toward returning NASA's shuttle fleet to flight status. The 12-day mission will test out several new tools for on-orbit shuttle inspection and dock at the International Space Station to deliver vital supplies and replacement parts.
Hurricane Dennis, currently a Category 3 hurricane according to wire reports, is expected to roll past Cuba on Friday toward the central Gulf Coast. According to AccuWeather reports, it may make U.S. landfall late Sunday near the mouth of the Mississippi River.
Hurricanes aside, NASA officials have acknowledged that Discovery's afternoon launch already presents a challenge during a season noted for its rainy afternoon. But flight rules calling for daylight conditions during launch, external tank separation and docking - to allow the best camera views of vital shuttle areas - have pegged the mission's liftoff to afternoon flight times.
"Launching in the middle of July is going to be a challenge," said NASA launch director Michael Leinbach last week during a mission briefing. "We hope [the rain] lets up on July 13."
Discovery has made the 4.2-mile (6.7-kilometer) trek back to NASA's 52-story VAB once before this year, when it switched its external tank for one with an added heater that prevents ice buildup on a bellows unit. The shuttle returned to its Pad 39B launch site on June 15.
Fixing NASA: Complete Coverage of Space Shuttle Return to Flight