California-based startup Relativity Space is one of many launch startups, but it stands out for its 3D-printing approach to manufacturing rockets while also pursuing fully reusable rockets.
Relativity Space was founded in 2015 by Tim Ellis and Jordan Noone, engineers formerly at Blue Origin and SpaceX, respectively. The company says it is focused on revolutionizing the launch industry by using 3D printing, artificial intelligence and autonomous robotics, leading to faster and more efficient production processes and a simplified supply chain.
Although Relativity Space was founded years after private companies such as SpaceX, Blue Origin and Rocket Lab, it is aiming to catch up with its innovative approach, utilizing new advances and tapping a growing launch demand. The company's long-term goal is to "upgrade humanity's industrial base on Earth and on Mars."
Related: Best 3D printers 2023: FDM & resin printers
As a step toward achieving this goal and building the rockets to do it, Relativity Space has built what it describes as the world's largest metal 3D printers, named Stargate, which are designed to produce rocket structures and engines.
First 3D-printed rocket: Terran 1
Relativity Space's first rocket, the Terran 1, is the world's first 3D-printed rocket. Its first flight — an expendable test launch dubbed "Good Luck, Have Fun" — lifted off from Florida's Cape Canaveral Space Force Station on March 22, 2023. The rocket performed well for the duration of the first-stage burn and went through a successful stage separation, but an issue with the second stage meant the historic flight failed to reach orbit.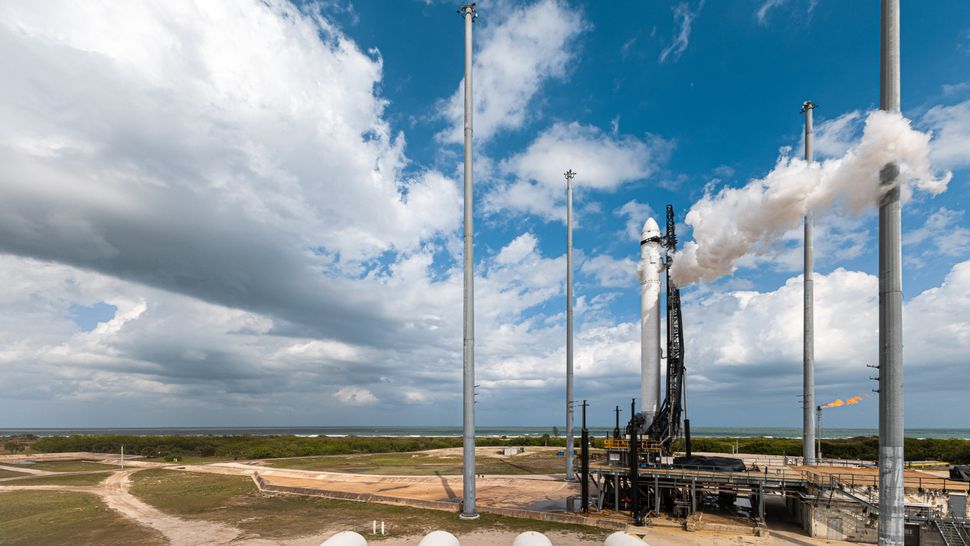 While not ultimately successful, the test launch showed that the 3D-printed rocket was able to handle passing through max q, the moment during a flight when the structural loads are highest on a rocket.
"We just completed a major step in proving to the world that 3D-printed rockets are structurally viable," Arwa Tizani Kelly,

test and launch technical program manager at Relativity Space, said during the company's launch webcast.
The 110-foot-tall (33.5 meters) two-stage rocket was also only the second rocket using liquid methane and liquid oxygen propellant to make an orbital launch attempt. Terran 1 can carry a maximum payload of 2,756 pounds (1,250 kilograms) to low Earth orbit, according to the company.
The Terran-1 has since been retired —after just one flight — as Relativity Space focuses on the bigger, reusable, Terran R.
Terran R
The Terran R — likewise named after the Latin word for Earth, "terra" — will be vastly more capable. In its reusable configuration, the Terran R will be able to launch more than 44,000 pounds (20,000 kg) to low Earth orbit, according to the company. The first launch is planned for as soon as 2026 from Cape Canaveral.
The larger rocket will use Aeon R 3D-printed engines, which are much more powerful methane-liquid oxygen engines than the Aeon 1 that powers the Terran 1. Seven or more Aeon R engines will power the Terran R's first stage, with another vacuum-optimized version of the engine on the rocket's second stage.
Relativity Space has already attracted serious backing for its cause. It has secured funding from a variety of investors — including Playground Global, Y Combinator, Social Capital and Mark Cuban Cos. — for its ambitious plans. In 2021, the firm raised $650 million from Fidelity, BlackRock, Tiger Global and others for developing the Terran R.
The company has also signed a significant number of launch contracts with several major clients, including NASA and Iridium Communications, for satellite launches. In addition, Relativity Space has formed partnerships with other companies in the space industry, such as space infrastructure services firm Momentus and satellite rideshare and mission management provider Spaceflight Industries, to expand the range of services offered.
In 2022, Relativity Space signed a deal to launch second-generation communications satellites for megaconstellation operator OneWeb. That contract is worth $1.2 billion for a total of more than 20 launches, beginning in 2025.
Beyond this, the firm has a deal for an interplanetary mission: a commercial payload launch to Mars, signed with Impulse Space.
Back on the ground, Relativity Space is now working with NASA's Stennis Space Center on a major expansion of rocket and engine test facilities in southern Mississippi. The site will support the development of the Terran R rocket and Aeon R engines.
With funding, a sizable number of lucrative contracts and a test flight that exceeded its objectives, Relativity Space looks to be on solid footing with its plans for providing low-cost access to space.
However, the company faces similar challenges to other launch startups looking to establish themselves in a crowded, competitive field. Relativity Space will need to prove its reliability and cost-effectiveness while scaling up its processes. If successful early on, the company will then need to ramp up production and the launch cadence of its Terran rockets.
Relativity space FAQs answered by experts
We asked Relativity Space a few questions about their company.
What makes Terran rockets stand out from other launchers coming online?
There are a couple of key differentiators between Relativity and other companies, including our commercial mindset and vertically integrated tech platform. Relativity takes a commercial mindset approach to offer cost-effective launch supply to both government and commercial customers.
Additionally, most competitors are still using a complex network of suppliers. Finally, we're not being financed by some of the world's richest. We've had to prove our business case to our customers, investors and are really proud of the partners we've garnered support from over the years.
What kinds of missions and clients is Relativity Space targeting?
As demand from corporations and governments increases, the launch market is expected to be supply constrained for the rest of the decade. Whether it's cubesats or constellations, both the private and public sectors rely on consistent, cost-effective, reliable launch providers.
Relativity's quick-to-market rockets are designed to fill that void, with high-volume launch vehicles like Terran R. Now that we're past our initial launch, there is currently a lot in the hopper — making steady progress on our Aeon R engine development, most recently hitting 100% power on an Aeon R thrust chamber assembly test and continuing to make significant progress on Terran R development.
As we gather data and understand Terran 1's vehicle performance, we will continue to apply our learnings to the development and optimization of Terran R, our medium- to heavy-lift launch vehicle.
How challenging has the process of developing a 3D-printed rocket been?
As a vertically integrated technology platform, we're at the forefront of an inevitable shift toward software-defined manufacturing. [The company was] founded on the premise that additive manufacturing, alongside artificial intelligence and autonomous robotics, will deliver eventual superiority over traditional aerospace manufacturing methods. Relativity is leveraging the best of 3D-printing capabilities today and expanding the potential for what 3D printing will make possible tomorrow.
Stargate is the world's-largest 3D metal printer, and with Relativity's revolutionary manufacturing process, it uses computer vision and machine learning to produce real-time quality control and part inspection. As Stargate printers are not beholden to long-lead, high-capital-expenditure fixed tooling, they allow for radical part count reduction and lighter, more cost-effective aerospace product production through rapid iteration. This rapid iteration is generated by leveraging Stargate printers and material science advancements developed in Relativity's in-house metallurgical laboratory.
What is the ultimate ambition of Relativity Space?
Our long-term vision is expanding the possibilities for the human experience by creating humanity's industrial base on Mars.
Additional resources
You can follow Relativity Space on Twitter and Instagram. Watch videos of Relativity Space's progress on the company's YouTube channel. You can also check out Relativity Space's plans and hardware on the company's web pages.
Bibliography
Iemole, A. (2023, March 22). Relativity overachieves Terran 1 debut objectives. NASASpaceflight.com. https://www.nasaspaceflight.com/2023/03/maiden-terran-1/
OneWeb. (2022, June 30). Relativity Space and OneWeb sign multi-launch agreement for Terran R. https://oneweb.net/resources/relativity-space-and-oneweb-sign-multi-launch-agreement-terran-r
Relativity Space. (n.d.). Relativity Space. Retrieved April 11, 2023, from https://www.relativityspace.com
Sheetz, M. CNBC. (2021, June 8). Relativity Space raises $650 million from Fidelity and others to build 3D-printed SpaceX competitor. CNBC. https://www.cnbc.com/2021/06/08/relativity-space-raises-650-million-for-3d-printed-spacex-competitor.html
Thompson, C. L. (2022, October 18). Relativity Space Announces Plans to Expand Facilities at NASA's Stennis Space Center. NASA. https://www.nasa.gov/centers/stennis/news/releases/2022/Relativity-Space-Announces-Plans-to-Expand-Facilities-at-NASAs-Stennis-Space-Center