The Alien movies have been making outer space a scary prospect for over four decades now, and it appears the xenomorphs aren't going anywhere anytime soon, as we've got both a brand-new movie and the first-ever Alien TV series coming our way. But what about Alien video games? Well, they seem to be quite alive as well, but going back in time to dig up some killer entries is also a must in our opinion.
This summer, the tactical, top-down action game Aliens: Dark Descent launches on PlayStation and Xbox consoles as well as PC. 2021's Aliens: Fireteam Elite is still getting new content, and there are rumblings of all-new projects, including a VR game, in active development across several studios. Disney, the new owner of the IP and other Fox assets, is very much interested in keeping the xenos alive and spitting acid.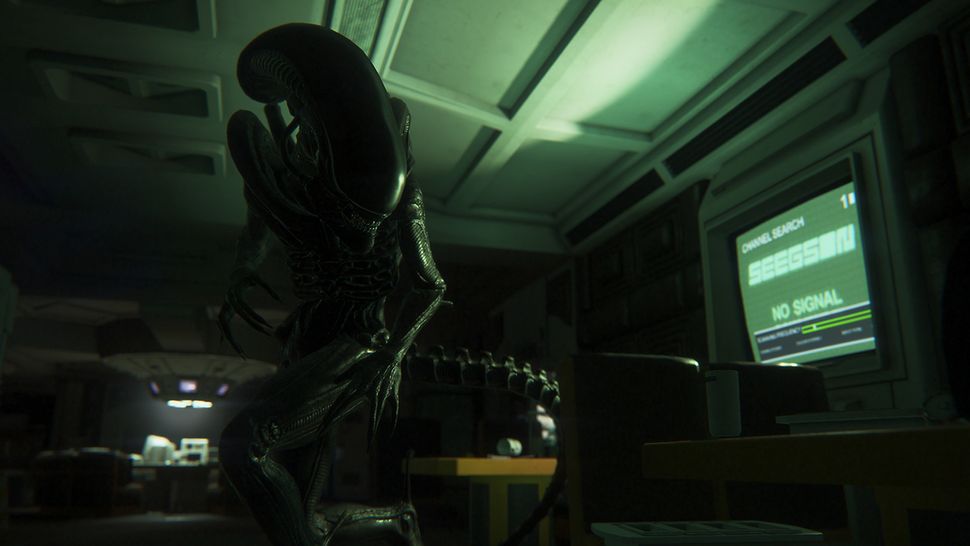 Mind you, the Predator franchise, first entangled with Alien in Dark Horse's 1990 Alien vs. Predator comic series, isn't getting nearly as much attention when it comes to video games. That's even despite the decent success of Predator: Hunting Grounds(2020) and the huge hit that as Prey (2022), the Predator prequel we had always hoped for.
For more sci-fi horror, we recommend checking out our up-to-date list of the best space horror games. We also have some thoughts about the rankings of the Alien and Predator movie series, as well as why and how Disney should reboot Alien vs. Predator.
Now, let's go deep into the hive and show those bugs what flamethrowers and pulse rifles can do. Get tactical marines!
10. Alien Trilogy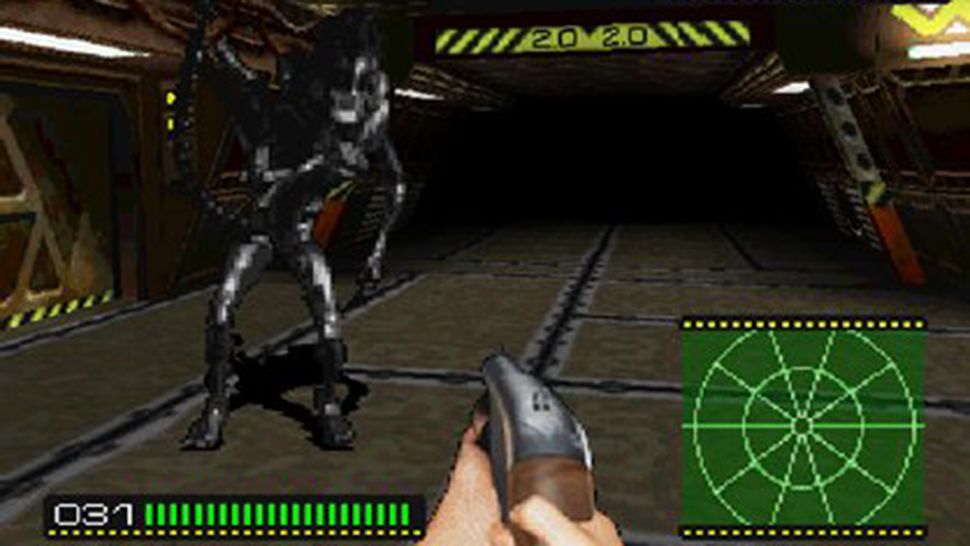 Platforms: PS1, SEGA Saturn, MS-DOS
Developer: Probe Entertainment
Alien Trilogy can be described as "DOOM but Alien", meaning it's an action-heavy 3D first person shooter (FPS) (still with plenty of 2D sprites) born from the revolution caused by id Software's seminal shooter in the first half of the 1990s. It had a trick up its sleeve though: it was the first-ever game to use Acclaim's 3D motion capture technology, which gave the alien movements a high degree of realism versus the static-looking enemies seen in other shooters from that era.
9. Alien Resurrection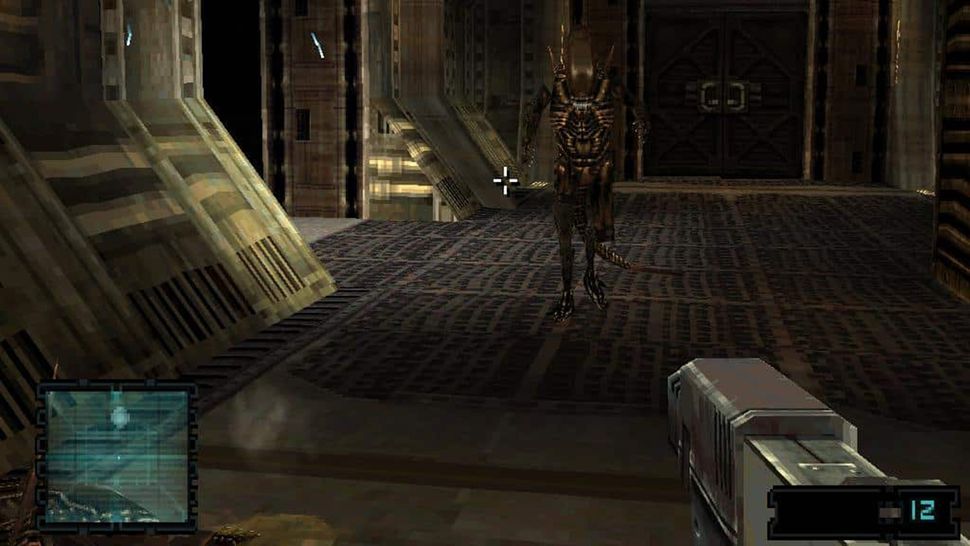 Platforms: PS1
Developer: Argonaut Games
We wouldn't see another major Alien FPS until 2000's Alien Resurrection, which, you guessed it, was intended to release alongside the 1997 movie of the same name. So, what's up with that massive gap? Well, development didn't go smoothly, and the game was stuck in development hell for quite a while before finally releasing in late 2000.
Somehow, it wasn't hammered too hard by reviewers when it finally released. In fact, the years have been kind to one of the best-looking shooters on PS1. More specifically, the oppressive atmosphere is top-notch, and there are several playable characters spread throughout the story, each with their own weapons and special equipment.
8. Aliens vs. Predator: Extinction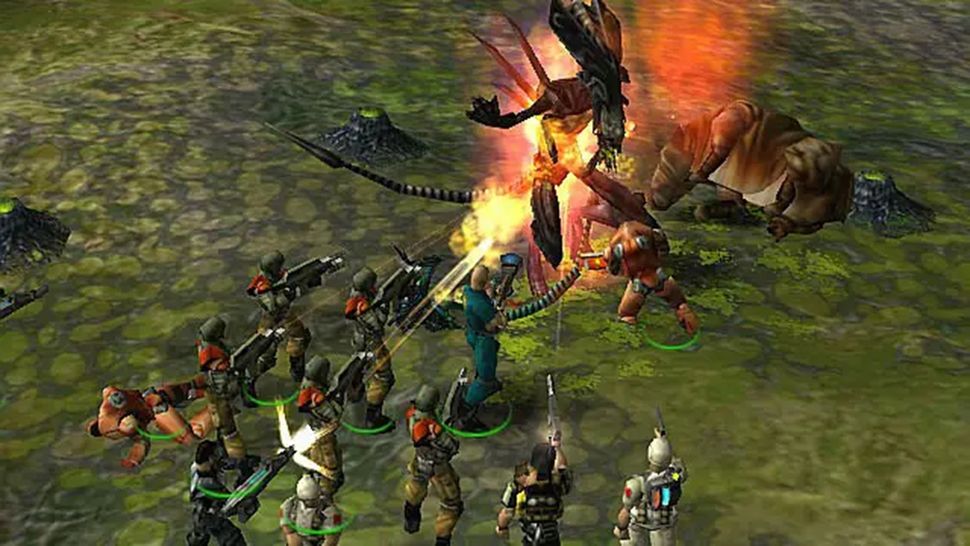 Platforms: Xbox, PS2
Developer: Zono
The 2000s also led to an off-beat mix of real-time strategy and the Aliens vs. Predator IP. Developed by Zono, who already had experience with the genre, AvP: Extinction represents perhaps the weirdest big-budget release the Alien has ever been used for. It was a risk worth taking as there's nothing out there quite like this game.
The focus was put on unit management and combat over base-building and the gathering of resources. Also, the entire game revolves around three campaigns which are light on actual storytelling, but shape each level and the starting conditions depending on the narrative. Each species plays very differently, so AvP: Extinction almost feels like three weird real-time strategy titles bundled into one.
A warning for those curious: it's tough as nails.
7. Aliens: Infestation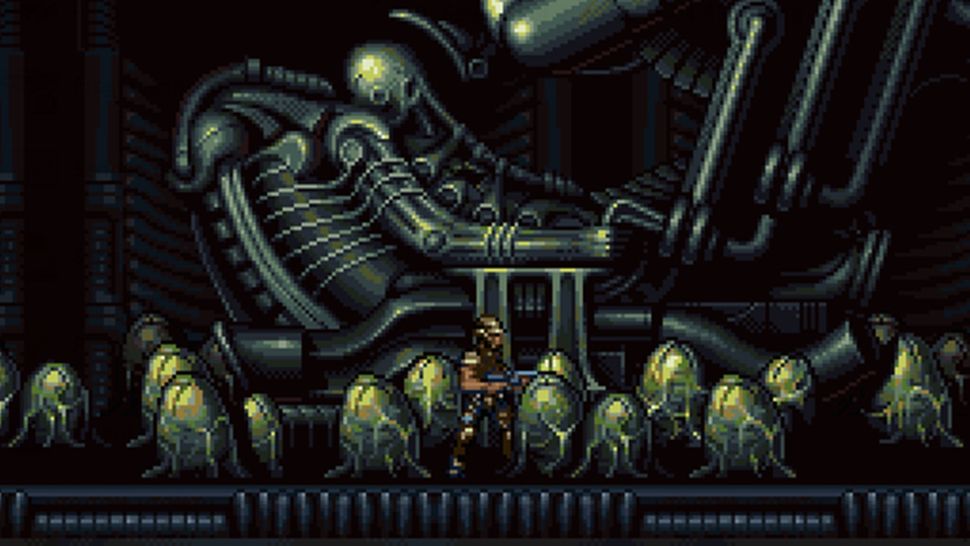 Platforms: Nintendo DS
Developer: WayForward Technologies, Gearbox Software
The Alien franchise had been transformed into 2D sidescrollers before, but, nonetheless, it was strange to see a new one launch in 2011 and only for the Nintendo DS. The tie-in veterans at WayForward teamed up with Gearbox to craft a Metroid-like take on the IP, with a heavy focus on exploration and the "permadeath" of the colonial marines that the player controls. It's "game over, man, game over" if the entire party is wiped out.
Like many other Alien games, Infestation's story deals with the aftermath of Aliens and Alien 3, with a heavy focus on the U.S.S. Sulaco, which is adrift in space. To capture the movies' slasher vibes, the developers created 20 unique characters to make sure their (more than likely) deaths resulted in gut-punches to the players.
Anyone into 2D action games with an emphasis on non-linear exploration should give this one a try. The sprite work is exquisite too which is a nice bonus for those who enjoy retro gaming.
6. Aliens: Fireteam Elite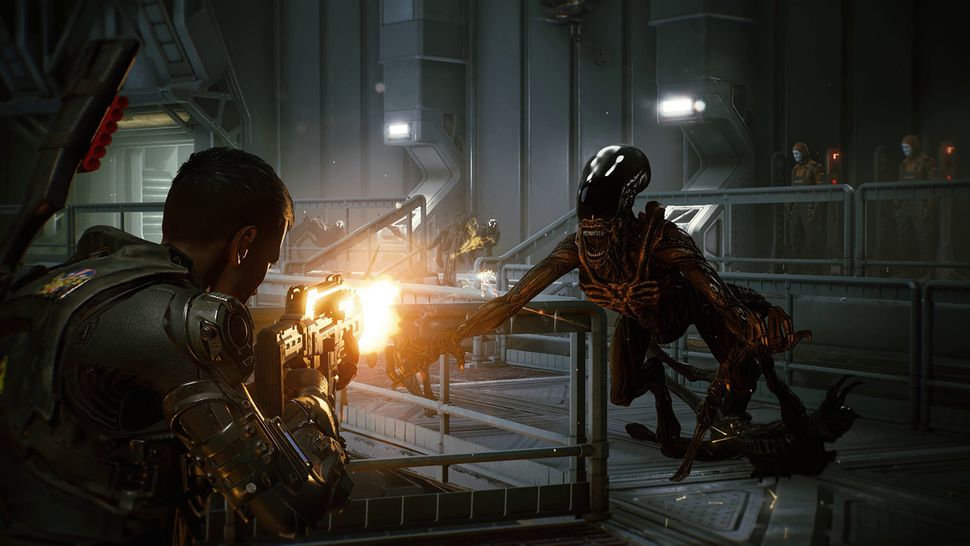 Platforms: PC, Xbox One/Series X/S, PS4/5, Nintendo Switch
Developer: Cold Iron Studios
We already mentioned Aliens: Fireteam Elite in the intro, and we hadn't forgotten about it. Mind you, it's a game that could've used some extra polish and a bigger budget, but it's got its heart where it matters. After the colossal disappointment that was Aliens: Colonial Marines (2013), Fireteam Elite felt like the co-op game we were promised around a decade ago. More surprisingly, many elements from Prometheus made it into the post-Aliens narrative, a creative choice that separates it from other Alien titles centered on the United States Colonial Marine Corps.
The character classes feel robust, and there are strong progression and customization systems in place to make Aliens and/or co-op shooter fanatics want to stick around past a single playthrough – that is no small feat when it comes to these games! With the addition of cross-play and solid post-launch content (both free and paid), Fireteam Elite is the go-to Aliens shooter at the moment.
5. Aliens vs. Predator (2010)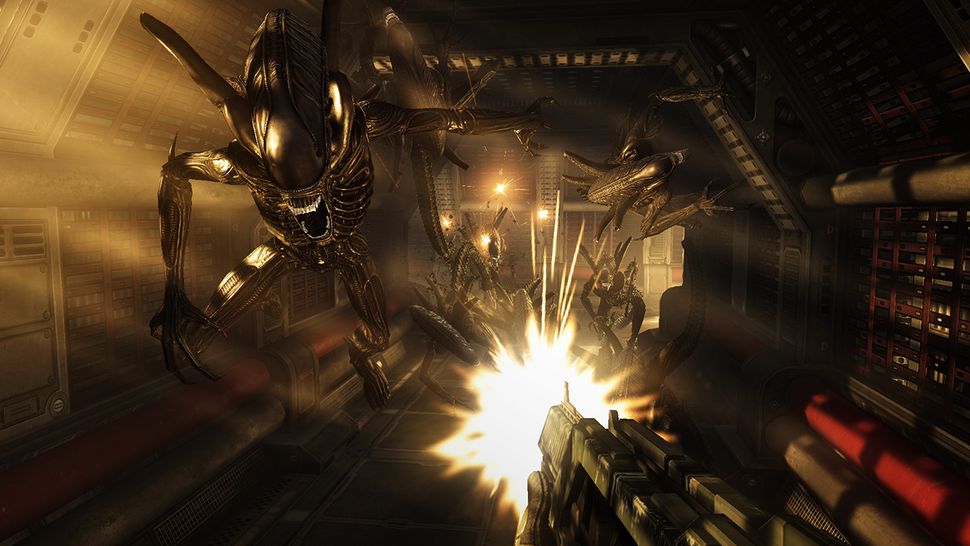 Platforms: PC, Xbox 360, PS3
Developer: Rebellion
AvP shooters had another shot at glory in 2010, and with Rebellion back developing the reboot of sorts. The full story is told across three different campaigns, following in the footsteps of Monolith's AvP 2 instead of their 1999 game. As for the multiplayer, the offering of modes (both competitive and co-op) was pretty big, but the game struggled to find a sizable audience.
The most interesting thing about AvP 2010 is that Rebellion took some big swings with gameplay elements, such as melee combat, giving it a special flavor and a really visceral feeling in the moment-to-moment gameplay. Some shots missed their mark though, and the campaigns were a bit short, but it squarely delivered on the promise of more carnage between science fiction's most famous horror icons. It also looks great to this day when maxed out on PC.
4. Aliens vs. Predator Classic 2000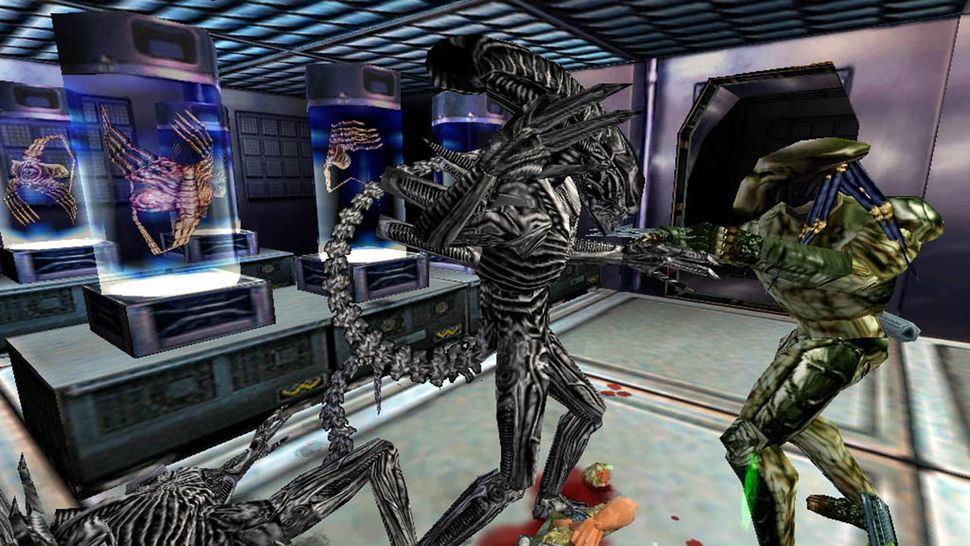 Platforms: PC, macOS
Developers: Rebellion
1994 also saw the release of a strong Alien vs. Predator FPS on the Atari Jaguar, but it wasn't until 1999 that Rebellion had a chance to truly wow players. Technology had come a long way in just a few years, and the full-3D graphics powered the ultimate Alien and Predator power fantasies, as well as super-tense human marine gameplay.
In early 2010, after several years of (legal) unavailability, AvP was re-released under the title Aliens vs. Predator Classic 2000. This version works on modern computers and has controller support as well as many other improvements. Moreover, it packs all the extra content released back in the day (and online multiplayer).
The storylines for each species are independent of one another and take players through original locations as well as iconic scenarios from the Alien movies. If you can grapple with the aged controls and old-school level design, this one shouldn't be missed.
3. Alien vs. Predator (arcade)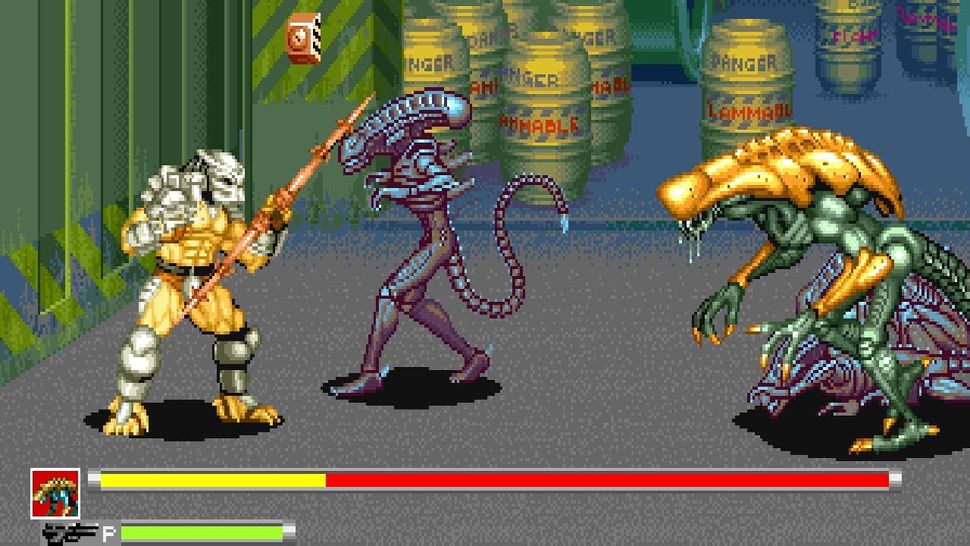 Platforms: Arcade
Developers: Capcom
Though Alien vs. Predator games had already landed on Nintendo systems, the first big splash for the crossover IP was Capcom's AvP arcade beat 'em up. It's considered to be one of the best games ever made within that genre, and we're inclined to agree. It still looks gorgeous and packs quite a punch, with tight controls and level variety that aren't all that common for that type of action game.
There are four characters available (the game can do three-player co-op): the Predator warrior and hunter, Major Dutch Schaefer (based on Arnold Schwarzenegger's character from the original Predator movie), and Lt. Linn Kurosawa, a human cyborg expert in martial arts. They all work together to put an end to an alien infestation that has overrun a major city in futuristic California. It's a breezy, wild ride which takes the best elements from the movies and comics released before 1994, and 100% a must-play – you'll have to turn to emulation though.
2. Aliens vs. Predator 2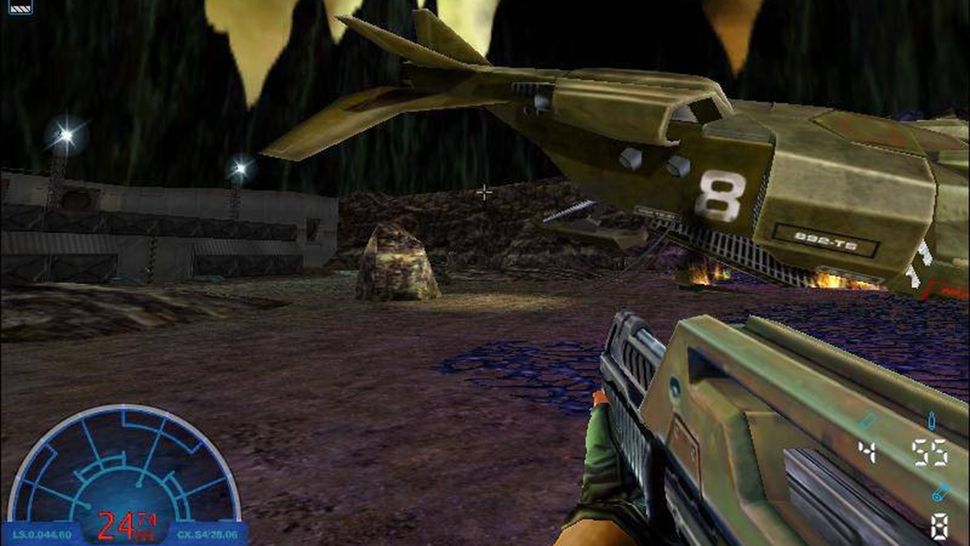 Platforms: PC, macOS
Developer: Monolith Productions
Although Monolith's 2001 sequel to Rebellion's classic hasn't received a remaster nor a modern re-release, it remains the best Alien vs. Predator game ever. That might include being one of the best Alien games as well – the colonial marine campaign in particular is absolutely spectacular.
The jump in graphical fidelity was vast, and each of the three campaigns – interwoven this time around – feels meaty and challenging. More importantly, each species had a bigger arsenal of weapons and abilities to destroy their enemies and move around the levels. It all culminated with an excellent online multiplayer that some communities are still keeping alive to this day.
1. Alien: Isolation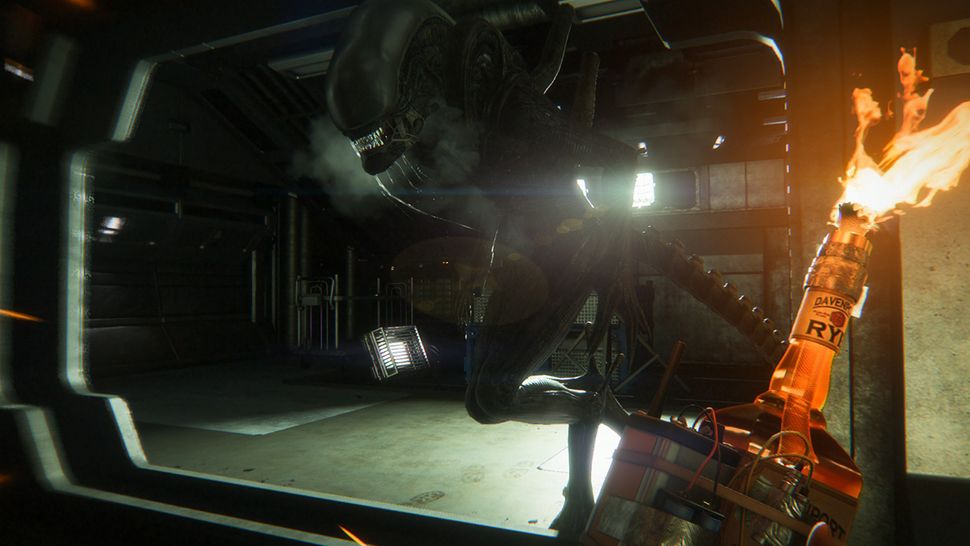 Platforms: PC, macOS, iOS, Linux, Android, PS3/4, Xbox 360/One, Nintendo Switch
Developer: Creative Assembly
Of course, this list wouldn't be complete without Alien: Isolation, the first-person horror game that dared to capture the magic of Ridley Scott's original masterpiece. It truly felt (and still feels) like lightning in a bottle, and the fact it was developed by a studio with no prior experience with first-person titles made it even more anomalous.
Taking cues from indie horror hits from the early 2010s, such as Amnesia (2011), Creative Assembly was able to inject back some genuine horror and tension into an IP which had focused for far too long on action-heavy scenarios and colonial marines. The story takes places 15 years after the events of the first movie, following Ellen Ripley's daughter, Amanda, as she investigates the disappearance of her mother aboard a space station that's reliving the xenomorph terror.
Isolation isn't just the best Alien game ever, but also one of the strongest installments of the franchise as a whole. It's available on almost every modern platform, so there's no excuse to skip it.