Shuttle Launch Pad Repairs to Begin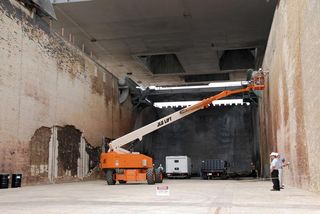 (Image credit: NASA/Kim Shiflett)
NASAwill start fixing a damaged Florida launch pad Friday in preparation for theOctober launch of space shuttle Atlantis in a mission to repair the HubbleSpace Telescope.
Theintense pressure from space shuttle Discovery?s May31 launch tore bricks from the wall of Launch Pad 39A?s flame trench andsent some pieces flying at supersonic speeds, but NASA officials said that theincident did not pose a threat to the space shuttle or its launch schedule.
?It?snot a flight [safety] issue at all,? said Rita Willcoxon, space shuttleprocessing manager, during a Thursday teleconference where she and otherofficials laid out the results of NASA?s investigation and repair plans.
NASAengineers found that time and environmental effects had eroded the adhesivematerials holding a layer of heat-resistant bricks against the east wall of theflame trench. Vibrations during Discovery?s launch caused that layer to bendoutwards slightly, and allowed a hot gas plume to enter behind the bricks.
?Dueto interlocking nature of the bricks, that led to cascading failure,? saidPerry Becker, head of the Engineering Investigation Team.
Thethrust from Discovery?s engines blasted 3,500 bricks (newly revised estimate)from the wall and left them strewn across 1,500 feet (457 meters) between theflame trench and the pad?s perimeter fence. However, simulations run by theengineers showed that none of the bricks flew up near the pad surface, andtherefore posed no possible risk to the space shuttle.
Erosionhas similarly taken its toll on the intact west wall of the flame trench. NASAcrews plans to work with an outside contractor to repair the damaged east wall,but will also replace a 25-foot high by 80-foot wide section of the west wall?sbricks using a spray-on, heat resistant material.
NASAhas two launch pads for Atlantis and the remaining shuttle missions, but willneed both ready for the Hubblerepair mission in case a second shuttle must fly on a rescue mission.That?s because the Hubble Space Telescope sits in a different orbit than theInternational Space Station, and so Atlantis would be unable to reach the safehaven of the orbital outpost during an emergency.
Therepair effort would allow plentyof time for the Atlantis launch to proceed as planned, NASA officialsconfirmed. Brick removal starts Friday and ends on July 19, and the wall repairis slated to go from the third week of July until the third week of August.
?Thatrepair will remain intact until the end of the shuttle program,? Willcoxonsaid. She added that the total cost for the flame trench facelift was expectedto fall under $2.7 million.
NASAalready has plans to redo the launch pads after the shuttle?s retirement, andprepare them for the Ares I rockets that will carry the Orioncapsule replacing the shuttle.
Thisstory was updated on June 27, 2008 at 10:50 a.m. EST.
Complete Space Shuttle Mission Coverage
Get the Space.com Newsletter
Breaking space news, the latest updates on rocket launches, skywatching events and more!
Jeremy Hsu is science writer based in New York City whose work has appeared in Scientific American, Discovery Magazine, Backchannel, Wired.com and IEEE Spectrum, among others. He joined the Space.com and Live Science teams in 2010 as a Senior Writer and is currently the Editor-in-Chief of Indicate Media. Jeremy studied history and sociology of science at the University of Pennsylvania, and earned a master's degree in journalism from the NYU Science, Health and Environmental Reporting Program. You can find Jeremy's latest project on Twitter.