Interview Reveals Backstory to "Jumper" Movie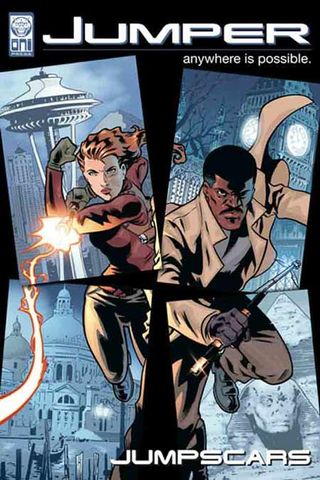 (Image credit: Oni Press)
Before 20thCentury Fox?s movie ?Jumper? opens Thursday, Feb. 14, there?s a bit of a backstoryto be told.
The film,an adaptation of Steven Gould?s novel of the same name, explores a world where?Jumpers? ? individuals who can teleportthrough space and time ? are hunted by Paladins.
?Jumper:Jumpscars? from Oni Press is a 96-page original graphic novel set prior tothe film?s story. The graphic novel explores the history of the Paladin MaryRice, played in the film by Diane Lane.Putting the ?Jumpscars? story to paper is the writing team of Christina Weirand Nunzio DeFilippis and artist Brian Hurtt.
?It's afull universe, with a lot of aspects that have great potential that there justwasn't room for in the film,? DeFilippis told Newsarama [Full Interview].?Some of the mythology surrounding the Paladins is in the film, but a lot of itgoes unspoken. We had a chance, by having access to the film's producers, thestudio, and through them the writers and director, to tap into the unusedportion of their plans. And even better, to put our own spin on it - bring ourown take to the Paladins. Plus, there was a character whose backstory justbegged to be told, and we got to do it.?
Given therelative production schedules of the movie and graphic novel, both were being workedon at the same time, something Weir said created unique challenges.
?While thestory we're telling takes place a good twenty years before the movie, we stillwanted to make sure that we didn't write anything that would conflict with whatthey were doing,? Weir said. ?We read a draft of the script early on. But thatwasn't even close to the final draft or what they actually shot. On top ofthat, our artist Brian Hurtt had his own set of challenges trying to keep thelook of the book consistent with the look of the movie. They played around withthe jump effect for a long time before they settled on the final project. Andthere we were asking Brian to draw these scenes with a characterjumping and he didn't know what the actual special effect was supposed tolook like.?
Whilenothing of ?Jumpscars? length is scheduled, the two are keeping the door openfor future work in the world of ?Jumper? and have written a short story thatwill be included as a comic in the eventual DVD release.
?Jumper: Jumpscars?is available Wednesday, Feb. 13 at comic book shops nationwide.
Get the Space.com Newsletter
Breaking space news, the latest updates on rocket launches, skywatching events and more!