NASA Chief Jim Bridenstine Worried About Budget Pressures on Space Agency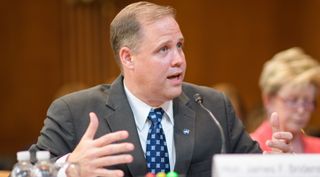 (Image credit: Joel Kowsky/NASA)
WASHINGTON — NASA Administrator Jim Bridenstine said Nov. 15 that the reelection defeat of a key appropriator, and the potential for budget cuts next year, is a cause for concern for him as he tries to balance the agency's priorities.
Rep. John Culberson (R-Texas), chairman of the commerce, justice and science (CJS) subcommittee of the House Appropriations Committee, was defeated Nov. 6 in his bid for a tenth term in Congress. His defeat, as well as a Democratic takeover of the House, will put the leadership of that subcommittee in new hands next year.
Culberson was known for his efforts to increase funding for NASA, particularly for missions under development to go to Europa, the potentially habitable moon of Jupiter. Bridenstine, speaking at a meeting of the National Space Council's Users' Advisory Group here, said Culberson's absence will be felt. [Presidential Visions for Space Exploration: From Ike to Trump]
"NASA has benefitted greatly from one congressman in particular, John Culberson," he said. "He will not be back in the next term, and that is of concern to me personally."
Bridenstine praised Culberson as "an amazing champion for NASA" for his work on the appropriations subcommittee. "He was in the right position at the right time as the chairman of the commerce, justice and science appropriations subcommittee in the House, and he has increased our budgets significantly."
Bridenstine also noted that NASA, like other federal agencies, has been asked by the White House to develop proposals for a five percent cut in its fiscal year 2020 budget, currently being crafted for released in February. That would require NASA to find approximately $1 billion in cost savings across its programs.
Such a cut, he suggested, would imperil its exploration plans. "If that materializes, no, we're not going to have what we need to go to the moon," he said. "We're certainly not going to have what we need to put boots on the moon."
Bridenstine said he wouldn't try to compensate for any cuts by taking money from other agency programs to keep NASA's exploration efforts funded. "If we start robbing one part of NASA to feed another part of NASA, we will lose political support in a heartbeat," he said. "If we start pitting one part of NASA against another part of NASA, we will in essence be pitting one part of Congress against another part of Congress, and then we're not going to be able to accomplish most of what the president has assigned us to do in Space Policy Directive 1."
Bridenstine was responding to a question from committee member Harrison Schmitt, the Apollo 17 astronaut, who was concerned about the level of funding reserves available for NASA's major exploration programs. "We're okay for now," Bridenstine said. "I'm sounding a warning." He said later the specific issue of reserves had not come in discussions with the Office of Management and Budget.
Despite that potential funding problem, Bridenstine said he was optimistic about the prospects for NASA's exploration strategy, including cooperation with international partners. He noted he had just returned from Canada, where he found "a lot of excitement" about lunar exploration. "I find that everywhere I go on the planet," he said. "There's a lot of international support for going to the moon."
That cooperation, he said, is essential to keeping the exploration program sustainable. "There is a tradeoff between going back to the moon as fast as possible and getting humans to the surface tomorrow," he said, "and building a sustainable architecture where we can go back and forth really in perpetuity, and that's the objective."
This story was provided by SpaceNews, dedicated to covering all aspects of the space industry.
Get the Space.com Newsletter
Breaking space news, the latest updates on rocket launches, skywatching events and more!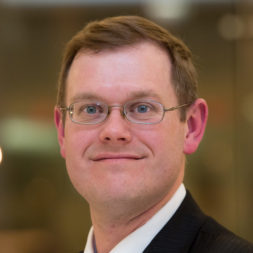 SpaceNews Senior Staff Writer
Jeff Foust is a Senior Staff Writer at SpaceNews, a space industry news magazine and website, where he writes about space policy, commercial spaceflight and other aerospace industry topics. Jeff has a Ph.D. in planetary sciences from the Massachusetts Institute of Technology and earned a bachelor's degree in geophysics and planetary science from the California Institute of Technology. You can see Jeff's latest projects by following him on Twitter.