Mars 2020 Rover Team Adds 4th Candidate to Landing-Site List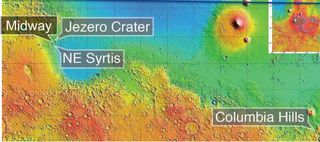 (Image credit: NASA/JPL-Caltech)
A fourth candidate landing site has been added for evaluation by the engineering and science teams working on NASA's Mars 2020 rover mission.
The site has been dubbed "Midway," because it's roughly halfway between two other candidate landing locations — Jezero delta and Northeast Syrtis. The third previously identified candidate is the Columbia Hills region of Gusev Crater, which NASA's now-defunct Spirit rover explored after touching down in January 2004.
Jezero, Northeast Syrtis and Columbia Hills were selected as finalists at the third 2020 rover landing site workshop, which was held in February 2017.
Midway has the same morphologic units as Northeast Syrtis and is relatively close to Jezero, explained John Mustard, a professor in the Department of Earth Environmental and Planetary Sciences at Brown University in Providence, Rhode Island.
"It has emerged from Mars 2020 science team members I believe brainstorming on possibly getting two birds with one rover," Mustard told Inside Outer Space.
All of these possible landing spots, including Midway, are expected to offer acceptable risk standards for touchdown of the Mars 2020 rover.
Mars 2020 entry, descent and landing experts are currently evaluating landing-site safety in support of the fourth landing site workshop this fall. NASA is expected to announce the final site selection in early 2019.
As its name suggests, the Mars 2020 rover will lift off in 2020. The six-wheeled robot, whose body is based heavily on NASA's Curiosity rover, will hunt for signs of past Martian life and cache promising samples for possible future return to Earth, among other tasks.
Leonard David is author of "Mars: Our Future on the Red Planet," published by National Geographic. The book is a companion to the National Geographic Channel series "Mars." A longtime writer for Space.com, David has been reporting on the space industry for more than five decades. Follow us @Spacedotcom, Facebook or Google+. This version of the story published on Space.com.
Get the Space.com Newsletter
Breaking space news, the latest updates on rocket launches, skywatching events and more!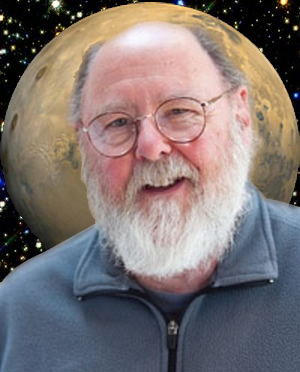 Leonard David is an award-winning space journalist who has been reporting on space activities for more than 50 years. Currently writing as Space.com's Space Insider Columnist among his other projects, Leonard has authored numerous books on space exploration, Mars missions and more, with his latest being "Moon Rush: The New Space Race" published in 2019 by National Geographic. He also wrote "Mars: Our Future on the Red Planet" released in 2016 by National Geographic. Leonard has served as a correspondent for SpaceNews, Scientific American and Aerospace America for the AIAA. He was received many awards, including the first Ordway Award for Sustained Excellence in Spaceflight History in 2015 at the AAS Wernher von Braun Memorial Symposium. You can find out Leonard's latest project at his website and on Twitter.