Bigelow Aerospace Aims for an International Market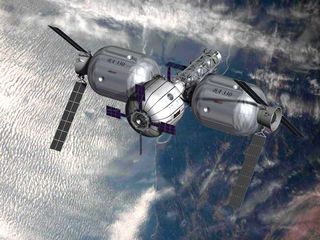 (Image credit: Bigelow Aerospace)
COLORADO SPRINGS, Colo. -- Space entrepreneur Robert Bigelow has rolled out a business plan to dot lowEarth orbit with habitable complexes that would serve two primary markets: "SovereignClients" that represent foreign space agencies and "Prime Clients" that come frommultinational corporations.
RobertBigelow, founder and president of Bigelow Aerospace, as well as owner of theBudget Suites of America Hotel Chain, among other enterprises detailed hisfirm's business agenda for space here at the 23rd National Space Symposium.
Theplans of Bigelow Aerospace have been bolstered by the successful orbiting onJuly 12, 2006 of its Genesis 1 expandable module by a Dnepr booster undercontract with ISC Kosmotras, a Russian and Ukrainian rocket-for-hire company.
Speaking in front of a backdrop which read, "Making Orbital Dreams Reality," Bigelow said it is a misnomer toconsider his company as a space hotel company. Rather, it should be viewed as awholesaler of destinations in space, he said.
Whileseeing the suborbital tourism market as a viable private industry, "we can'tcount upon any kind of business model that has some dependency upon NASA" inregards to supporting orbital business growth, Bigelow said.
"Inthe suborbital case, I think that they are free of a lot of politics. In theorbiting area that we're involved in, because of the makeup of our respectiveclient base we're going to be steeped in politics...drowning in politics," hesaid.
High-techHang Time
Atpresent, Bigelow said worldwide there are about 225 active astronauts. Why notmore after so many years? The answer, he added is that up to now there has onlybeen one destination from time to time to time.
"Whatwe're out to do is try and identify maybe 50 or 60 countries...to provide them"hang time" - a term he identified as the activity of foreign nation'sastronauts flying for four weeks in a Bigelow Aerospace-provided orbitalcomplex, conducting that nation's experiments or other activities and returningthose individuals to Earth after their respective missions.
"Ourforecast for this service to be available is 2012. Obviously, the long pole inthe tent is transportation...a major, major thing."
Bigelowoutlined a price structure to utilize Bigelow crewed space facilities. The planevolves from the orbiting in 2010 of the company's first habitable complexcalled Sundancer, outfitted to accommodate three people. Once in orbit, apropulsion bus and node would be lofted to attach to Sundancer in 2011.
In2012, Bigelow Aerospace would loft the first standard, 6-person module,substantially bigger than Sundancer. By ganging modules together and associatedhardware, larger complexes can be crafted in Earth orbit to house upwards of 13to 15 people.
Theprojected cost for transportation and living onboard a Bigelow space complexfor a four-week period is $14,950,000 in 2012 dollars.
"We'retrying to make it easy for people to say 'yes'," Bigelow said, in departingEarth and to obtain hang time in low Earth orbit for a variety of purposes.Module complexes would be spaced in different locales in low Earth orbitdepending on what that facility and its occupants are engaged in, he advised.
Constructionplant growth
Bigelowsaid a major expansion of ground based construction facilities in Las Vegas, Nevada is on tap. "Our objective is to be able to create a plant that willproduce two [full-standard] modules a year...for starters."
"Thelandscape is littered with challenges everywhere you look," Bigelow toldSPACE.com. "It's like glass is everywhere."
Upto now, Bigelow Aerospace has spent about $95 million. "It'll take a lot moremoney to get us into the 2012 time frame," Bigelow said, indicating that he isputting together an investment strategy that will make possible theestablishment of commercial space complexes, not only for low Earth orbit, butother destinations too.
TheGenesis 2 is now in Russia, with a target launch date of April 26, Bigelow said.
VIDEO: Inflatable Spacecraft: Stadium-Sized Orbiting Telescopes
Get the Space.com Newsletter
Breaking space news, the latest updates on rocket launches, skywatching events and more!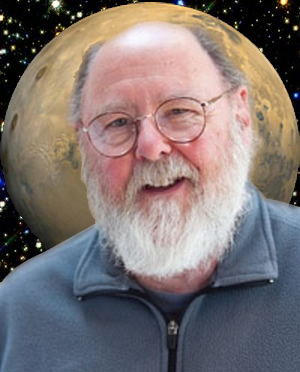 Leonard David is an award-winning space journalist who has been reporting on space activities for more than 50 years. Currently writing as Space.com's Space Insider Columnist among his other projects, Leonard has authored numerous books on space exploration, Mars missions and more, with his latest being "Moon Rush: The New Space Race" published in 2019 by National Geographic. He also wrote "Mars: Our Future on the Red Planet" released in 2016 by National Geographic. Leonard has served as a correspondent for SpaceNews, Scientific American and Aerospace America for the AIAA. He was received many awards, including the first Ordway Award for Sustained Excellence in Spaceflight History in 2015 at the AAS Wernher von Braun Memorial Symposium. You can find out Leonard's latest project at his website and on Twitter.